Google Drive vs Microsoft OneDrive head-to-head review
We compare the storage capacity, price, compatibility and feature set of the two popular cloud storage services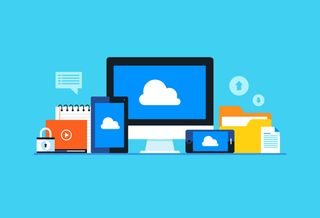 Google Drive and Microsoft OneDrive are two of the most popular public cloud storage services around. Both offer users a decent amount of storage for free, and both allow customers to pay incremental amounts to boost the number of files and folders they can store in the cloud.
Although both have evolved to suit business users as well as consumers, there are still pretty big differences between the two, with varying levels of support offered, different pricing structures, and contrasting features and functionality.
If you're looking to switch cloud storage providers, or you're a newbie and you want to find the service that best suits your businesses' needs, we've pitted the two cloud storage services head-to-head to find out which comes out on top when it comes to pricing and capacity, ease of setup, compatibility with devices, and more.
Google Drive vs OneDrive: Capacity and pricing
No matter whether you use Google for personal or business needs, you'll automatically get 15GB free storage when you sign up. You'll have to pay to boost that amount, but Google often runs promotions to get people upping their storage for free in exchange for carrying out tasks (such as by buying a particular Android device, completing a security check or other incentives). It also offers limited-time promotions, offering a free upgrade for a certain trial period.
Even if there are no promotions running and you've exhausted your 'free' 15GB capacitiy, the cost to upgrade is pretty low. The company has also introduced its Google One plan in the UK, which cut costs for its cloud storage users.
The storage you get can be divided between Google Drive, Gmail and Photos, so it might not end up being enough memory, especially if you've had Gmail for a while, but is still nonetheless good to have.
Microsoft now offers just 5GB of storage (it used to offer 15GB) for free, and it's only available to those using OneDrive for personal use. With a personal account, there are referral bonuses that add extra storage.
If you want to buy extra storage, Google offers 100GB for £1.59 per month, 1TB for £7.99 per month and 10TB for £79.99. If you want more, Google has a 20TB package for £159.99 per month and a whopping 30TB for £239.99 per month.
Microsoft offers 1TB for £3.80 per user per month, and unlimited storage for £7.50 per user per month. Neither of these plans includes access to Office apps, and the unlimited storage isn't quite 'unlimited' out of the box - you get 5TB to begin with, and you'll need to contact Microsoft if you need more. If you want Microsoft Office, it costs £9.40 per month (again 1TB of storage per user). T
If you want terabytes of storage space then it will probably be best to choose Microsoft OneDrive. However, this is a scenario which seems unlikely for most user accounts so it makes more sense to go with Google Drive.
Google Drive vs OneDrive: Getting started
Downloading and installing Windows clients for Google Drive and Microsoft OneDrive is trivial. Users need to configure the location of the folder that is set to synchronise with the respective service.
Both firms have opted for a minimal approach to their storage clients which is no bad thing as it leaves users simply having to deal with a folder in Windows Explorer. Users can upload, open, edit and save files to the elected Google Drive or Microsoft OneDrive folder as if it was stored locally on the system.
Although this 'less is more' approach results in ease of use, we would have liked to see the option of synchronising backup of local folders with Google Drive or Microsoft OneDrive folders. The ability to set sharing permissions on the Windows client is something which would be very welcome, though OneDrive includes a Public folder with preset sharing options.
On a side note, restoring files from Google Drive backups is surprisingly straight forward.
Google Drive vs OneDrive: App Compatibility
Away from Windows, Microsoft's OneDrive is supported on macOS, iOS, Android, and Windows Phone or available through the web browser.
Google Drive can be accessed via Android, iOS, Windows and macOS.
Although Google and Microsoft have opted for minimal desktop clients, when using both services through a web browser the firms have gone to great lengths to offer document editing applications. Google Docs is part of all Google accounts while Microsoft makes its Office Web Apps available to OneDrive users.
Neither Google Docs nor Microsoft's Office Web Apps match the features found on Microsoft's Office suite, but they do have enough features to create simple documents, spreadsheets, and presentations. Microsoft's decision to incorporate parts of its Office user interface will mean users should feel right at home.
In our view, neither Google Docs nor Microsoft's Office Web Apps should be a deal-breaker when it comes to deciding on Google Drive or Microsoft OneDrive. Both are competent programs which allow users to do light work on documents without the need to have fully-fledged office suites installed.
Google Drive vs OneDrive: Deployment considerations
Regardless of the qualities each product has, organisations seeking to deploy either Google Drive, or Microsoft OneDrive, need to take into account the devices within the organisation.
You will need to judge for your own organisation which mobile devices you intend to deploy in the coming years to your staff, as both Google and Microsoft favour their own mobile operating systems.
It's becoming less and less of an issue, however, with both players coming to terms with the fact their users live in an increasingly-integrated landscape, with apps having to work across a variety of operating systems.
Despite the fact Microsoft has been heavily promoting its Windows Phone OS via its purchase of Nokia, for instance, Google's Android remains the industry leader by some distance. The range and variety of devices, including tablets and smartphones, deploying Android are vast and appealing, meaning members of an organisation who opt to bring their own device into the workplace are far more likely to own an Android, or even Apple's iOs-powered device.
Also important to take into account are the type of data, the degree of sensitivity, and the legal implications for storing this data outside the UK - particularly in light of the EU's General Data Protection Regulation (GDPR) recently coming into force - with both Google and Microsoft offering services on a multi-tenant public cloud.
Finally, it's important to take note of the fact that both offer automatic data encryption, with safeguards on user accounts and devices vital, in light of the fact smartphones and tablets will, in theory, have access to any account.
Google Drive vs OneDrive: Verdict
Google and Microsoft both offer reliable, fast, and easy to use cloud storage services with clients that run on a number of different operating systems. Although both raise the bar for cloud storage, we feel Microsoft offers the best deal with its OneDrive service.
Microsoft's OneDrive comes with more free storage space, offers the same feature set as Google and costs significantly less if you want to go beyond the 15GB capacity.
While both Google and Microsoft offer document creation and editing facilities, Microsoft's Web Apps brings the familiarity of Office's user interface. Users that have grown up on Word, Excel and Powerpoint will feel right at home and firms may find this could reduce time spent on training and support.
Get the ITPro. daily newsletter
Receive our latest news, industry updates, featured resources and more. Sign up today to receive our FREE report on AI cyber crime & security - newly updated for 2023.
Zach Marzouk is a former ITPro, CloudPro, and ChannelPro staff writer, covering topics like security, privacy, worker rights, and startups, primarily in the Asia Pacific and the US regions. Zach joined ITPro in 2017 where he was introduced to the world of B2B technology as a junior staff writer, before he returned to Argentina in 2018, working in communications and as a copywriter. In 2021, he made his way back to ITPro as a staff writer during the pandemic, before joining the world of freelance in 2022.