Windows 8: Making it work in the enterprise
Industry watchers have repeatedly questioned how business users will take to Windows' radical new look, but will its new security and BYOD friendly features be enough to make it a hit in the enterprise?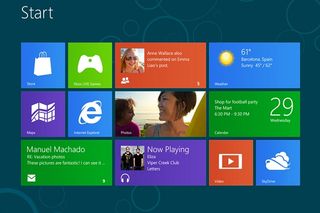 Windows 8, the latest incarnation of Microsoft's flagship operating system, is set to drop tomorrow, but debate over how diehard Windows users will take to the revamped OS continues to rage.
Much has been made of Microsoft's radical overhaul of the operating system's look and feel, which has seen the firm replace the Start Menu with a new tile-centric Start Screen and introduce a new gesture-based navigation style.
Market watcher Gartner said Microsoft was taking a "big gamble" with the launch of Windows 8 back in September, claiming the new look OS could struggle to win favour with risk-adverse CIOs.
With previous versions of Windows, you could give someone a brand new PC and they would instantly know how it works.
Meanwhile, Microsoft co-founder Paul Allen recently admitted to finding aspects of Windows 8 "confusing," taking issue with the software's tendency to flip between desktop and tablet mode (a feature known as Bimodal View) when users access apps and documents.
A new Start
The new user interface is designed to appeal to both tablet and desktop users, but Clive Longbottom, service director at IT analyst house Quocirca, expressed concerns to IT Pro about how he thinks business users will react to the changes.
"The lack of Start [Menu] makes starting an application so much harder and the multiple different ways of doing things [in tablet and desktop mode] just make this too much for an organisation to consider," said Longbottom.
A Microsoft insider, who has worked closely with the Windows development team, admitted to IT Pro that Windows 8 is a "complicated beast" and a "bit of a headscratcher" when you first start using it.
The source, who asked not to be named because of his close professional ties to Microsoft, has been using Windows 8 for 10 months and said, at the moment, he would not recommend it to anyone that is not particularly tech-literate.
"It is, essentially, two operating systems bolted together, linked by the Start Screen, and if I was a typical end user and not as well-versed as I am in Microsoft's products I would consider it to be a very complicated beast," he said.
Businesses that have already adopted Windows 7 have no need to upgrade to its successor, added Longbottom, but companies that are still sweating it out on decade-old Windows XP should at least consider it.
"XP is going to be unsupported soon [as it is set to enter end of life in 2014] and companies that are still on that ancient operating system will soon find themselves [at increased risk from] new security attacks and [will hear their staff] bleat ever louder that they are finding the system impossible to use," he warned.
"Moving to Windows 7 will not be easy as Windows 8 will be the de facto offer made by systems integrators and PC manufacturers when it comes to upgrade."
Despite this, our Microsoft insider cast doubts on the suitability Windows 8 for enterprise users.
"[Microsoft] has not really designed it with the enterprise in mind, but they have ticked most of the boxes they needed to [make it fit], but they haven't really gone out of their way to make it an enterprise product," said our source. "But, then again, neither did Apple."
What's up with IE10?
According to a Microsoft insider, who has extensively bug-tested Windows 8 for 10 months, some enterprise users might encounter problems with Internet Explorer 10 to start with.
"The problem is that large areas of the internet don't seem to be ready for it yet, as some of the web pages you visit in it look weird, and I've experienced problems uploading documents to Sharepoint and posting comments on forums," said our source.
"Once Windows 8 launches, the internet should catch up and those problems should be solved."
Even so, companies that do decide to take the plunge with Windows 8 will need to make sure their IT departments know how to support it, and train their staff in how to use it.
This is a view shared by a Microsoft supply chain source who works at a prominent B2B reseller of Microsoft products. He agreed to speak to IT Pro on condition of anonymity.
"With Windows XP, Windows Vista and Windows 7, you could give someone a brand new PC and they would instantly know how it works, but that's not the case with Windows 8," he said.
"A customer is not going to pay for brand new PCs and for their staff to be trained in how to use them when they've never had to do that before," our source added.
However, Richard Gibbons, software manager at Microsoft reseller Bechtle Direct, said, in his experience, it does not take long for users to get to grips with Windows 8.
"Because it's visually different [to other versions of Windows], I think a lot of people assume it will be difficult to use and not worth the hassle," Gibbons suggested.
Get the ITPro. daily newsletter
Receive our latest news, industry updates, featured resources and more. Sign up today to receive our FREE report on AI cyber crime & security - newly updated for 2023.
Caroline Donnelly is the news and analysis editor of IT Pro and its sister site Cloud Pro, and covers general news, as well as the storage, security, public sector, cloud and Microsoft beats. Caroline has been a member of the IT Pro/Cloud Pro team since March 2012, and has previously worked as a reporter at several B2B publications, including UK channel magazine CRN, and as features writer for local weekly newspaper, The Slough and Windsor Observer. She studied Medical Biochemistry at the University of Leicester and completed a Postgraduate Diploma in Magazine Journalism at PMA Training in 2006.