TV technology gives big data extra vision
A collaboration between the software and broadcast industries is creating new applications – and winning World Cups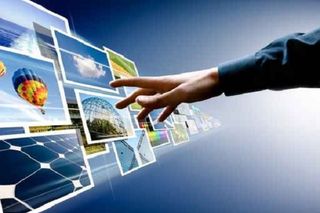 Inside the enterprise: Sometimes, the most interesting advances in technology, and in IT, come about when different technologies are put together.
Over the last few years, much of the IT industry's efforts and many of its successes have centred around data analytics. Being able to predict the near future, or at the very least, narrow down the range of possible outcomes, is a useful tool for a wide range of businesses. Advances in business intelligence and analytics have made these prediction systems both more accurate, and cheaper to build.
To work, though, analytical systems need raw data, and lots of it. Much of this information has come from relatively static sources of information, such as databases. But the move is now towards real-time monitoring of data, from transactional systems, social media, or networks of sensors.
The growth of the Internet of Things is opening up more ways to monitor the physical environment, from roads to energy grids. But there is another challenge when it comes to monitoring fast-moving objects and, indeed, people. For practical and regulatory reasons, it is not always possible to use conventional sensors.
In sports, the use of real-time data is growing. Telemetry, including data on drivers' physical condition, is a key part of motorsport, for example. And world-class athletes are making more use of sensors in training, to monitor their technique and vital signs. But there are restrictions on using such monitoring in competitive games.
In football, both club and national teams are now using small sensors, which players wear in their socks, to monitor training; the data from these are fed into analytics tools, which help coaches assess the players' techniques and suggest improvements. Sensor data is especially useful in sports such as football, where there is a lot of individual movement: with 22 players on the pitch, human coaches cannot spot everything.
However, current international football rules ban the use of body-worn sensors during competitive games, blocking coaches' access to a valuable source of data. This has led to a collaboration between the broadcast equipment arm of Panasonic, and the data analytics division of software vendor SAP, announced at this year's IBC broadcasting event.
SAP has been moving into sports analytics for some time, and created a prototype system, Match Insights, for the World Cup. But, because sensors are not allowed in matches, Panasonic has stepped in to provide a camera-based system and video tracking software.
By using four HD cameras, Panasonic has created a super-wide angle field of view, which allows the unit to be fitted to the roof of a stadium. The cameras can track players, and the ball, 30 times a second and feed that into the analytics system, which runs on SAP's Hana in-memory database.
This gives coaches access to detailed data on players' movements and techniques from matches, without the need for sensors, and by staying within the rules. Potentially, too, the data could be provided to broadcasters for use in match highlight programmes.
The analysis so far has certainly proved useful. After all, Germany won this year's World Cup - and remain favourites for 2018 too.
Stephen Pritchard is a contributing editor at IT Pro.
A daily dose of IT news, reviews, features and insights, straight to your inbox!
A daily dose of IT news, reviews, features and insights, straight to your inbox!
Thank you for signing up to ITPro. You will receive a verification email shortly.
There was a problem. Please refresh the page and try again.