AWS joins the blockchain bandwagon, targeting healthcare and finance
Product release comes five months after CEO dismissed blockchain's potential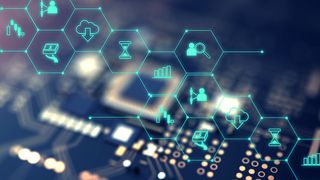 Amazon Web Services (AWS) today joined its rivals in releasing a blockchain service, half a year after its CEO cited a lack of "practical use cases" for the technology.
Basing its blockchain-as-a-service (BaaS) on Ethereum and Hyperledger Fabric networks, AWS wants to give developers the tools they need to develop their own blockchain apps.
"Some of the people that I talk to see blockchains as the foundation of a new monetary system and a way to facilitate international payments," said AWS vice president and chief evangelist Jeff Barr in a blog post. "Others see blockchains as a distributed ledger and immutable data source that can be applied to logistics, supply chain, land registration, crowdfunding, and other use cases.
"Either way, it is clear that there are a lot of intriguing possibilities and we are working to help our customers use this technology more effectively."
AWS's Blockchain Templates allows users to quickly launch either a public or private Ethereum network, or a private Hyperledger Fabric network, with the templates creating and configuring all the AWS resources needed based on the cloud giant's pay-as-you-go pricing structure.
The platform has been adopted by a number of companies in sectors such as healthcare and finance, including mobile operator T-Mobile and Guidewire, an insurance platform provider.
T-Mobile is building an identity and authentication platform with Sawtooth, a technology from the Intel Hyperledger project, while Guidewire is using blockchain to auto-approve insurance claims and trigger payments.
AWS's push into the blockchain market sees it follow in the footsteps of rivals including IBM, Microsoft, Oracle and SAP, which have all deployed versions of this technology.
Oracle, for example, launched its Blockchain Cloud Service at its OpenWorld conference in October last year to boost the competitiveness of its cloud services against IBM and Microsoft's packages.
However, AWS's decision to follow suit marks a significant shift in strategy, given that its CEO, Andy Jassy, dismissed the potential of blockchain at AWS's re:Invent 2017 conference in November.
"We don't yet see a lot of practical use cases for using blockchain that are much broader than using a distributed ledger," he said in a press Q&A. "We don't build technology because we think it's cool, we build it when we think it's the best way of solving a customer's problem. Ledger capabilities to me are much more limited than they should be."
Cloud Pro has approached AWS for comment on why it has shifted direction on blockchain.
Picture: Bigstock
A daily dose of IT news, reviews, features and insights, straight to your inbox!
Keumars Afifi-Sabet is the Features Editor for ITPro, CloudPro and ChannelPro. He oversees the commissioning and publication of in-depth and long-form features across all three sites, including opinion articles and case studies. He also occasionally contributes his thoughts to the IT Pro Podcast, and writes content for the Business Briefing. Keumars joined IT Pro as a staff writer in April 2018. He specialises in the public sector but writes across a breadth of core topics including cyber security and cloud computing.
A daily dose of IT news, reviews, features and insights, straight to your inbox!
Thank you for signing up to ITPro. You will receive a verification email shortly.
There was a problem. Please refresh the page and try again.