Gartner predicts 90% of current enterprise blockchain implementations will need replacing by 2021
Market fragmentation and "unrealistic expectations" from blockchain tech set to force system replacement in some 18 months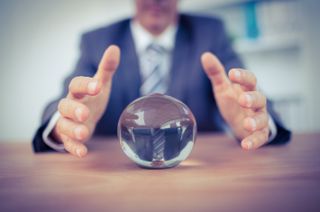 (Image credit: Shutterstock)
Gartner has predicted that 90% of the current implementations of blockchain technology in the enterprise world will need to be replaced by 2021.
Being one of the more cutting-edge technologies for enterprises to adopt, one might think that early adoption of the technology, which supports such cryptocurrencies such as Bitcoin, would mean a company would be fairly future-proof.
However, Gartner forecasts a need to replace existing blockchain-based systems in order for forward-thinking organisations to remain cooperative and secure some 18 months from now, as well as avoid their systems from becoming obsolete.
"Blockchain platforms are emerging platforms and, at this point, nearly indistinguishable in some cases from core blockchain technology," said Adrian Lee, senior research director at Gartner. "Many CIOs overestimate the capabilities and short-term benefits of blockchain as a technology to help them achieve their business goals, thus creating unrealistic expectations when assessing offerings from blockchain platform vendors and service providers."
These problems stem from the blockchain market being composed of fragmented systems and services that often overlap with each other or work in a complementary fashion, which according to Gartner makes choosing the right blockchain for a business a challenging proposition for an IT department.
"Compounding this challenge is the fact that blockchain platform vendors typically use messaging that does not link to a target buyer's use cases and business benefits," explained Lee. "For example, transactions' was the term mentioned the most in relation to blockchain, followed by secure' and security.' While these may be functions of blockchain-enabling technology, buyers are still confused as to how these functions are achieved or what benefits blockchain adds compared to their existing processes."
This problem looks set to expand as enterprise interest in blockchain technologies continues to grow and more vendors of the technology enter the market, which would suggest that there will be more fragmentation rather than increased unification and standardisation of platforms.
"Due to the lack of an industry consensus on product concept, feature set, core application requirements and target market, we do not expect there to be a single dominant blockchain platform within the next five years. Instead, we expect a multiplatform world to emerge," Lee predicted.
Despite this, Gartner expects the business value blockchain brings to the enterprise world will grow from $176 billion in 2025 to a massive $3.1 trillion by 2030.
This is something enterprise product managers will need to keep in mind, according to Lee, as the rapid evolution and early obsolescence of platforms, alongside shifts competition in the market and the consolidation of blockchain products and services in the future, are all things to prepare for. And such members of the IT team will also need to be savvy to "the potential failure of early stage technologies/functionality in the blockchain platform market".
Time will tell if Gartner's predictions come to fruition, but it certainly looks like an interesting time ahead for blockchain technology.
Get the ITPro. daily newsletter
Receive our latest news, industry updates, featured resources and more. Sign up today to receive our FREE report on AI cyber crime & security - newly updated for 2023.
Roland is a passionate newshound whose journalism training initially involved a broadcast specialism, but he's since found his home in breaking news stories online and in print.
He held a freelance news editor position at ITPro for a number of years after his lengthy stint writing news, analysis, features, and columns for The Inquirer, V3, and Computing. He was also the news editor at Silicon UK before joining Tom's Guide in April 2020 where he started as the UK Editor and now assumes the role of Managing Editor of News.
Roland's career has seen him develop expertise in both consumer and business technology, and during his freelance days, he dabbled in the world of automotive and gaming journalism, too.