Rural broadband: no more dial tone
BT has switched off its dial-up internet access. But the UK still lacks a proper rural broadband strategy.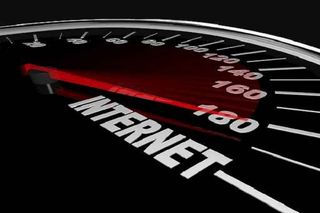 Inside the Enterprise: The modem's days are finally over. After more than two decades, BT has switched off its consumer dial-up internet service, saying the time has come for everyone to move to broadband.
Not everyone can make that move. By BT's own estimates, only about 1,000 people cannot move to broadband at all; these are mostly in "very rural areas", the company says.
There will be others who have not switched to broadband, who could. They will now be forced to move to a BT broadband service, or to another provider. For dial-up, BT is recommending Plusnet, an internet service provider that it also owns.
But the very fact that anyone needs to stay on dial up at all, in 2013, suggests there are some deep-seated issues with the UK's approach to universal broadband coverage. Despite government investment, there are still plenty of blackspots (or "notspots") around the country.
Although there are only a handful of people who cannot connect to broadband at all, there are many more whose broadband access speeds are far from adequate. And there is, in effect, no competition for the government's BDUK rural broadband scheme, with all the projects so far going to BT.
This is not BT's fault Fujitsu in effect pulled out of the BDUK process back in March but a lack of competition is hardly going to foster innovation. In some rural areas, 4G mobile services might be an option.
But once again, roll out there is slow. Vodafone and O2, in particular, have conservative plans for their 4G deployments. That may push back the prospects of using 4G mobile as a "fill in" service, at least as far as the conventional operators are concerned.
This, then, probably leaves satellite as the most viable option for businesses that cannot receive a good enough broadband service, or no broadband at all.
Avonline, which says it is the UK's largest provider of satellite broadband, has domestic services starting at 17 a month, and business at 71 a month, though prices rise sharply for "unlimited" download packages. But the service is relatively speedy: with 18mbps download and 6mbps upload, it compares favourably with many ADSL fixed-line connections.
And perhaps, now that BT has unplugged its dial-up services, more councils and other organisations will follow the lead of Northumberland, where the county council is working with both satellite and wireless providers to "fill in" gaps in fixed line services and, in particular, to boost those services above the government's recommended 2mbps minimum.
There is also a strong case, for business users, for having a wireless service of some sort as a backup to fixed line broadband.
Continuity of service is especially important, given the number of business processes that are online. In fact, there are quite a few businesses, even in urban areas, that have dial-up modems or ISDN purely as a backup to DSL or fibre. Perhaps BT's decision to unplug dial up will prompt IT directors to look at their broadband contingency plans too.
Stephen Pritchard is a contributing editor at IT Pro.
Get the ITPro. daily newsletter
Receive our latest news, industry updates, featured resources and more. Sign up today to receive our FREE report on AI cyber crime & security - newly updated for 2023.