How analytics helped Williams deliver a podium finish at Italian Grand Prix
The F1 team uses Avanade to analyse 120GB of data between every race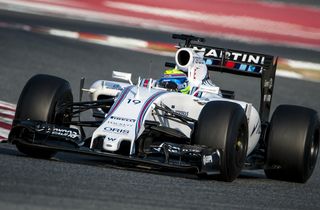 Felipe Massa crossed the finish line at the Italian Grand Prix to clinch 15 points in third place for Williams last weekend, thanks in part to his team's use of analytics to gain a competitive edge on the track.
But with the Singapore Grand Prix less than two weeks away, Williams' IT team will already be crunching through the 60GB of data Massa's one hour, 18 minutes and 47 seconds on the track generated on Sunday, putting the team fourth in the race for the Drivers' World Championship.
During the race, a 40-strong team of technical staff on the side of the track monitored data in real-time, scouring information coming through on 1,000 different channels measuring everything from tyre pressure to humidity levels, in order to aid Williams' two drivers, Massa and Valtteri Bottas.
CIO Graeme Hackland joined the team in January 2014 to find technicians were unable to make the most of their skills due to having to sort through all the data before they could start analysing it.
"Back then with the tools we had we would spend 70 per cent of a lap manipulating data and 30 per cent of the lap analysing it," he admits.
He set about sending that data via a BT network with a 100Mbps connection speed from every test and race venue into converged systems from Nutanix installed at the Williams F1 factory in Grove, Oxfordshire, which the engineers could pull the data off in order to examine it.
Williams then partnered with outsourcer Avanade at the beginning of 2015 to automate the process of sorting which subsets of data each engineer would analyse with specific technicians tackling hydraulics, or electronics, or performance data.
"We have now completely automated that so they don't have to manually bring other data into the tools they use," explains Hackland.
When the race is over, another 20 engineers based in Williams' Grove facility get stuck in too, helping analyse a total 120GB of data collected over the entire race weekend, including trial runs and video analysis of pit stops.
This helps Williams prepare for any number of situations on race days.
"They'll have a review of what happens if they don't get away as quickly, what happens if they come out of the pit behind somebody. They'll have scenarios and work through use of the systems to predict what could happen," Avanade client executive Colin Burrell tells IT Pro.
Burrell manages Avanade's IT team dedicated to Williams, which comprises a small group of technicians at the Grove base, but also a much larger development team based in Gurgaon, just outside Delhi in India.
Hackland was initially sceptical of Avanade's team being based so far away from Williams' headquarters, but with the first race of the season, in Melbourne, just two months away, there wasn't time to figure out another way of working.
The first project - improving tyre data
Williams and Avanade quickly targeted a must-fix problem getting real-time data on the state of drivers' tyres.
Hackland explains: "Both our CEOs said to us we want quick wins, quick deliveries', so the first race was a big target for us.
"We needed data the engineers weren't getting to: our first target was to deliver a tyre optimisation application by Melbourne in March. Considering we only hit the ground on 5 January it was going to be a tall order."
Burrell adds that while the two-month timeframe was a "huge challenge", it helped Avanade get around the issue of having an offshore development team by using the cloud to become more agile.
"We immediately jumped into the cloud, set up an Azure dev test environment and that did away with a lot of the challenges of near-shore and far-shore," he says.
A first draft application was delivered in time for the Melbourne race in March, and while Hackland is careful not to overstate the role of IT, he points out that Williams has overhauled its tyre and pit stop tactics as a result of receiving this real-time data.
"We got two podiums, and without the improvements that we're making, the engineers wouldn't necessarily have that data to make those decisions," he says. "At least twice this year we've changed our tyre strategy completely and our pit stop strategy completely, and a lot of that is down to the fact they have the data now in real-time."
The technicians have since updated the tyre optimisation tool seven times, tweaking and adjusting it between each race to find incremental improvements, just like Williams engineers do to the cars.
"We're building on and adding to the depth and quality of information, but we're doing that in an agile way that gives value at each subsequent race," says Burrell.
While analytics does not define the success of Williams' Championship, it does shape decision-making during and between races, which Hackland contends is vital to the outcome of the race season.
"Every wrong decision affects our position, affects our Championship position, it affects the whole team," he tells IT Pro. "Getting the right data to the right person at the right time, they can make the right decision."
Data do the drivers care?
Perhaps prior to the digital age, drivers concentrated solely on the road, but these days they are in constant communication with their team.
This extends to the data, Hackland says, with engineers relaying key information to Massa and Bottas between test runs.
"The drivers are really into the data. With some of the systems we've put in place now with BT and Avanade, we can get that data to the driver much quicker," he adds. "In between their runs on a Friday and Saturday morning they get that data much quicker, so they can compare themselves to their teammate, or check track conditions."
It's all part of the plan...
But analytics isn't the only focus for Hackland's IT team in fact, it's part of a four-pronged technology strategy designed to support the 600-strong team in Grove building the cars, adjusting tactics, and ultimately working to get the drivers onto the podium every race weekend.
Mobility is a big part of this strategy, with Hackland having recently deployed Microsoft's Office 365 and Skype for Business to help people work on any device, whether they are at the factory or the racetrack.
Related to this, Skype for Business is also helping improve collaboration within the team by making it easy to hold face to face meetings regardless of people's locations, while SharePoint lets staff share files internally.
Hackland is also keen to work with Williams' rivals for the benefit of everybody.
He says: "By putting in these collaboration tools, we've really helped our relationship with Mercedes, for example. So we've got Mercedes engineers in the back of our garage, and the collaboration between our guys and theirs is great. They're close anyway but now we have people in our factory, in their factory, and they can all work together."
The last prong of Hackland's technology fork is innovation. The CIO's philosophy is that any idea that will help the car perform better should be prioritised, even if there's little budget for it.
"If someone asks to do a project that will make the car quicker, but we've got no resource and a pipeline that's full, our mandate is to find a way to make that happen," he explains. "It's very easy to tie up your resources for the next couple of years on things you know about, and miss opportunities that come up."
He admits that while Williams is ahead of the pack in some areas of technology, it's behind rivals in others, but the key is to act fast to deliver any improvements that will help the team's performance.
On this note, Avanade is now helping spur on a number of projects, with a clutch data-monitoring application next in line.
Hackland says: "It is about improving our stats. We're really led by Avanade. We don't want to create a software delivery group within IT removed from the rest of the team. These Avanade guys are embedded within the team, they work with the vehicle science group, and they determine the priority of what we work on."
Get the ITPro. daily newsletter
Receive our latest news, industry updates, featured resources and more. Sign up today to receive our FREE report on AI cyber crime & security - newly updated for 2023.