The best business intelligence tool: Tableau vs Microsoft Power BI
We put two of the best BI packages on the market head to head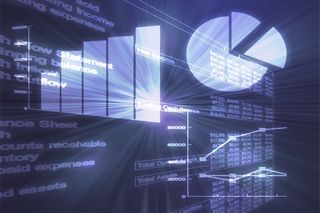 Data has become the new currency for businesses both large and small. When you look at the most valuable companies in the world, most of them trade not in physical goods, but in information.
Even the smallest business can take advantage of the data they gather and generate, but while most people start off by using simple spreadsheets, having the proper tools can help you get a lot more from it.
Business intelligence (BI) software is a toolset that can help you take data and make it useful and relevant to your business. For some, that just means creating concise, visually attractive charts and graphics to represent various datasets, but for more advanced users, BI tools can offer advanced data analytics capabilities, allowing them to dig deep into their data to identify patterns, trends and forecasts.
Two of the biggest players in the business intelligence software market are Tableau and Microsoft's Power BI. Tableau has an excellent pedigree, thanks to the fact that it has exclusively focused on BI software for its 14-year history. Power BI, however, has the full weight of Microsoft's Office 365 suite behind it, making it more flexible than Tableau. We've compared the two offerings to see which is best-suited to your business use case.
Data visualisation
Tableau has an excellent reputation as a data visualisation platform, and with very good reason. The user interface makes it easy to create visual representations of datasets, and the wide range of visualisation types and exploration options means that you can quickly access meaningful insights.
Power BI, by comparison, still trails somewhat behind in this regard. It's not quite as flexible in terms of creating in-depth visualisations, and the tools used to do so aren't as intuitive as Tableau's.
On the other hand, Power BI is excellent at producing basic reports very quickly. If you're just looking for something that will let you throw together simple KPI dashboards, rather than aiming for in-depth data analysis, Tableau may end up being way more than you need. PowerBI also has the advantage that, because it was developed on top of Excel, it shares many of the same controls.
Verdict: Tableau
Data is critical to your business's success, but it can be overwhelming. Business intelligence software is the tool that turns that data into insights. But how do you choose the right BI tool, and how can you make sure everyone in your organisation benefits from it? Download our whitepaper, Shine a Light on Your Data, published in association with SAP, to find out.
Data sources
The beating heart of any business intelligence platform is data, so it's crucial that you can import and analyse your data in the configuration that's right for you. Thankfully, both products support a huge array of data sources that users can import from.
The most popular enterprise data sources are all present and correct, including MySQL, SAP HANA, JSON, and more. There are literally hundreds of possible data sources, so if you're using any of the major contenders, chances are it's supported by both Power BI and Tableau.
There are some differences, however. Tableau features better support for connecting to a separate data warehouse, whereas Power BI is heavily integrated with the rest of Microsoft's portfolio, including its Azure cloud services and the Office 365 suite.
Verdict: Tie
Advanced analytics
Both products feature support for advanced analytics capabilities, something that is becoming more and more important in the world of data science and BI. Power BI includes support for the R scripting language, commonly used to create data forecasting and analytics models, while Tableau includes support for both R and Python, as well as including a host of native tools for dealing with these kinds of operations.
Verdict: Tableau
Pricing and deployment
Tableau may be regarded as the best in the business by many, but you're paying for all that pedigree. A professional license for Tableau Desktop is charged at $70 per user, per month (billed annually). On top of that, if you want to manage Tableau centrally across your organisation, you'll need to fork over an extra $35 per user, per month for Tableau Server.
By comparison, Power BI costs very little. The standalone Desktop version is free to use, while Power BI Pro is just 6.20 per user, per month. It's also included for free with the highest tier of Office 365 Enterprise subscription.
Verdict: Power BI
Final Verdict: Power BI
Tableau may be the more technically-capable of the two business intelligence suites, but Microsoft's Power BI software isn't too far behind it. It might not be suitable for data analysts, but for the majority of businesses that need to do some basic number-crunching and reporting, Power BI will be more than sufficient.
Add to that the fact that Power BI is substantially cheaper than Tableau's offering, and Microsoft's suite comes out on top in all but a few use cases. If you're looking for a general purpose business intelligence platform, Power BI is almost certainly your best bet.
Verdict
While Tableau may offer more sophisticated visualisation tools and deeper controls, the broad capabilities and attractive price of Microsoft's Power BI suite make it ideally-suited to the business intelligence needs of most organisations.
Get the ITPro. daily newsletter
Receive our latest news, industry updates, featured resources and more. Sign up today to receive our FREE report on AI cyber crime & security - newly updated for 2023.
Adam Shepherd has been a technology journalist since 2015, covering everything from cloud storage and security, to smartphones and servers. Over the course of his career, he's seen the spread of 5G, the growing ubiquity of wireless devices, and the start of the connected revolution. He's also been to more trade shows and technology conferences than he cares to count.
Adam is an avid follower of the latest hardware innovations, and he is never happier than when tinkering with complex network configurations, or exploring a new Linux distro. He was also previously a co-host on the ITPro Podcast, where he was often found ranting about his love of strange gadgets, his disdain for Windows Mobile, and everything in between.
You can find Adam tweeting about enterprise technology (or more often bad jokes) @AdamShepherUK.