Apple doubles down in the US with $430 billion investment
The company pledges billions for jobs, research, infrastructure, and a new campus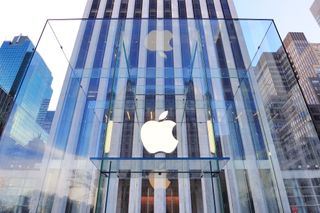 (Image credit: Shutterstock)
Apple has pledged to invest $430 billion in the US over the next five years, which will fund a massive new North Carolina campus and create 20,000 new jobs.
The company unveiled a long list of investments in the US, including silicon development and 5G advancements in nine US states. This comes after Apple last year launched its own silicon, the ARM-based M1 processor, in a snub to Intel, which has since rolled out several devices including the new iMac and iPad Pro.
The North Carolina campus will cost over $1 billion and host 3,000 new jobs in various computing fields, the company said. It joins another campus already under construction in Austin, Texas.
Other investments include a $100 million fund to support schools and community initiatives in North Carolina and over $110 million in infrastructure spending on broadband, roads, bridges and public schools in the state.
The company, which says it's on track to meet its goal of 20,000 new jobs by 2023, now plans to add 20,000 new jobs over the next five years. These include growing its San Diego, California workforce to more than 5,000 jobs by 2026 and adding 1,000 in Seattle, Washington.
Other cities due for jobs boosts include Boulder, Colorado and Boston, Massachusetts. Particularly notable are 500 new jobs in Waukee, Iowa, which is the site of a new Apple data center currently in the design stage.
The expansion pushes Apple forward on all fronts. Apple will also push $100 million toward funding a new logistics center in Clayton, Indiana, creating 500 new jobs. The company also plans to push ahead with investments in productions for its TV+ service across 20 states.
This isn't the first time that Apple has pledged a large investment package in the US. In 2018, it set an original five-year investment goal of $350 billion. However, this spending spree has a historical context.
RELATED RESOURCE
IT Pro 20/20: Meet the companies leaving the office for good
The 15th issue of IT Pro 20/20 looks at the nature of operating a business in 2021
Apple claims to be the largest taxpayer in the US, having paid almost $45 billion in domestic corporate income taxes over the past five years. However, analysis has shown how the company historically reduced its US tax payments before this period by moving its money offshore. CEO Tim Cook expressed his outrage after a 2016 EU ruling that would have forced the company to pay €13 billion ($15.7 billion) in back taxes to the Irish Republic, where it stored a lot of its offshore capital.
Apple repatriated much of its earnings that year, paying $38 billion in taxes while also taking advantage of a US deal that taxed repatriated earnings at 15.5%. This deal created $40 billion in savings, according to the Institute on Taxation and Economic Policy estimates.
In 2020, the European General Court overturned the original EU ruling, but the EU appealed the ruling in September 2020.
A daily dose of IT news, reviews, features and insights, straight to your inbox!
Danny Bradbury has been a print journalist specialising in technology since 1989 and a freelance writer since 1994. He has written for national publications on both sides of the Atlantic and has won awards for his investigative cybersecurity journalism work and his arts and culture writing. Danny writes about many different technology issues for audiences ranging from consumers through to software developers and CIOs. He also ghostwrites articles for many C-suite business executives in the technology sector and has worked as a presenter for multiple webinars and podcasts.
A daily dose of IT news, reviews, features and insights, straight to your inbox!
Thank you for signing up to ITPro. You will receive a verification email shortly.
There was a problem. Please refresh the page and try again.