Ticketmaster applies intelligent cloud to personalise customer experience
Ticket sales engine hopes use of Salesforce Marketing Cloud will boost satisfaction and revenue on customer and client side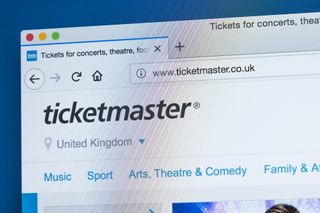 (Image credit: Shutterstock)
Ticketmaster wants to go back to the old days of local shopping when establishments knew their customers well and offered a personalise experience.
To do so, it's turning to the cloud, and Salesforce's Marketing Cloud in particular.
"Marketing automation gives us the ability to go back to a world where the customer really mattered. When the people in local shops knew you and what you liked or knew to order in a bigger joint of meet because you had visitors etc," Sophie Crosby, vice president of insight at Ticketmaster, told Cloud Pro during Salesforce's annual Dreamforce event in San Francisco.
"[Cloud] means my marketers can concentrate on marketing rather than the technical stuff."
Ticketmaster has 85 million customers in 20 countries around the world but also does business with a number of clients, which includes venues, promoters and teams.
The company is already using key features of the Salesforce Marketing Cloud, such as Audience Builder, which has a really easy to use drag-and-drop UI, and is now starting to take advantage of other features including Journey Builder.
Ticketmaster aims to have the next stage of its Marketing Cloud implementation complete by the first quarter of 2016. This involves utilising the Predictive Intelligence feature, which applies data science to make better recommendations based on customer preferences and associated insight. This will first be used in Australia and the UK, followed by eight other international markets in the remainder of next year.
The firm has already embarked on a number of marketing personalisation efforts including overhauling its UK newsletter so it was more focused on genre propensity relevant to the recipient.
This bore immediate benefits, with a 54 per cent uplift in conversations in a matter of weeks. Its UK business is a busy one with 11 million emails sent each week and 24.5 million single customer views.
For Crosby, while it is about getting more tickets and selling more tickets, it's about providing greater value and satisfaction while doing so.
Ticketmaster's international operations each with varying levels of dedicated marketing resource. As such, it sees marketing automation as key to helping provide consistent levels of service that are delivered at a local level in response to unique customer and geographic demands.
Although Crosby sees great value in using the cloud to assist on adding greater levels of intelligence to the marketing and customer lifecycle, she appreciates that the nature of the ticketing business is very different to other ecommerce operations.
"Most of our events are much more emotional. It's like marmite. We are involved in offering a very different experience. It's not the same as selling or buying a laptop or a car. But we do want to get better at guiding customers," she said.
"We just want to do better for customers overall in engaging with their and their lifecycle. We also want to do better job about anticipation of events – so making recommendations during the post-event buying high or post-event."
Stay up to date with the latest news and analysis from the world of cloud computing with our twice-weekly newsletter
Maggie has been a journalist since 1999, starting her career as an editorial assistant on then-weekly magazine Computing, before working her way up to senior reporter level. In 2006, just weeks before ITPro was launched, Maggie joined Dennis Publishing as a reporter. Having worked her way up to editor of ITPro, she was appointed group editor of CloudPro and ITPro in April 2012. She became the editorial director and took responsibility for ChannelPro, in 2016.
Her areas of particular interest, aside from cloud, include management and C-level issues, the business value of technology, green and environmental issues and careers to name but a few.
Thank you for signing up to Cloud Pro. You will receive a verification email shortly.
There was a problem. Please refresh the page and try again.