Gatwick drone attack an 'inside job,' officials say
Inside knowledge of the airport allowed whoever did it to force 1,000 flights into a standstill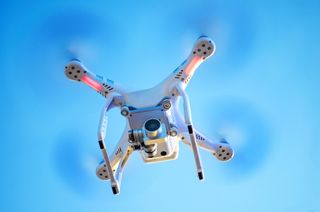 (Image credit: Shutterstock)
The drone attack that put Gatwick Airport at a standstill for 33 hours was likely an "inside job," airport officials have claimed, with Sussex Police in agreement that this is likely the case.
In an interview with the BBC's Panorama programme, Gatwick's chief operating officer Chris Woodroofe said: "It was clear that the drone operators had a link into what was going on at the airport."
The culprit could either see what was happening on the runway or was able to gain access to the airport's radio and internet communications, according to Woodroofe. Additionally, he or she knew the drone used wouldn't be seen by the DJI Aeroscope drone detection system Gatwick was testing at the time of the attack.
Woodroofe, who oversaw the airport's response to the chaos, said it did not overreact at the time. It is protocol to close the runway if a drone appears, and each time staff attempted to reopen the runway, the drone reappeared, he said.
"There is absolutely nothing that I would do differently when I look back at the incident, because ultimately, my number one priority has to be to maintain the safety of our passengers, and that's what we did," said Woodroofe.
Roughly 140,000 passengers and 1,000 flights were stuck in the airport from 19 December to 21 December of last year. The drone was first spotted at 21:03 GMT on the 19th, and flights did not resume until 05:57 GMT on the 21st.
"It was terrible that 140,000 people's journeys were disrupted - but everyone was safe," he said.
Since the attack, Gatwick has implemented two sets of the AUDS (Anti-UAV Defense System) anti-drone system and spent 5m on counter-drone technology.
Woodroofe said that the airport tests the equipment by sending up a drone every day and "it finds that drone".
A daily dose of IT news, reviews, features and insights, straight to your inbox!
A daily dose of IT news, reviews, features and insights, straight to your inbox!
Thank you for signing up to ITPro. You will receive a verification email shortly.
There was a problem. Please refresh the page and try again.