Advertisement Feature
The benefits of a remote-working model
What began as a necessity may help to transform your business for the better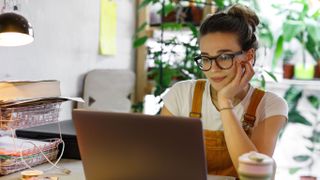 Remote working has been growing more popular and accessible in recent years, thanks to the developments in technology and telecommunication services that allow people to work from home while quickly and easily sharing documents or calling into meetings.
RELATED RESOURCE
Enabling a hybrid future
A guide to setting up new working practices
Of course, the events of 2020 have greatly accelerated the move towards a remote-working model. At the beginning of the COVID-19 lockdown, many companies transitioned every employee they could to home working. The Office for National Statistics reported that in April 2020, 46.6% of people in employment did some work at home – 86% of those as a result of the pandemic. Remote working enabled organisations to continue operating with a much reduced level of disruption than would have occurred if lockdown had happened a decade earlier.
But the benefits of remote working aren't limited to mitigating the effects of a nationwide lockdown. There are advantages to working from home for employees and employers that will extend well beyond coronavirus.
Waste not, want not
The remote-working model gives us an opportunity to reassess the distribution of our resources and ensure that we are making the best, most efficient and effective use of them.
This model represents an opportunity for cost savings for both employers and employees. In 2020, businesses have been in a position to reassess their office spaces – and many have even opted to relinquish them altogether. For those that aren't willing or able to take such a big step, there remains the option to downsize their office for a future in which the entire workforce is unlikely to be in the building at any one time. A 2020 Gartner survey of CFOs in the US found that 13% of respondents had already made cost reductions in real estate expenses due to increased remote working. For organisations committed long-term to their premises, there is also the option to share the space with other companies.
The cost savings will not only come directly from downsizing but in the reduction of other related expenses. Smaller spaces are cheaper to heat, light and maintain – and the savings will of course be even greater for businesses that go office free.
Remote workers are able to make savings on expenses including travel, eating out (it's much cheaper to eat at home and you don't have to worry about forgetting to take your lunch with you in the morning), work clothing and the other temptations of working in a town or city. Finder reports average savings of £44.78 a week for employees working from home. It's true that home energy bills are likely to rise, but the savings are likely to be much greater – and employees can also claim a tax break for working from home.
The downsizing or reduced use of offices and drop in commuter travel also has the benefit of being environmentally friendly – carbon emissions are predicted to fall by 5% in 2020 thanks to the effects of the coronavirus lockdown. According to O2 research, if full-time workers worked one day less at the office, each person would travel 1526 fewer miles a year (based on a daily average of 29.3 miles). By not having to light and heat large spaces and reducing the number of people driving to their workplaces, we can collectively lower emissions and energy consumption. And even the act of eating at home can decrease the amount of discarded packaging and food waste we produce.
RELATED RESOURCE
Protecting your dispersed workforce
Cyber security in the new normal
O2's new Green Savings Calculator – which is currently still in beta testing – is designed to help businesses identify ways to reduce their carbon footprint and save money with long-term flexible working. Trials of the calculator have found that on average, UK businesses could save 21 tonnes of CO2 per year, £102,000 in energy, travel-related costs and office rationalisation and 3,323 hours on commuting and business travel.
Get flexible
Another key aspect of remote working is the flexibility it offers us. The ability for your staff to define when and where they work is already making huge transformations in professional and personal lives.
O2 Business is enabling the shift to an easily-managed, more flexible model. It offers flexible tariffs
, automatic Data Rollover
, the latest devices and access to leading business collaboration apps to ensure that your workforce stays connected, wherever they are, and on terms that suit you best.
With the tools in place to manage the model properly, remote working can be a powerful tool in redressing our work-life balance. Taking the daily commute out of the equation can potentially add hours of free time to the typical work day. Being based at home can make a lot of sometimes needlessly complicated tasks much easier, from being able to receive packages or repair workers, to fitting doctor and dentist appointments into a tight schedule. Families are able to spend more time together, while workers with disabilities may find it easier to operate in their home environments.
There can certainly be issues with employees not logging off on time and working extended hours if not properly managed, but remote workers are reported to experience less stress than those commuting regularly to the office.
The flexibility aspect of the remote-working model likewise promises many benefits to employers. A happier, less stressed workforce can only be a good thing, and lower stress is linked to better productivity. A Stanford University study found that remote workers are 13% more productive than those working in an office environment.
The ability for employees to operate unconstrained by location also opens up the talent pool. You no longer have to choose the best candidate from your local area; instead you can conceivably choose the best candidate from anywhere in the world. The value of a diverse workforce has been well established – for instance, BCG claims that companies with above-average diversity on their management teams report innovation revenue 19% higher than that of companies with below-average diversity. And, as mentioned above, remote working enables people who might otherwise be excluded from your organisation – maybe they're a parent or carer or have a disability – to be able to participate and contribute their skills and insights to your company.
It also means that a valued employee who has to move away or experiences a sudden change in circumstances needn't automatically depart your organisation. Indeed, remote working is reported to increase job retention.
From financial benefits to talent retention to a reduction in your company's carbon footprint, the benefits of a remote working model can be huge. All you need is the right business approach, culture and tools to fully embrace the shift and make sure your remote working setup works for you and your employees. With O2's dedicated account managers to help guide you, you can stay connected whenever you're doing business, and benefit from a wide range of flexible services and tools to help you make the most of a remote working setup.
Learn more about how O2 Business can give you the flexibility for your remote working solution
Disclaimer
1 For new or upgrading customers only. For Small Biz and Business Essentials tariffs, tariff can be changed to a non-promotional tariff of the same type that has either a lower, higher or the same amount of data as tariff selected at commencement. For Business, Small Biz SIM Only, Small Biz Data Only and Mobile Broadband SIM Only tariffs, tariff can be changed to a non-promotional tariff of the same type with either the same or a higher amount of data as tariff selected at commencement. A change in tariff can be made 30 days from the date of connection or upgrade, each billing month. Directly purchasing private section customers with 500 or more employees and directly purchasing public sector organisations are not eligible.
Disclaimer
2 For new or upgrading customers only. Available on selected tariffs of 6GB of data or above, excluding 2GB triple data, 3GB double data and unlimited data tariffs. Up to 100% of unused data from standard monthly data allowance can be rolled over into the following month. Eligible data rolls over for one month only. Any data that cannot be rolled over will expire. Any unused data will not rollover if you decide to change to an alternative tariff. Directly purchasing private section customers with 500 or more employees and directly purchasing public sector organisations are not eligible.
Disclaimer
Subject to availability, status, credit check and general terms for business customers apply. Terms apply, see o2.co.uk/terms.
Get the ITPro. daily newsletter
Receive our latest news, industry updates, featured resources and more. Sign up today to receive our FREE report on AI cyber crime & security - newly updated for 2023.
ITPro is a global business technology website providing the latest news, analysis, and business insight for IT decision-makers. Whether it's cyber security, cloud computing, IT infrastructure, or business strategy, we aim to equip leaders with the data they need to make informed IT investments.
For regular updates delivered to your inbox and social feeds, be sure to sign up to our daily newsletter and follow on us LinkedIn and Twitter.