Advertisement Feature
Equipping the hybrid workplace
What is a hybrid workplace? And how can businesses best embrace the model going forward?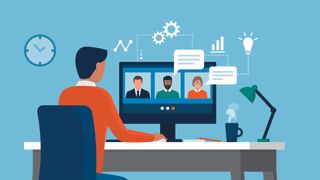 Remote working is nothing new, but the COVID-19 pandemic has made it a necessity for many businesses. Attitudes have shifted and a distributed workforce has quickly become the new status quo. But what will the future look like long-term? The answer could lie in a new hybrid approach to work, where organisations will support employees working both onsite and offsite.
Recent research indicates a more lasting change in our working culture. Figures from a London Chamber of Commerce and Industry (LCCI) survey of 500 London business leaders found that 37% of respondents will permit employees to work from home more often once the full lockdown has ended. In addition, 13% think they will make a shift to working from home completely, while 9% said they have permanently closed physical premises.
In a nationwide survey of 2,000 office workers conducted by the British Council for Offices (BCO) in September, 62% of senior executives and 58% of entry-level workers said they wanted to combine remote working with several days a week in the office.
RELATED RESOURCE
Enabling a hybrid future
A guide to setting up new working practices
"We are never going to go back to how things were before," said BCO Chief Executive, Richard Kauntze. "The idea that people will return to the five-day week in the office has gone, and I think a much more blended approach is likely, two or three days in the office and two-three at home or wherever is going to be a much more typical pattern."
If a business can maintain its productivity and profitability with hybrid working then it makes sense to make that a permanent change. Employees could be given the option to come into the office should they choose, or reserve on-premise visits for work that's better conducted in person; for example training, meetings, collaborative tasks or making strategic decisions with relevant stakeholders.
Microsoft, whose offices won't reopen until January 2021 at the earliest, recently unveiled plans for its own hybrid workplace. The tech giant will allow employees to work from home for less than 50% of their working week, or to permanently shift to remote work pending manager approval. Those who opt for the latter will give up an assigned office space, but can still use 'touchdown' spaces available at Microsoft's offices when needed.
The future of work is looking increasingly flexible, but to get this hybrid model right organisations will need to make sure they arm their staff with the right tools to make it effective in the weeks, months and years ahead. The quick fixes that many were forced to implement in March won't be sustainable over a long period of time.
Empowering your workforce
Making sure employees have everything they need to support their day-to-day working routine is vital, and those demands could change whether they're at home, out and about or stationed at an office desk. An obvious first step is finding the devices that best suit your staff's working week, be they laptops, tablets, smartphones or a combination of all three.
Though it might be tempting to invest in cheaper, older spec hardware for volume, reliability is something that shouldn't be overlooked. A laptop that's constantly crashing during video calls or runs at a slow speed will only end up costing time and money in the long run. Similarly, with people working outside of an on-premise network, small problems that can't be fixed remotely are going to be magnified, putting more strain on IT teams.
Once staff are equipped with the hardware they need, getting the right apps in place will make the hybrid working model viable. Video conferencing has become the backbone of remote working in recent months, keeping organisations connected and allowing meetings to take place seamlessly. This will remain as we move into a hybrid workplace, with participants logging in from scattered locations. Cloud-based collaboration tools allow employees to chat privately in project-based channels, share files and documents individually or across groups, and hold video meetings internally or with external partners.
Keeping up face-to-face communications will be vital for the hybrid office, but there'll still be a need for the old fashion phone call. Having a VoIP (Voice over Internet Protocol) provider can offer more flexibility than a landline. Microsoft 365 Business Voice, for example, includes a phone system, domestic calling plan and audio conferencing.
Getting all of this set up with the right provider is key. That's where O2 Business comes in. The tailored solutions can help with a shift to hybrid working thanks to its range of monthly tariffs that support different business requirements. It can support your business with cost-effective devices, plus data options that can be dialled up or down based on usage. There's also automatic Data Rollover
where you can roll over any unused data each month, so it won't go to waste.
RELATED RESOURCE
Protecting your dispersed workforce
Cyber security in the new normal
Productivity solutions like Microsoft 365, which includes Teams and Business Voice, can be provided as part of the monthly contract, while Sophos security service with O2 gives sturdy protection against cyber threats that's easy to deploy and manage through a cloud-based portal to reduce IT admin. Sophos also allows businesses to pick and choose the services that are best-suited for them, with payment coming per user as opposed to a large upfront fee. Moreover, it'll help safeguard from malicious apps and treacherous Wi-Fi hotspots, meaning staff can work knowing the risk of having their devices hacked is greatly reduced.
Keeping connected is vital for any business moving forward, whether that's remotely, on-premise or a mix of the two. O2 Business offers the flexibility needed for this new hybrid work scenario. It can help if your strategy shifts quickly, too, aiding with setup if, for example, you need to establish a pop-up office and have specific device and connectivity (e.g. dongles and mobile broadband) demands.
O2 Business offers an ideal solution that can be adapted to your business' needs. It has dedicated Account Managers on hand to provide guidance on flexible tariffs and devices, plus useful apps to aid productivity. With the right collaboration tools and hardware, along with the right provider, your organisation stands the best chance of forging a reliable, effective and user-friendly hybrid workplace.
Learn more about how O2 Business can flex to power the hybrid workplace
Disclaimer
1 For new or upgrading customers only. Available on selected tariffs of 6GB of data or above, excluding 2GB triple data, 3GB double data and unlimited data tariffs. Up to 100% of unused data from standard monthly data allowance can be rolled over into the following month. Eligible data rolls over for one month only. Any data that cannot be rolled over will expire. Any unused data will not rollover if you decide to change to an alternative tariff. Directly purchasing private section customers with 500 or more employees and directly purchasing public sector organisations are not eligible.
Get the ITPro. daily newsletter
Receive our latest news, industry updates, featured resources and more. Sign up today to receive our FREE report on AI cyber crime & security - newly updated for 2023.
ITPro is a global business technology website providing the latest news, analysis, and business insight for IT decision-makers. Whether it's cyber security, cloud computing, IT infrastructure, or business strategy, we aim to equip leaders with the data they need to make informed IT investments.
For regular updates delivered to your inbox and social feeds, be sure to sign up to our daily newsletter and follow on us LinkedIn and Twitter.