UK universities receive £110m to fund AI Masters and PhD courses
Government has partnered with industry for the first time to train the next generation of AI talent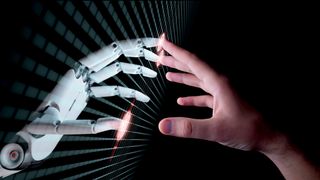 (Image credit: Shutterstock)
The UK government has launched a new skills and talent initiative that will see the creation of a series of industry-backed post-graduate AI courses, with the goal of training thousands of students each year.
This marks the first time the country will have a nationwide programme of industry-funded AI Masters courses that are paired with work-based job placements. It comes hot on the heels of new data that shows inward investment to the UK's AI sector increased 17% over the past year - more than the rest of Europe combined.
The new package, announced today, is funded by up to 110 million of government investment and will create up to 200 AI Masters places at universities across the UK. Additional funding will also come from the industry, with companies such as BAE Systems, Cisco and DeepMind investing in the initiative, according to a government statement. The Masters courses are expected to start as early as September this year.
The AI education push will also support up to 1,000 students who wish to pursue the subject to PhD using dedicated research Centres for Doctoral Training (CDTs). So far, 16 of these CDTs have been established in UK universities, including the University of Edinburgh, University of Sheffield, Imperial College London and University of Southampton.
"The UK is not only the birthplace to the father of artificial intelligence, Alan Turing, but we are leading the way on work to ensure AI innovation has ethics at its core," said Digital Secretary Jeremy Wright. "We want to keep up this momentum and cement our reputation as pioneers in AI. Working with world class academic institutions and industry we will be able to train the next generation of top-tier AI talent and maintain the UK's reputation as a trailblazer in emerging technologies."
The UK faces a massive skills shortage in the tech sector, which has increased demand for talent and driven up expected salaries in the field. In fact, according to the 2019 Morgan McKinley Salary Guide for Technology, permanent AI professionals can expect a 20.7% pay increase when switching positions.
The Masters element is part of the modern Industrial Strategy's AI Sector Deal, which was launched in April 2018.
So far, 11 companies, including Accenture, Cisco, InfoSys, Nvidia, and Quantum Black have committed early funding to the Masters placements. This programme is directed toward employees with existing AI skills and those who wish to change their specialisation to AI.
Industry partners will also supply one third of the funding - believed to be a further 78 million - for the 16 university-based Centres for Doctoral Training, with companies such as Amazon, BT, Google, Microsoft, and Rolls Royce among those already supporting the scheme. It is expected that 200 students will be supported each year, with the goal of training 1,000 students over the next five years.
"To maintain its leadership in AI, the UK will need a new generation of researchers, business leaders and entrepreneurs equipped with new skills," said Professor Sir Mark Walport, UK Research and Innovation Chief Executive. "Working with partners across academia and industry, the centres announced today will provide the foundations for these future leaders."
Because AI can be applied to a wide range of studies, the centres will be interdisciplinary and will cover a broad range of sectors, from biomedicine to music, according to the statement.
UK Research and Innovation, the Alan Turing Institute and the Office for Artificial Intelligence are also teaming up to create five Alan Turing Fellowships, with 8.5 million of government funding allotted for the first cohort. These fellowships are designed for mid-career and senior AI researchers, with those selected being tasked with creating a research programme in the AI application sector of their choice for the duration of the course.
"Artificial intelligence represents an incredible opportunity to transform our economy and our lives for the better," said Adrian Smith, Director of the Alan Turing Institute. "The Turing AI Fellowships will be crucial in building UK leadership capability, driving forward ambitious research and ensuring that the UK can attract, retain, and develop world-leading research talent."
The UK is currently enjoying an AI investment boom. Figures released by business intelligence firm Dealroom, in collaboration with Tech Nation, found that there were 82 venture capital fundraisings across the UK in 2018, compared with 70 in 2017. This means UK AI companies achieved record levels of raise capital, exceeding $1.3 billion last year.
To put that into context, France and Germany raised just $400 million and $300 million respectively. The figures show that the UK is now raising as much capital each year as the rest of Europe combined.
AI is now considered one of four 'Grand Challenges' under the current government as it seeks to put the UK at the forefront of cutting edge industries. The government says today's package is the realisation of a commitment made as part of its AI Sector Deal, which saw close to 1 billion injected into the digital economy last April.
A daily dose of IT news, reviews, features and insights, straight to your inbox!
A daily dose of IT news, reviews, features and insights, straight to your inbox!
Thank you for signing up to ITPro. You will receive a verification email shortly.
There was a problem. Please refresh the page and try again.