10 best ways to sign off an email and 10 sign-offs to avoid - and why
There are good ways and bad ways to sign-off from your emails. Here's everything you need to know to avoid a digital etiquette misstep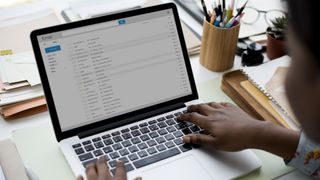 (Image credit: Shutterstock)
The average person receives around 120 emails each day, and that amount will add up over the years, so it's important to know how to sign-off an email. Many of us will sometimes fall short on email etiquette, no matter how many hours we dedicate to crafting and sending these electronic messages. You might be wondering what the best way to sign off an email is, and this can be a tricky question to answer. Modern life is becoming increasingly hard to navigate in the digital world, with your goal of an email sign-off tending to instigate the reader to send a fast response, without the writer coming off as too formal.
The problem is that when it comes to what makes a good email sign-off, different people will have various ideas on this topic. One person's favourite email sign-off, for example, could be unsettling for a number of recipients.
There's no need to worry, however. In this article we'll go over 10 email sign-offs that you can add to your writing arsenal which are sure to award you with the response you seek. Additionally, we'll also go through the 10 email sign-offs that might be a good idea to avoid.
The 10 best ways to sign-off an email
As ever
This is known among the etiquette experts as a classic sign-off, largely acquiring its legendary status thanks partly to a Sadie Stein essay in The Paris Review. In the essay, she describes how she received a message from her university professor and felt enchanted by "as ever". "Immediately, it seemed to me that rare thing, an all-purpose valediction: versatile, graceful, elliptical," she explained. "If I was writing to a loved one, the sign-off implied my affection was going strong. If I hated someone, well, it didn't rule that out, either. It could be cool or warm, friendly or formal. Or it could be literal: I was still Sadie Stein, and there was very little arguing with that."
Thank you and thanks
46% of email writers replying to a PerkBox survey of 2,000 people said that a simple "thank you" was a good way to sign-off an email. A basic "thank you" or "thanks" could be a great way to make your digital exit, although it is preferable if you have something in particular to thank the person you're writing to for.
It's been known for a while that being thankful could help boost your response rate too. All the way back in 2017 a study from Boomerang, of over 350,000 email threads discovered that "thank you," "thanks in advance," and "thanks" all received response rates of around 65%. On the other hand, 46% of emails that lacked these kinds of sign-offs also got a response. It's worth bearing in mind that some etiquette experts warn against using "thanks in advance" though, which we've noted further below.
Best wishes and all the best
Sign-offs like "all the best," "best," or "best wishes," are preferred by Victoria Turk, the author of Digital Etiquette. Despite this, "best" and "best regards" didn't garner as many responses in the Boomerang study compared to emails ending with "thanks", although it's worth pointing out they experienced an 11% and 7% rise when compared to the average of all emails sent.
Kind regards
The etiquette experts consider this to be one of the top sign-offs, just like "best". Not only formal and polite, it's also considered to be warm. In the PerkBox survey it also appeared to be extremely popular, approved by 69% of those who took part. If you're looking for a safe and secure option for an email sign-off, then "Kind regards" is the one for you.
Learn mimicry
If you're replying to an email, an easy way to know how to reply is by mimicking the sender's style — if they thought "best regards" worked for them, they won't be offended to hear it in return. It's a safe way to avoid any offence or confusion, but don't use it if the sender has a unique sign-off, as it may seem mocking.
Be consistent
Starting with a formal sign-off and switching to a more casual one is perfectly fine, but be wary of suddenly lurching back to "sincerely" or another colder exit, according to William Schwalbe, author of Send: Why People Email So Badly and How To Do It Better. "Change is important," he told Huffington Post. "If you've been 'best,' 'best,' 'best' back and forth, and all of a sudden I sent you a 'sincerely,' actually that means you've probably done something that irritates me, and I want to establish that we are not actually close."
Use context
Keep in mind the wider context, too. Tina Hayes, of the School of Etiquette and Decorum, shared sign-off ideas from colleagues at the American Association of Etiquette Professionals with the San Francisco Chronicle, revealing a nod to the strange times we currently live in could be welcome. "Take care and be safe," suggested one, while another said "stay sane and healthy".
Be yourself
The perfect sign-off depends on the style of your business. A professional sign-off is necessary for most of us in office situations, but your sign-off could help solidify your brand, according to business etiquette expert Jacqueline Whitmore. "A friend of mine writes vegan books, and she signs her emails 'love and blessings'," Whitmore says in a blog post. "And that's who she is." Most of us can't get away with that much character at work, but if it works for your role or business, go for it.
The 10 worst ways to sign off an email
Don't be too formal
Emails are for the electronic age so make sure your writing isn't stuck in the past. It's seen as too formal to use something like "Yours sincerely." If you read your writing and come across as something out of a Dickens or Jane Austen novel, it might be a good idea to rewrite your email. "Yours truly," "yours faithfully," and "sincerely" were ranked as the worst email sign-off options by the PerkBox survey.
This isn't the pub, don't say cheers
You might have a good relationship with someone and are able to customise your sign-off to highlight how close you are to them. However, Turk warns that it's best to avoid being too casual if you don't happen to know the person you're writing to very well. "Cheers" is an email sign-off that should be used with close colleagues or friends, but no-one else, says Turk according to Ted.com. Additionally, only individuals from Australia or the UK will be accustomed to this phrase, as other people might not be familiar with how it's used.
RELATED RESOURCE
The IT Pro Podcast: Should email be part of your collaboration strategy?
We look at whether email is an outdated relic or a useful tool
Don't get emotional
If you're chatting with a friend or your mother you might sign the email off with a "love" or even a "xoxo". It's not surprising that this was seen as the worst way to sign off an email in the PerkBox survey. It's a simple rule, but if you don't love the person you're writing to, it's a good idea not to sign the email off in that manner. Following "love" as the next worst-rated sign-off was "warmly", so it's useful not to share your emotions with that word too.
Abbreviations
It doesn't really matter if you're on your keyboard or using your mobile phone, it is just as easy to write "thanks" or "thx". If you can't find the effort or energy to write a couple of extra letters, why should the readers of your email bother to reply, or even read, what you sent them?
Don't pre-empt
"Thanks in advance" is the worst sign-off possible to type out, says Turk. She describes it as "incredibly presumptive." She told Ted.com: "You can't thank someone for doing something before they've agreed to do it."
Don't be passive aggressive
There are some sign-offs that come across as an implied demand for future action, like "looking forward to hearing from you" or "thanks in advance." It can be a little dangerous to include this in your sign-off armoury as they can come across as passive aggressive, according to Grammarly experts. It can also complicate things by relegating you to a waiting position, where you're unable to reach out to them until they've sent a reply.
"The problem with 'I look forward to hearing from you' is that it removes you from the active role and puts you in a subservient one," states Grammarly. "Now, you're just waiting passively for a response rather than moving the email thread forward, and your recipient may not even know what you want from them."
Drop the GIFs and pics
Using an amusing GIF or image could make your email stick out in their memory, but this is a double-edged sword. Additionally, humour is subjective so the person you're communicating with might not find it as funny. Images can also affect security software, triggering an antivirus response. It will also affect your email load time, which is made even worse if a user views it on their mobile device.
Say something
The PerkBox survey showed that 44% of people thought the worst sign-off was none at all. That may work for a colleague you exchange dozens of messages with each day, but if you don't know the recipient very well, it's best to make a polite exit rather than none at all. If the best you can do is "best", that's better than nothing at all.
Get the ITPro. daily newsletter
Receive our latest news, industry updates, featured resources and more. Sign up today to receive our FREE report on AI cyber crime & security - newly updated for 2023.