5 best entry-level tech jobs
These entry-level tech jobs will launch your high-tech career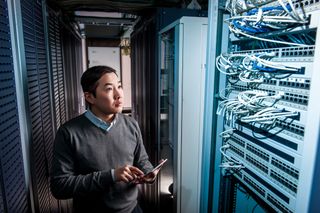 (Image credit: Shutterstock)
If you're seeking an IT career, no matter if you're a college dropout or in the later stages of your career and seeking change, there's no better time than now to make the shift to a tech career.
While other industries have struggled through the pandemic, the tech industry not only remained mostly unimpacted but it also continued growing. We even saw increases in job listings as remote working surged and maintaining critical infrastructure became a focal point. Now more than ever, you're in a great position to find and land a job in IT right now.
Before COVID-19 even hit, demand for workers skilled in IT outstripped the talent pool, leaving companies scrambling for workers. Data science positions have traditionally been difficult to fill, plus a range of cloud computing rolled -- some common, some niche -- that are nearly as difficult to fill.
On top of high employee demand, there are many ways to train for an IT role. Most people jump on the traditional route of higher education and apprenticeships, however, many have made their way into tech careers through self-teaching. Penetration testers and coders take often take the self-taught route. On top of self-teaching, there's no shortage of online courses to guide you along the way.
For entry-level roles, the requirements will differ depending on the company's needs and what qualifications they're looking for.
Computer support specialist
Median salary: $53,470
Job growth: 10%
If you ever watched the IT Crowd, you'll know what a computer support specialist is, but there is a lot more to the role than just 'switching it on and off again'. From supplying extra hardware needs like new cables to installing anti-virus software, support specialists have many areas to cover.
These IT pros assist non-IT computer users to remedy all their computer-related issues. While many computer support specialists assist end-users remotely, many also provide in-person one-on-one support.
Computer support specialists may solve a range of problems, including helping users access their email account or troubleshooting IT-related products and network connectivity issues.
When it comes to education requirements for an entry-level computer support specialist, expect them to vary based on company needs. While all jobs will require computer knowledge, not all companies will require a postsecondary degree.
Regardless of education, individuals applying for this entry-level tech job should be able to utilize their technical skills and previous training to solve real-world IT problems in an efficient and timely manner.
While salaries vary based on location, according to the Bureau of Labor Statistics, computer support specialists earned a median annual wage of $53,470 in May 2018.
As technology advances and additional IT support services are needed, the BLS estimates opportunities for computer support specialists will grow by 10% in the next 10 years.
Web developer
Median salary: $69,430
Job growth: 13%
Are you the creative type? Then consider a career as a web developer. Web developers are responsible for bringing their client's vision to fruition, whether that means creating a high-end ecommerce site or an interactive gaming site.
As one could imagine, different types of websites require different types of applications, meaning web developers should be able to handle a variety of development-related tasks. From developing user interfaces by utilizing standard HTML/CSS practices to integrating payment-processing applications, a web developer's job is to build a website from the bottom up.
With the rising need for web developers, those interested in pursuing this entry-level tech job should know education requirements for this job do vary. While some companies require an associate's or bachelor's degree, many employers will also hire web developers with a working knowledge of HTML, JavaScript and SQL but no degree. Also, keep in mind that to succeed as a web developer, you must be committed to keeping up to date on up-and-coming tools and computer languages.
According to the BLS, web developers earned a median annual wage of $69,430 in May 2018. The lowest 10% of web developers earned $37,930, while the highest 10% earned upward of $124,480.
Between now and 2028, the BLS estimates that opportunities for web developers will grow by 13%, much faster than for other occupations.
Database administrator
Median salary: $90,070
Job growth: 9%
Database administrators, also referred to as DBAs, are responsible for building high-quality database systems tailored to the end user's specific role and needs.
DBAs also ensure the overall integrity and performance of company databases, making certain they run smoothly at all times. Many DBAs also develop new databases, gauge performance and confirm the database can satisfy user needs.
For those interested in pursuing this entry-level tech job, consider a bachelor's degree in computer or information science. Regardless of degree, aspiring DBAs should have a thorough understanding of common database languages, the most common being Structured Query Language.
According to the BLS, the lowest 10% of DBAs earned $50,340 in May 2018, while the highest 10% earned more than $138,320.
The BLS estimates opportunities for database administrators will grow by 9% between now and 2028, faster than for other occupations.
Information security analyst
Median salary: $98,350
Job growth: 32%
If you've ever found yourself reminiscing about the iconic 1980s movie Wargames or daydreaming about being John McClane's tech-savvy right-hand man in Live Free or Die Hard, then consider a career as an information security analyst.
Think of these computer pros as the gatekeepers. Entrusted with protecting their organization from nefarious cyberattackers, information security analysts are responsible for researching and implementing the latest in IT security technology.
While most companies require information security analysts hold a bachelor's degree in computer science or a related field, there are many security certifications available to those interested in pursuing this entry-level tech job without a degree. Well-honed skills are vital to this particular position, making strong computer, problem-solving and analytical abilities key to this IT position.
Per the BLS, information security analysts earned a median annual wage of $98,350 in May 2018. The lowest 10% earned less than $56,750, while the highest 10% earned upward of $156,580.
Opportunities within this entry-level tech job are on the rise. According to the BLS, opportunities in this field will grow by 32% over the next 10 years.
Software developer
Median salary: $105,590
Job growth: 21%
Entry-level software developers require the technical know-how to build computer-related programs. From identifying the functional needs of end-users to creating software that enables users to perform specific tasks, software developers must also be fastidious in determining user requirements unrelated to the functions of the software that they are creating.
For creative problem solvers and strategic thinkers, this entry-level tech job makes for the ideal career path in the IT industry.
Note that while software developers must keep their knowledge on tools and computer languages up to date at all times, a bachelor's degree is also often required when entering this field. Many aspiring software developers also complete an internship while pursuing a bachelor's degree related to computer science, engineering or a similar field.
According to the BLS, software developers earned a median annual wage of $105,590 in May 2018. Keep in mind, though, the median pay for this entry-level tech job varies by industry.
Like many other entry-level tech and IT jobs, software developers can expect a wealth of available opportunities. According to the BLS, opportunities for software developers will rise 21% over the next 10 years.
Get the ITPro. daily newsletter
Receive our latest news, industry updates, featured resources and more. Sign up today to receive our FREE report on AI cyber crime & security - newly updated for 2023.