Why COVID-19 could spur a learning revolution
Newfound interests and future job prospects could fuel a surge in children studying STEM subjects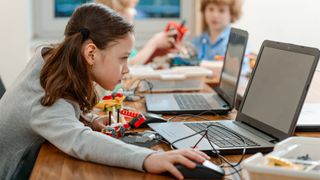 (Image credit: Shutterstock)
This article originally appeared in Issue 8 of IT Pro 20/20, available here. To sign up to receive each new issue in your inbox, click here.
COVID-19 has had a huge impact on young people and education systems across the country. Not only were schools forced to close their doors and shift to unfamiliar e-learning platforms, but there is growing evidence that the economic consequences of the pandemic and the recession that promptly followed could be particularly negative for young people and their future prospects.
However, there could be one positive to come out of the pandemic. Research from the British Science Association (BSA) has shown that while 59% of young people (aged between 14 and 18) are concerned about the impact of coronavirus on their future prospects, there is a marked uplift in young people who would now consider a career in the fields of science, technology, engineering and mathematics (STEM) as a result of the pandemic, with 37% saying they are now more likely to consider it.
A newfound interest
One of the main reasons for this, the BSA claims, is that many youngsters are starting to realise how vital science and technology are to the health of the human race. The looming reality of future pandemics is also providing motivation for them to pursue STEM-related careers.
Paul Kostek, a senior member of the IEEE and advisory systems engineer for Base2 Solutions, tells IT Pro: "For students, the COVID-19 pandemic has introduced them to terms such as epidemiologist, health metrics and the use of percentages to determine the spread of the virus. It has shown them how vaccines are designed, tested and fielded, and introduced technologies such as thermal imaging cameras, skin sensor patches to monitor temperature and apps to ensure social distancing.
"From this, the likely result will be an increase in the number of students pursuing the sciences, including medical research, and engineering. Whether creating medical devices such as ventilators, designing vaccines or designing apps to track a person's physical characteristics and feed them to a smartphone, STEM will be an attractive career path that allows students to develop technical skills and help people at the same time."
Not only are children becoming more interested in STEM subjects as a result of the coronavirus pandemic, they're also becoming more familiar and adept with technology. The sudden shift to e-learning has forced children of all ages to quickly adopt new technologies, be it video conferencing tools, screen-sharing services or online cloud-based platforms. This, claims Elizabeth Tweedale, CEO of Cypher, will also encourage more children to study STEM, and better equip them for doing so.
"Kids have significantly increased their creative and communicative screen time through regularly connecting with friends and family via video calls and navigating homework assignments and conversations online," she tells IT Pro. "At Cypher, we've seen children as young as six years old engaging with new computing skills in the past few months, which will undoubtedly result in significant advances in their capabilities through these new opportunities.
"This familiarity will lead to more children studying STEM subjects and/or incorporating technology into all other curriculum subjects through this newly found confidence. From this, the younger generation will grasp the benefits and advantages of computational thinking and reasoning, two elements key in the fields of coding and computing."
Job security
Young people may also consider a scientific career due to the increased notion of having greater job security than other sectors. While many industries – notably hospitality, retail and leisure – have been hit devastatingly hard by the pandemic and the disruption it created, the technology industry has been somewhat resilient thanks to a shift to a 'new normal' underpinned by remote and online technologies.
Figures from the Association of Professional Staffing Companies (APSCo), the trade association for the professional recruitment sector, showed that the IT sector remains stronger than most during the pandemic; the industry accounted for 35% of all job vacancies in London during the peak of the crisis, a figure that typically sits around 15%.
RELATED RESOURCE
IT Pro 20/20: The learning revolution starts now
The eighth issue of IT Pro 20/20 looks at the rise of self-education during a global pandemic
This demand is likely to continue, too. The COVID-19 pandemic is fast-tracking digital transformations in companies that are looking to technologies such as artificial intelligence (AI) and the Internet of Things (IoT) to help them become more resilient to future disruptions, so those that can help businesses to exploit these technologies could be in a hardy position.
Anthony Tattersall, Head of EMEA at Coursera, comments: "The Corona class of 2020 and beyond will have it tougher than ever to develop the right skills to become employable in the job market ahead. However, according to our latest 2020 Global Skills Index, based on 65 million learners globally, Physical Sciences (STEM) students are those who bring the most versatile skills set into the workforce. In fact, data storytelling, a methodology present in all STEM courses, was in demand in all top ten industries that informed the report.
"Students in disciplines like physics, chemistry, meteorology, as well as maths and statics, could make the most desirable employees as they are trained to use data to inform decision-making and measure uncertainty. These fields best prepare people to easily acquire other new skills and navigate the ever-evolving technological landscape that's impacting all businesses today."
Not just children
It might not just be young people who are more likely to consider a future STEM career as a result of the pandemic. Nerys Mutlow, chief innovation officer at ServiceNow, claims the newly-adopted way of working, which has changed the 9-to-5 as we know it, could also encourage more women to pursue a new role thanks to their newfound flexibility.
"In a previous role, I frequently had calls put in my diary at 8 am while I had to do the school run," Mutlow says. "Not only have our hours changed, but COVID-19 has increased workplace openness and it's easier to reschedule inconvenient diary invites.
"With both parents able to work flexibly, the burden of childcare can be better shared, levelling the playing field for women. This newfound flexibility will encourage young girls too, particularly if they know they don't have to sacrifice career progression to start a family."
Get the ITPro. daily newsletter
Receive our latest news, industry updates, featured resources and more. Sign up today to receive our FREE report on AI cyber crime & security - newly updated for 2023.
Carly Page is a freelance technology journalist, editor and copywriter specialising in cyber security, B2B, and consumer technology. She has more than a decade of experience in the industry and has written for a range of publications including Forbes, IT Pro, the Metro, TechRadar, TechCrunch, TES, and WIRED, as well as offering copywriting and consultancy services.
Prior to entering the weird and wonderful world of freelance journalism, Carly served as editor of tech tabloid The INQUIRER from 2012 and 2019. She is also a graduate of the University of Lincoln, where she earned a degree in journalism.
You can check out Carly's ramblings (and her dog) on Twitter, or email her at hello@carlypagewrites.co.uk.