How to become a data scientist: A guide to the profession and securing a job
Advice for those looking to build a career as a data scientist, including what the role entails, potential career opportunities, and how to land a job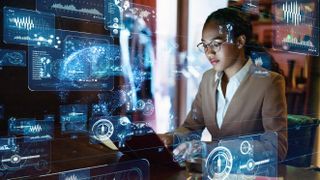 Given the sheer variety of fields they are involved in, data scientists are always in high demand. If you're looking for something with variety and plenty of opportunities, a career in data science is a solid option.
The continually increasing amount of data being generated offers new business opportunities. Emerging data sources could offer market insights and aid in the development of new tools. However, these insights are dependent upon the data being appropriately collected and analyzed.
This is where data scientists excel – they are able to effectively curate and study the data, before presenting their conclusions in an actionable format for executives who do not have a technical background.
Data scientists were once based in or around central hubs of the technology industry, such as Silicon Valley. However, there has been a gradual shift away from this due to the increased accessibility of data analysis tools and the popularity of remote working following the Covid pandemic. The US remains the country with the most data scientists, due to a large data science infrastructure, and has the highest number of job openings for data scientists. Other countries with a high demand for data scientists include Canada, India, and Germany.
What does a data scientist do?
A data scientist is someone who collects, analyzes and interprets data to enable the decision-making of an organization. They may utilize advanced analytics techniques, such as machine learning and predictive modelling, along with the application of scientific principles.
Data scientists often work with large data sets to identify patterns, test hypotheses and make inferences. They analyze data sets, such as customer and market trends, financial risks, cybersecurity threats, stock trades, equipment maintenance needs or medical conditions.
Data scientists are typically responsible for extracting the required raw information from data. Once analyzed, it could then be used for predicting emergent behavior, identifying new market trends or for detecting fraudulent activities. They can offer valuable insight for healthcare providers, academic institutions and government agencies, amongst many others.
Quick facts about data science jobs
The average US salary for data scientist in 2023 is approximately $144,050.


The US Bureau of Labor Statistics expects 11.5 million new jobs for data scientists by 2026.


Requires an undergraduate degree in data science or a related field. A Master's degree or PhD is the best way to stand out.


59% of data scientist jobs will be in finance, IT, insurance and professional services (IBM).


Requires a strong understanding of statistics and coding languages like Python, SQL, and C.
What career opportunities are available to data scientists?
Businesses are always seeking new ways to derive insight and to provide actionable outcomes for increasing revenue and profitability. As such, the field of data science is expanding rapidly.
Someone who works in data science is not just a data scientist. It incorporates a wide variety of roles, including the following:
Business intelligence specialists produce insights that guide decision-making.

Data analysts explore complex data sets to identify new patterns.

Data architects plan and manage big data databases.

Data engineers prepare data for analytical or operational uses.

Data scientists collect, analyze and interpret data to drive decision-making.
Despite the highly technical nature of the role, data scientists are often needed in a wide variety of industries, and not just in the technology sector. The core business sectors employing data scientists are healthcare and finance, but data scientists can be found in most fields.
Do I need a degree to be a data scientist?
RELATED RESOURCE
Learn about the three most commonly encountered scenarios that pose difficulties for network operations teams
A degree in a computer science or mathematics (with statistics) is the minimum requirement to become a data scientist, but a Master's degree or higher is desirable.
Going through a master's degree program in particular will provide a more complete understanding of data science, which will include predictive analytics, statistical modeling, data mining, data visualization, and enterprise analytics.
For those who have already started a career in data science, then professional certifications, such as Certified Analytics Professional and Open Certified Data Scientist, demonstrate a commitment to continuing professional development in this field.
What skills do I need to become a data scientist?
In order to become a data scientist, you will have to start by gaining the right skills through a mix of on-the-job experience and education. An effective data scientist also needs to have a balance of the technically-focused core skills and the soft skills of collaborating and communicating.
Data science core skills
Computer science: You'll have to put a wide variety of principles into action related to database systems, software engineering, artificial intelligence, numerical analysis and human/computer interaction
Programming: This involves developing computer programs and analyzing big sets of data to search for solutions to complicated problems. Get ready to write code in a number of programming languages (e.g. Java, Python, SQL, R)
Statistical analysis: Fully analyze data to discover patterns and carry out pattern and anomaly detection
Machine learning: using statistical models and algorithms, "teach" computers to learn from data
Data storytelling: Utilise data to illustrate, explain and develop actionable insights for non-technical audiences
Data science soft skills
Analytical thinking: Find analytical solutions for theoretical business issues
Interpersonal skills: Work and collaborate with all types of people throughout the organization
Critical thinking: Analyze facts in an objective manner to reach a conclusion
Inquisitiveness: Discover hidden patterns and solutions within the data
Business intuition: Work alongside stakeholders to fully understand their problems
How do I become a data scientist?
When first deciding that you want to be a data scientist, it's helpful to consider which sector you wish to work in. Having a specific sector in mind enables applicants to focus their attention on the most suitable job adverts, making it more likely that your application will stand out.
Networking within the tech industry, both online and in person, is always useful for gaining information on potential job openings. This could be through chatting with people on LinkedIn and data science forums, or meeting them in person at tech conferences. Ask them about their career journey and what they feel got them hired in the first place.
We've summarized some specific tips for applying for data science roles below. These assume you are already covering the basics of applying for a job, including creating an engaging and relevant cover letter, and matching your experiences and skills to the job advert.
Tips for applying for data scientist jobs
Highlight any real-world experience that relates to the discipline. Applying your data science to skills to things you have done in the past demonstrates an understanding of the skills required


Consider voluntary positions at non-profit or charity groups to help build your experience. Not only can these opportunities be a great way of building and testing your skills, they are also perfect for demonstrating your passion for the industry. You will also likely make useful contacts for your future career


Another way to keep your skills fresh is to apply them to something you're passionate about. Studying data relating to your favorite sports team, for example, is a good way of acquiring experience working with real-world data


Keep up to date with the latest developments from across the data science industry, as well as the wider technology landscape. Be prepared to chat about emerging topics at seminars and conferences, and use social media to discuss ideas with your peers


Keep your job searches specific to your skills and desired industries. The sheer number and variety of roles being advertised across the industry and across different geographies can be overwhelming. Your best chance of securing a role is to target the jobs you feel match your experience and goals
The data sciences is a rapidly growing field, and careers in this area offer high wages and a solid future. It's a great time to launch your data scientist career.
Do your homework to determine what types of jobs are available in your area, who's hiring, and what the role requires. You can consider freelancing as a data scientist or look for jobs in other parts of the country. Research, analyze the data, and develop a plan, and you will soon be launching your career as a data scientist.
Get the ITPro. daily newsletter
Receive our latest news, industry updates, featured resources and more. Sign up today to receive our FREE report on AI cyber crime & security - newly updated for 2023.
David Gargaro has been providing content writing and copy editing services for more than 20 years. He has worked with companies across numerous industries, including (but not limited to) advertising, publishing, marketing, real estate, finance, insurance, law, automotive, construction, human resources, restoration services, and manufacturing. He has also managed a team of freelancers as the managing editor of a small publishing company.