The best LinkedIn courses for IT decision-makers and leaders
A guide to some of the best LinkedIn courses for IT decision-makers and leaders, including everything from building data strategies to managing digital transformation projects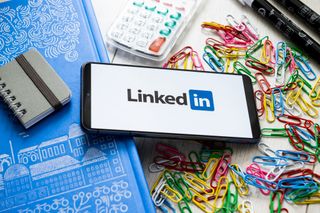 (Image credit: Getty Images)
The continually changing nature of the modern world, especially within the technology sector, means that we never stop learning, and LinkedIn is a great place to start. Some of the best LinkedIn courses are tailored to IT decision-makers (ITDMs), but it can be difficult to know where to start.
Some courses will be naturally more relevant to the IT sectors, while others will only be tangentially related. For example; Creating a Culture of Service includes a lesson on 'How to Explain a Firing', which is still incredibly valuable for ITDMs.
To help you get started, we've highlighted below some of the best LinkedIn courses for IT decision-makers.
The best LinkedIn courses for IT decision-makers
Creating your IT Strategy
An IT strategy is fundamental to an organization's ability to function competitively, as it underpins everything necessary to remain operational. An IT strategy provides a comprehensive plan detailing multiple factors that can affect the investment and use of technology. No two strategies are the same, as they tailored to each organization's individual goals and requirements.
It's therefore incumbent upon IT leaders to be up-to-date in how to author an IT strategy, thereby enabling an agile IT department to grow, as well as measuring the organization's IT performance.
The course also discusses the need for a business information officer, and explores how IT business leaders can evolve their approach to technology by opening the conversation with others and finding shared commonalities.
Digital Strategy
A digital strategy is necessary for IT leaders wanting to maximize the benefits of an organization's data assets. Given the amount of data that organizations possess, a comprehensive strategy necessitates all branches of a business, from executives to marketing, to be involved. A successful digital strategy focuses on potential vulnerabilities to disruption and how organisations can ensure maximum value from the data they process.
This course explains how automating processes through machine learning and using emerging platforms can enable organizations to swiftly adapt to emerging business opportunities. It also covers how digitization can improve the design and efficiency of products and services.
Data Strategy
A data strategy covers the long-term objectives for the use of data and includes the policies and practices to enable these objectives. In order to be realistically achievable, a data strategy needs to incorporate all potential uses of data, both technical processes and the human element.
The course explains the fundamental foundations of data strategy and how to effectively scale operations through data governance. The course also explains the role of the chief data officer in the data strategy; educating their organization in the value of data and how it can be used.
As every data strategy is unique, the course explains the key elements in building a successful strategy tailored to your business profile. It discusses how the data strategy complements other IT investments and how it relates to the overarching business capabilities. It also covers various ways to engage the entire organization and achieve buy-in.
Assessing Digital Maturity
Organizations of all sizes and types are engaging with digital transformation to remain competitive. Yet this need for change has resulted in many projects becoming siloed, with little strategic oversight or full consideration of how they can be most effective.
This course explains how to assess the digital maturity of an organization and how to create an internal ecosystem that's more conducive to successful digital transformation.
The course concludes by demonstrating how traditional industries have evolved, through digital transformation, to remain competitive.
Digital Transformation
Whilst digital maturity focused on enhancing the use of digital technologies within an existing business model, digital transformation is more about rethinking an organization's business model and structure in order to take full advantage of emerging technologies.
A digital transformation can be disruptive and costly in time and resources. This course explains the impact digital transformations have on all aspects of an organization's operations and how streamlining the process can maximize the benefits.
The course concludes by demonstrating how to create a digital transformation plan that incorporates all of an organization's current and potential needs.
Critical Communications for IT
In our hyperconnected world, communication is key. This is especially the case when an IT incident or data breach occurs. What is said, how the message is communicated and when the message is shared is crucial to protecting an organization's reputation and long-term operations.
Controlling a crisis and communicating throughout should not be purely reactionary. Instead, by improving communication strategies during a crisis, such as hacks, data breaches or social media fallout, organizations can mitigate potential losses and reputational damage.
This course explains how organizations should communicate during an incident and immediately afterwards. It examines the internal and external factors that can influence an organization's ability to share information and how these challenges can potentially be overcome, as well as how communications can be improved.
Strategic Partnerships: Ecosystems and platforms
Just as no man is an island, so too is no organization ever completely independent. The distributed nature of the internet means that success necessitates efficient collaboration with multiple partners, in order to enhance operational efficiency.
Remaining competitive in modern business is dependent upon forming relationships with compatible organizations and collaborating with multiple partners. This course explains the foundational elements and shared technologies for developing these partnerships, and how they can be incorporated into an organization's overarching strategy.
It also covers how organizations can find mutually beneficial partners that share their goals, managing the relationship so they collaborate effectively and encourage growth. The course concludes with a case study demonstrating how multiple stakeholders can collaborate to launch a digital platform that can grow quickly and organically.
Measuring and Managing Top Cyber Risks
Cyber security has become a key element in any modern organization, but being able to identify potentially significant cyber security risks is not easy. As computers have become foundational for modern practices, these risks have now expanded beyond the IT department to encompass all aspects of an organization.
This course helps IT decision makers identify security vulnerabilities within an organization in such a way that it enables the mitigation of risk, whilst strengthening the organization's overall cyber security posture. It also covers how to report demonstrable progress to internal and external parties.
Cloud Computing: Rapid Migration During a Crisis and Beyond
Moving applications and data from traditional systems to the public clouds can be challenging, especially when unexpected crises necessitate the change. This was witnessed most recently in 2020, when many organizations needed to shift to the cloud in order to remain operational during the pandemic.
An unexpected crisis needs swift and decisive leadership, but carries with it the risk of unexpected technology shifts that leave IT teams struggling to manage the changes.
This course is designed to help IT decision-makers and administrators author crisis response plans for the rapid migration of workloads into the cloud. It covers the crucial factors that need to be considered, as well as how to identify the most appropriate migration platform for a company's needs. It also examines some of the currently available migration tools from AWS and Azure.
Get the ITPro. daily newsletter
Receive our latest news, industry updates, featured resources and more. Sign up today to receive our FREE report on AI cyber crime & security - newly updated for 2023.
Get the ITPro. daily newsletter
Receive our latest news, industry updates, featured resources and more. Sign up today to receive our FREE report on AI cyber crime & security - newly updated for 2023.
Thank you for signing up to ITPro.. You will receive a verification email shortly.
There was a problem. Please refresh the page and try again.