How the role of the chief data officer (CDO) will evolve in 2023
The best CDOs will not only focus on creating more value from data but transmit data skills across the whole enterprise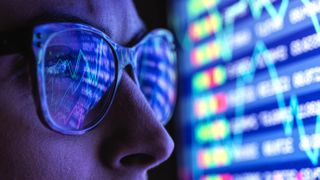 This article originally appeared in issue 34 of IT Pro 20/20, available here. To sign up to receive each new issue in your inbox, click here
Data now sits and the heart of enterprise strategy and senior stakeholders recognise its significance. The most forward-looking businesses are appointing a chief data officer (CDO) to ensure their organisations take advantage of the information they collect. The role of a CDO, however, has changed over time and will continue to evolve as data becomes more important to businesses in the coming months.
Such is pivotal the role of information in modern business that consultancy firm PwC reports that two-thirds of companies have seen a growth in references to data in their annual reports since 2017. Data frequency at these firms has increased by 78% in the last five years.
While most organisations know the power of data, not all executive teams support that appreciation with the appointment of a CDO. Recruiter Nash Squared reports that two-thirds of digital leaders see big data being as key to creating a competitive advantage during 2023, but only a fifth feel their organisations are effective at using data.
In fact, PwC found – despite growing recognition of the role played by data in an effective business strategy – less than a quarter of companies have a CDO in place at a senior executive level. Even when a data chief is in situ, these C-level appointments are concentrated in a few sectors and regions.
It's hard to find a good CDO these days
Nash Squared CEO Bev White believes one explanation for this paucity of data leadership is that good CDOs are tough to find. "It's a talent-short market – and what we're seeing is a lot of people moving around roles because they're getting poached repeatedly," she says.
White says the best data chiefs are likely to have a solid background in large-scale analytics but are also great communicators: "CDOs have got to be able to talk with people who are in decision-making roles and convince them that an investment is a good one because the business will then capture a slice of the market it can't currently reach."
The requirement to demonstrate the value of emerging technologies – in areas such as analytics and machine learning – means data leaders must be proactive and persuasive. White says CDOs holding these capabilities will be very marketable through 2023 and onwards.
"They've got to be able to form a strategy and have a strategic mind," she says. "And they need to be able to create a really strong data environment, where people understand the value of bringing data together into a place that they can use to make good, solid decisions and create new offers for their markets."
One data chief who's already demonstrating these strengths is David Charnley, head of transformation and strategy at NatWest Group. He says data leadership was historically focused on data governance and information management, with responsibilities that stretched from data quality and lineage to controlling metadata repositories.
While those responsibilities still hold true in some organisations, Charnley believes the CDO role is evolving – and the result is a broad spectrum of data chief roles. At NatWest, data leadership involves looking across analytics, digital decision-making processes and data science capabilities for customer-facing businesses, but also dealing with data management concerns and the technology that underpins the work that data teams do for the business.
"I think that combination of all of those disciplines together, unified with the technology, is really, really powerful," says Charnley. "Because it then means the CDO is very much in control of the data strategy and its implementation for the bank."
Data platforms are now seen as an investment
RELATED RESOURCE
Winning the data-centric digital business in this decade
Dell's adaptive, secure, and resilient portfolio for the digital business
Research suggests the most pioneering businesses are now aware of the role a talented data chief can play. The boards and CEOs of these organisations are appointing senior executives who are accountable for data success. PwC says three out of five CDOs are now members of the C-Suite with oversight of enterprise-wide data.
That's a trend that's likely to continue, says Alex Read, senior manager of data platforms at EDF UK, who suggests next-generation data leaders will have to do more than simply extract value from the technologies they buy. He says successful data chiefs will focus on how their organisations can work effectively to create value.
"Historically, there was too much focus on the data platform – just enabling the business-as-usual elements, such as reporting at a point in time, and enabling regulatory requirements, which is all of the standard stuff you'd expect the business to need," he says. "Now, data platforms are seen as an investment. And I think what you need to do as a data leader is to communicate to your key stakeholders what that investment means."
At EDF UK, Read is creating an integrated data stack that runs on the Snowflake platform. By using tactical solutions – such as the Snowpark development framework, AWS SageMaker for machine learning, Collibra's data catalogue, AirFlow for orchestration, and Matillion for data extraction and transformation – Read focuses on how this combination of tools can support innovative, information-rich services for EDF UK and its customers.
"I think that's a massive step up," he says. "This work is about more than just platform consolidation and the reduction of legacy platform costs. It's about, 'OK, great, once we've done that foundational work, what's the value-add in having this platform, such as data science and other downstream analytical processes?' These are lenses that a data leader should be looking through as part of that journey."
Transmitting strong data skills across the enterprise
Data chiefs can't just focus on developing internal capabilities, though. As well as ensuring their team has the techniques to make the most of information, CDOs need to find ways to turn the exploitation of data into an enterprise-wide activity. For organisations to create useful services, it's important that all kinds of professionals hold strong data skills.
That's something that resonates with Marc Jennings, CIO of analytics and artificial intelligence (AI) at holiday firm TUI, who says machine learning and data science skills must be embedded across the business. While the governance of the technology platform rests under the CDO's wing, the significance of insight means data savviness is now everyone's responsibility. Smart CDOs will ensure this gestation of skills takes place through 2023.
"For me, that's absolutely crucial," he says. "It's not just my space, it's not just my team's. We want to democratise data. We want to make great decisions available everywhere. Everyone needs to have informed evidence and facts and be able to build capabilities, give insights, interpret information and make the right decisions. Responsibility for data has got to be held everywhere across the organisation."
Get the ITPro. daily newsletter
Receive our latest news, industry updates, featured resources and more. Sign up today to receive our FREE report on AI cyber crime & security - newly updated for 2023.