CIO job description: What does a CIO do?
Why the CIO role is still integral to business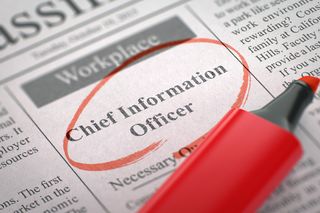 A CIO, or chief information officer to give the job its full title, is becoming an increasingly popular role in organisations attempting to transform their processes using technology.
The purpose of the role is to prepare teams for change, leading the charge to migrate to more modern environments and platforms, whether that's software, the cloud in general or switching from public to private infrastructure.
The CIO will encourage people within an organisation to embrace technology, switching from legacy architecture to modern systems, whether that's outdated software, hardware or pen and paper. The job role also helps to educate the entire organisation about the benefits of using technology to make it more competitive.
A CIO exists to make sure an organisation is ready for change and all that is involved in digital transformation. They will lead the project, considering all elements of its migration to a more stable future.
What does a CIO do?
A CIO's job is also to lead the day-to-day running of an organisation's IT infrastructure, and therefore, it's a long-term position, not only reserved for the initial work.
In fact, this is the traditional purpose of a CIO - to manage a company's entire IT landscape, not to facilitate the move to a digital ecosystem as has become the case since the concept of digital transformation became a trend.
RELATED RESOURCE
2,000 days: the CIO's world in 2025
What the role of the CIO will look like in five years time
A CIO's role is changing. Before digital transformation, their responsibilities majored on managing the company's IT infrastructure and operational systems. But now IT has become more advanced, with the introduction of the cloud, data analysis and using that information, a CIO's role has become more strategic.
With so many digital transformation projects being implemented in every firm, every day, it's no surprise many CIOs think their job role will change even more in the coming months and years. A report by analyst firm Gartner revealed 95% of CIOs think their jobs will be changed or remixed due to digitalisation.
It is likely the role will evolve into the future as well, with 95% of CIOs expecting their jobs to be changed or remixed due to digitalisation, according to analyst firm Gartner.
This is a leadership role so the CIO is someone who focuses on vision and insight rather than someone you'll find on the server room floor tangled in network cables (although there may well be some CIOs out there who like to do that).
It's not uncommon for CIOs to have more of a business than IT background. This can be helpful when trying to align the company's technology and operational strategy, and in uniting those two business units to achieve common goals rather than operating as separate entities or even enemies.
Why is the CIO important?
CIOs also have to be the captain of the ship, navigating the business safely - and often quickly - through the seas of internal and external change. Today especially, they will have a focus on digital transformation and what that means for their organisation now and in the future. They will work with other C-suite leaders and business departments to establish buy-in and drive that change.
Indeed, according to Gartner's annual survey of CIOs, 29% of CIOs are designing and delivering digital initiatives, and 46% are directly in charge of digital transformation within their organisation.
"While IT delivery is still a responsibility of the CIO, achieving revenue growth and developing digital transformation were identified most often as top business priorities for organisations in 2018," said Andy Rowsell-Jones, research vice president at Gartner.
"If CIOs want to remain relevant, they need to align their activities with the business priorities of their organisations."
What do CIOs earn?
As the CIO position is one of the most prominent within the entire organisation, it won't come as a surprise to learn that the role commands a significant paycheque.
In short, CIO's are responsible for their organisation's digital strategy, and if that strategy doesn't perform they are at fault. A smoothly operated strategy should of course be seamless in its integration and effect, though on occasion unforeseen variables can enter the equation, causing unbalance. And if the CIO cannot uncover a solution, they are ultimately held responsible.
Quantifying the role through salary is difficult as the influence of the CIO varies from business to business. Many CIOs are classified as board members, symbolic of their cruciality to business operations, whilst others are finding their roles restricted. Businesses also vary in size, budget and location, all of which can affect salary, causing the final numbers themselves to widely vary.
Glassdoor, the recruitment and employee satisfaction website, reports that CIOs based in the UK can earn anything from £50,000 to in excess of £200,000. Larger organisations are likely to also house a deputy CIO, who may be lucky enough to earn as much as £130,000, depending on what number the chief earns.
Payscale's latest CIO salary research, however, wasn't so optimistic and after surveying CIOs, it has revealed the average pay for a CIO in the UK is 103,000, with a 24,000 bonus and 11,000 as a profit share.
RELATED RESOURCE
2,000 days: the CIO's world in 2025
What the role of the CIO will look like in five years time
The CIO of the future
Inducing and adapting to constant change is fundamental to the CIO's role, but as is the case with evolution, it can be difficult to spot any differences in the present moment. A window into the future separates us from this ongoing process, revealing the role's true direction.
Technology is already the backbone of business. In another five years it will be absolutely essential; not only in terms of merely deploying devices, cloud computing, security measures, and so on, but having the right types which give your business a competitive advantage. Naturally, the CIOs responsible for sourcing such technology will move towards the centre of the business.
This movement is not solely due to business-benefits carried by technology. To deploy and maintain new technologies, skilled staff are needed. In cases where they are not already in situ, investment into expertise is necessary, or else existing employees must be re-trained, entering the CIO into the realm of human resources.
When it comes to safeguarding regulations such as GDPR, CIOs will be called upon to find ways of increasing data security and providing better disclosures.
In short, CIOs are moving centrally as they dip into more and more aspects of business operations, perhaps even equipping them for the top job. Indeed, research conducted by Forbes found that 49% of today's CIOs expect to become CEOs by 2025.
Get the ITPro. daily newsletter
Receive our latest news, industry updates, featured resources and more. Sign up today to receive our FREE report on AI cyber crime & security - newly updated for 2023.
Maggie has been a journalist since 1999, starting her career as an editorial assistant on then-weekly magazine Computing, before working her way up to senior reporter level. In 2006, just weeks before ITPro was launched, Maggie joined Dennis Publishing as a reporter. Having worked her way up to editor of ITPro, she was appointed group editor of CloudPro and ITPro in April 2012. She became the editorial director and took responsibility for ChannelPro, in 2016.
Her areas of particular interest, aside from cloud, include management and C-level issues, the business value of technology, green and environmental issues and careers to name but a few.