Best email apps for iPhone and Android
We round up the best Android and iOS email apps to help you manage your inbox like a pro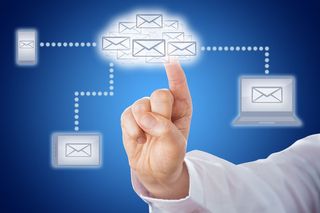 There aren't many professions or activities today that don't somehow involve using email in some way. Whether it's account logins, social media services, business applications, event invites or mailing lists, modern life just couldn't function without email.
And with the volume of messages we receive nowadays, inbox-overload is never far away. But don't fear, our selection of mobile email apps – for Android, iOS and Windows Phone – will help you choose a service to keep on top of the messages that matter most.
Alto
Although Alto hasbeen developed by US email maestro AOL, the app supports the whole range of email providers including Gmail, Yahoo and of course Exchange for work emails. The app's focus is on keeping your inbox completely organised using Cards and Stacks that highlight the most important information including flight bookings, reservations, meetings and attachments meaning you don't have to trawl through your inbox to find out your priorities. Stacks can be organised around people, so just create a group for your team and all the emails will be presented in one organised place.
Publisher: AOL
Format: Android, iOS
Price: Free
Blue Mail – Email Mailbox
Publisher: Blue Mail Inc
Format: Android, iOS
Price: Free
Blue Mail is an attractively designed app that makes it very easy to set up and manage a wide variety of different email account types (including Exchange, IMAP, POP and webmail), all in one place. The interface is clearly designed for power users. Swiping left or right on a message provides access to handy menus of key features, for example, while tapping the title bar lets you view mail by account or message type. Many actions and gestures are customisable; you can set the swipe functions to whatever suits you best, for example.
Boxer Lite
Publisher: Taskbox
Format: Android, iOS
Price: Free
By integrating your email, calendar and contacts, Boxer feels like a portable version of your favourite desktop client or webmail service. Boxer's simple interface lets you quickly archive an email with a left swipe, or access a menu of actions by swiping right. You can connect to other apps and services – Evernote, Facebook and Twitter – and customise gesture actions.
By integrating your email, calendar and contacts, Boxer feels like a portable version of your favourite desktop client or webmail service. Boxer's simple interface lets you quickly archive an email with a left swipe, or access a menu of actions by swiping right. You can connect to other apps and services – Evernote, Facebook and Twitter – and customise gesture actions. Adding multiple accounts and other advanced features does require you to pay £3.99 to unlock Boxer Pro, though.
Hop – email messenger
Publisher: Hopflow
Format: iOS
Price: Free
Hop is unlike other email clients in that it treats your inbox like it's a messaging app, sorting your mail into a familiar left/right conversation view. Cleverly, conversations with friends and colleagues are given priority, while mail from other sources is kept in the background. The app is fast, with email exchanges happening in near-real time, just like SMS. Hop makes good use of long tap gestures to mark a thread as read instantly.
CloudMagic Email
Publisher: CloudMagic
Format: Android, iOS
Price: Free
A fast, uncluttered interface and some useful extras make CloudMagic worth considering, even if it doesn't have quite the de-cluttering focus of its rivals. Emails are sorted into conversations. Swipe left on one to bin or archive the lot. In-message, tap on the Cards icon to send your email to a connected app, such as Evernote or ToDo. Adding multiple accounts is easy and you can attach files directly from online storage services.
Gmail
Publisher: Google Inc
Format: Android, iOS, Windows Phone
Price: Free
Google's own email client comes preloaded onto many Android devices but it's well worth downloading if you don't have it. Despite its name, the app isn't just for Gmail – in fact, it supports just about any type of account you can think of: POP, IMAP, Exchange, webmail and more. It has a unified inbox, with the ability to hide (mute) threads, label messages or archive emails with a quick swipe. It's best features is the ability to send large files (up to 10GB) by 'inserting' them from your Google Drive, rather than attaching them.
Inbox by Gmail
Publisher: Google Inc
Format: Android, iOS
Price: Free
Developed in parallel to Google's standard Gmail app, Inbox takes the rather refreshing approach of treating your inbox more like it's a to-do list. You can pin important items that need your attention, snooze messages that can be dealt with at a later date with a quick swipe and set yourself reminders. It might not replace your regular email client full time, but it's definitely worth trying out if you're a Gmail user. Inbox's best feature is it can automatically 'bundle' together emails of a similar type into categories.
Inboxcube
Publisher: Inbox Cube Inc
Format: iOS
Price: Free
Inboxcube flips the inbox on its head by sorting content by attachments and user-specified search fields, rather than individual messages. You set up 'cubes' for photos, videos, Word documents, Excel sheets, PDFs and links, and then app organises all the relevant messages that contain that content together, which you view directly from the app. Compatible with Gmail, Yahoo, iCloud, Office365, Exchange and other IMAP-based providers, Inboxcube shortens the sifting process for email attachments.
Microsoft Outlook
Publisher: Microsoft Corp
Format: Android, iOS, Windows Phone
Price: Free
A fully-fledged mobile version of Microsoft's desktop Outlook program, rather than an app version of its Outlook.com webmail client, Outlook is a powerful email client with tightly integrated calendar and contacts. It's designed for Exchange accounts but works with webmail and IMAP accounts, including Gmail, Yahoo, and iCloud. Its 'Focussed' inbox lets you swipe left or right to quickly archive a message or schedule it to reappear later when you have time to deal with it. The best feature is you can integrate cloud storage accounts (including OneDrive, Dropbox and Google Drive) for quick access to important files. However, POP3 accounts aren't currently supported.
myMail
Publisher: My.com
Format: Android, iOS
Price: Free
Flexibility on a granular basis is at the heart of My.com's pitch for its email app myMail, which allows you to receive push notifications for specific email accounts – regardless of whether your email provider natively supports this function. You can filter notifications based on folders, social networks, domains, or email addresses, and set a 'silent mode' for set times of the day. The clean-looking inbox also offers a customisable message list, powerful search functions and PIN lock support.
Nine – Exchange on Mobile
Publisher: 9Folders Inc
Format: Android
Price: £6.57
Nine is by no means the fastest or the simplest email app we've tested, but for Exchange users who just want to send and receive messages like they do at their desktops, this app is hard to beat. It has a powerful interface with filters and left and right swipe menus for quick actions, such moving or deleting a message. It isn't free but there's a free 14-day trial if you want to try it out. It's one of the few mobile email clients that lets you compose messages with rich-text formatting.
ProtonMail
Publisher: ProtonMail
Format: Android, iOS
Price: Free
ProtonMail is pretty much the king of secure email apps. Founded in 2013 by CERN scientists, it uses either 2048-bit or 4096-bit encryption, and supports end-to-end encryption between ProtonMail users. You can also encrypt your emails with a password if the recipient doesn't use ProtonMail, and even set the messages to self-destruct after a certain period. Likewise, users can set a PIN which will wipe all sensitive user data after ten incorrect attempts. You'll have to sign up for a separate, specific email account, but it's a small price to pay for total privacy.
SolMail
Publisher: Kakao Corp
Format: Android
Price: Free
On top of collating all your inboxes in one, SolMail offers a superbly simple interface that's ideal for mobile devices. Messages can swiped to be deleted or archived, viewed by conversation, and filtered. You can also decide which email folders you'd like to sync, and get notifications for specific ones. SolMail also comes with over 900 custom emojis. Reliability and regular developer support have earned SolMail accolades from media and favourable ratings from thousands of users.
Spark
Publisher: Readdle
Format: iOS
Price: Free
Spark aims to put you back in control of your email. There are two views – the standard Inbox lets you browse your email in chronological order, but the Smart Inbox organises your messages into groups with the very latest emails shown as notifications at the top of the list. Your devices' calendar can be integrated, and you can link to cloud storage services and add attachments directly from them. Its best feature is tapping the EQ icon in the sidebar allows you to personalise the way Spark works to suit your tastes.
Triage: Email First Aid
Publisher: Southgate Labs
Format: iOS
Price: £2.29
Triage isn't a replacement for your current email client – it's best used alongside it to help you process your messages and declutter a busy inbox quickly and efficiently. Messages appear as a stack of cards. Flick a card upwards to archive the message instantly or flick it down to keep it for later. Tapping a card opens the full email. And that's about all Triage does. There's no push notification, but setup is quick and you can add multiple accounts. Triage only works with Gmail, Yahoo, iCloud, Outlook.com and IMAP accounts.
WeMail
Publisher: Kale Interactive
Format: Android
Price: Free
WeMail's aim is to make your inbox smaller, so it's easier to find messages with less scrolling. One way it achieves that is by threading emails from the same person into a chat view, so it's more conversational. It also pulls all attachments into a central hub, making it easier to find them without hunting out the original message, and has an advanced contextual search tool to make it easier to find the email you have in mind. And, if your email recipient also has WeMail, your short messages are displayed like IM such as WhatsApp, making arranging plans quick and easy - handy for emailing on the go.
VMWare Boxer
Publisher: VMWare
Format: Android and iOS
Price: Free
VMWare's Boxer app is particularly tuned for enterprise use with mobility management and security features mixed into a consumer-grade user interface.
Boxer has a personal information management feature which uses a container style approach to handle the app's management and security on both Android and iOS devices, which allows the apps to be managed by a company's IT department through the use of VMWare's AirWatch or Workspace ONE services.
Features such as data leakage protection policies to help manage the sharing of certain files of data and allow the encryption of all email attachments, sit behind a user interface that can support custom gestures and enable the bulk editing of email messages.
Connectivity to cloud storage services like Dropbox and Google Drive is also included alongside built-in calendar functionality, which prevents the need for users to jump into a separate app, and the ability to customise new email sounds. Boxer also works with Microsoft's Office 365 cloud-based productivity suite.
There are also some machine learning capabilities which can learn a user's habits in the app and serve up folder suggestions based on their past activities, which should speed up the management of emails, especially if a user has multiple email accounts linked to the app.
Stay up to date with the latest news and analysis from the world of cloud computing with our twice-weekly newsletter
Adam Shepherd has been a technology journalist since 2015, covering everything from cloud storage and security, to smartphones and servers. Over the course of his career, he's seen the spread of 5G, the growing ubiquity of wireless devices, and the start of the connected revolution. He's also been to more trade shows and technology conferences than he cares to count.
Adam is an avid follower of the latest hardware innovations, and he is never happier than when tinkering with complex network configurations, or exploring a new Linux distro. He was also previously a co-host on the ITPro Podcast, where he was often found ranting about his love of strange gadgets, his disdain for Windows Mobile, and everything in between.
You can find Adam tweeting about enterprise technology (or more often bad jokes) @AdamShepherUK.