Skype vs Facetime vs Google Hangouts vs Google Duo
We put four of the most popular videoconferencing solutions head-to-head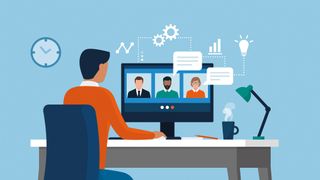 (Image credit: Shutterstock)
From the world's first webcam, created by students at Cambridge University in 1991 to check the levels of a coffee pot, video calling has developed into a crucial tool for businesses and individual users alike.
Video calling services have been around for over a decade now, and only become more accessible as internet connectivity and video stability improves. With current smartphone ownership at 2.53 billion worldwide and expected to rise to 2.87 billion by 2020, video calling is a touch of a button away for an ever-expanding number of people.
With an array of different providers, though, it's easy to get bogged down in choosing what's best for you and your team.
We've looked at four of the biggest players out there - Microsoft's Skype, as well as Apple's Facetime and Google Hangouts, and the Google Duo service available for Android and iOS - to help you decide which should be your video chat app of choice.
Platforms and availability
Most of the video chat options we're comparing are available on multiple platforms, but Skype and Google hangouts are the most widely-supported, as they're both framed as enterprise collaboration tools.
Hangouts is available via a web app or via mobile apps for iOS and Android. Skype is best known for its desktop client - available for Windows, Mac and Linux - but also has a web plugin. Once downloaded, you have access to free calls to landlines, mobile devices and other Skype accounts. However, the plugin only works through Chrome and Edge for a Windows browser and Chrome for a Mac, and does not work for Linux and Chromebooks.
Facetime, as you might expect, is only available on Apple devices, but it's included with desktop devices as well as iPhones and iPads. Since 2017, Google Duo has been integrated into Google Phone, Contacts and Android Messages on the Pixel, Nexus and Android One phones, and can be downloaded on other Android phones as well. Currently, there is no desktop or web client available, but as of January 2018, Duo users can call other Android phones that do not even have Duo. Recipients will simply be prompted to install Duo at the end of the call.
User Interfaces and Features
Facetime and Google Duo are both going for barebones simplicity with their apps. They're aiming to make video calling as simple as possible, with no unnecessary features to get in the way. Both apps simply present a live video feed from your front camera along with a list of contacts. One tap launches a call, with a couple of big buttons for muting the audio, reversing the camera feed or ending the call.
Skype and Hangouts, by contrast, have a lot more features. They're pitched as full collaboration solutions, meaning that as well as video calling, they also do group video conferencing, instant messaging and filesharing, whereas Facetime and Duo don't. As a result, the user interface is a lot more cluttered and complex, especially if all you want to do is start a video chat.
In one of the last large updates, Skype 7.32 released in January 2017, users gained a handful of new features, including touch-friendly popups, customisable keyboard shortcuts and video voicemails for unanswered calls.
On the other hand, Hangouts and Skype are both a lot more versatile than Duo or Facetime, allowing you to do more during chats. They're both largely comparable in terms of functionality, but Skype just edges over with the ability to transfer any filetype - Hangouts only allows image transfers.
Call quality
Of course, any video calling service is largely dependent on internet connection, so if one of the parties has substandard connectivity it can affect the overall quality. However, server architecture and distribution can also make a difference to the end-user experience.
Call quality via the Hangouts app was a little shaky, with a delay of around a second and sporadic artifacting (extreme pixellation) of the video stream. It also took longer than some of the other apps to load and connect our calls. The experience was much the same when using the web app on desktop, but it does have a quality slider that lets lower-bandwidth users adjust the stream quality from within the call.
Duo, despite presumably using the same servers and infrastructure as Hangouts, managed to be much speedier at connecting our calls, with reliably better video quality and negligible lag. This is possibly due to the lightweight nature of the app itself, but regardless, we had an excellent experience with Duo.
Skype's call quality was good, with no artifacting and minimal delays on the stream. However, we did have some trouble with getting our contacts' video feeds to appear, which necessitated hanging up and recalling.
Facetime was generally reliable, with only occasional lag and very little artifacting. However, we did have some issues with certain WiFi networks blocking our calls, which wasn't a problem with other services.
Verdict
We've researched and tested the four major video calling services, but in the end, the choice is yours. The app that will deliver the most to you depends on your specific needs. If it's the complete communications package you're after, Skype boasts a line-up of features to help maximise your collaboration and productivity efforts. As part of the Office 365 family, it's also included with new deployments of Microsoft's software suite.
If it's the streamlined video calling you want, though, stripped of all the extra integrations Skype offers, Google Duo provides a simple, clean experience available on Android and iOS, with calling access to non-Duo users with Android phones. For its simplicity and ease of use, Duo takes the overall crown for best video calling service.
Stay up to date with the latest news and analysis from the world of cloud computing with our twice-weekly newsletter
Adam Shepherd has been a technology journalist since 2015, covering everything from cloud storage and security, to smartphones and servers. Over the course of his career, he's seen the spread of 5G, the growing ubiquity of wireless devices, and the start of the connected revolution. He's also been to more trade shows and technology conferences than he cares to count.
As reviews and community editor, he's responsible for leading IT Pro's wide-ranging product coverage, and is an avid follower of the latest hardware innovations. He's never happier than when tinkering with complex network configurations, or exploring a new Linux distro.
In addition to managing the IT Pro Panel and working with the community of IT leaders that make it up, he co-hosts the IT Pro Podcast, where you can hear him ranting about his love of strange gadgets, his disdain for Windows Mobile, and everything in between.
You can find Adam tweeting about enterprise technology (or more often bad jokes) @AdamShepherUK, or you can email him at adam.shepherd@futurenet.com.
Thank you for signing up to Cloud Pro. You will receive a verification email shortly.
There was a problem. Please refresh the page and try again.