Microsoft launches collaboration platform Loop, its answer to Notion
Greater collaboration tools are coming to the Microsoft 365 suite, aiming to help teams work together without having to jump between different apps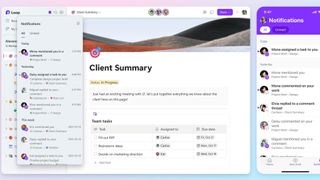 (Image credit: Microsoft)
Microsoft has launched a new platform built for collaboration to try and simplify how teams work on projects together.
The new platform, Microsoft Loop, is currently in public preview and allows teams to organise everything they need for a project into one unified workspace, including documents, files, and tools. The aim is to make it easier for teams to work together without having to jump between apps.
Loop consists of three main features: Workspaces, pages, and components.
When you create a workspace, Loop will suggest content based on what you name it. The content includes Excel spreadsheets, Word documents, notes from meetings, and more. This content will then be organised into pages to make it easier to view.
Microsoft described pages in Loop as 'flexible canvases'. In pages, users can leave comments or emoji reactions to share and work on ideas.
Users can also turn part of a Loop page into a 'component' which can then be copied and pasted across Microsoft 365 apps, including Teams or Outlook.
The tech giant said this can help to share information with different teams easily. Components automatically update, no matter where they've been shared, to allow teams to stay updated with any changes.
For example, a team may create a to-do list and share this as a component outside of the workspace in an external Microsoft Word document. Once a task is completed and struck off the list in the workspace, this will be automatically updated in the document.
Loop also comes with progress trackers, custom labels, and notifications to help teams stay aligned. Teammates can be assigned tasks which sync through Microsoft Planner and To Do so users can know what work they need to get done.
Microsoft is also bringing Copilot to Loop to provide AI-powered suggestions on how teams can work or collaborate, although this feature is in private preview for now.
Users can give it a prompt, such as "help me create a mission statement", or it can guide users through prompts like create, brainstorm, or describe. It can also provide summaries of each workspace's page to help teams understand what each section is about quickly.
"At its core, Microsoft Loop is about people – people who want to create together with ease, no matter where they are or what tools they use," the company said. "It's a transformative co-creation experience that brings together teams, content, and tasks across your tools and devices."
The new platform is similar to Notion, a popular app that provides an all-in-one workspace for note-taking, task management, and project management.
It also has a similar layout, with the platform dividing its different parts into Teamspaces, Projects, and Docs. However, it lacks the component functionality that Microsoft has created.
Stay up to date with the latest news and analysis from the world of cloud computing with our twice-weekly newsletter
Zach Marzouk is a staff writer for IT Pro, Cloud Pro, and Channel Pro where he writes news articles and in-depth feature pieces primarily focused on Asia Pacific and the US. Aside from covering topics like security, privacy, worker rights, and startups, he also contributes to the IT Pro podcast and IT Pro 20/20.
After studying an undergraduate degree in Arabic and Spanish at the University of Leeds, Zach completed a journalism internship at The Argentina Independent in Buenos Aires where he wrote about the country's history, politics, and technology.
He then joined IT Pro in 2017 where he was introduced to the world of B2B technology as a junior staff writer, before he returned to Argentina in 2018, working in communications and as a copywriter. In 2021, he made his way back to IT Pro as a staff writer during the pandemic.
Contact him at zach.marzouk@futurenet.com or find Zach's thoughts (and more) on Twitter @ZachMarzouk
Thank you for signing up to Cloud Pro. You will receive a verification email shortly.
There was a problem. Please refresh the page and try again.