Podcast transcript: Bringing cricket into the digital age
Read the full transcript for this episode of the IT Pro Podcast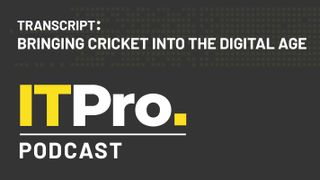 This automatically-generated transcript is taken from the IT Pro Podcast episode 'Why digital accessibility is good for business'. To listen to the full episode, click here.
Jane McCallion
Hi, I'm Jane McCallion.
Adam Shepherd
And I'm Adam Shepherd.
Jane
And you're listening to the IT Pro Podcast where today, we're talking about sports. Thankfully for any England fans who may be listening, though, we're not talking about football or the Euros. Instead, we're talking about the world's second most popular sport with an estimated 2.5 billion fans across the globe.
Adam
Cricket may have started in Britain, but in Australia, it's somewhere between a national pastime and a religion. Like most sports, it's also being transformed by technology. And this week, we're joined by Michael Osborn, General Manager of technology at Cricket Australia, to discuss the impact the emerging technologies are having on the sport, and how they may help fuel its growth and development. Michael, welcome to the show.
Michael Osborne
Thanks for having me.
Jane
So could you tell us a little bit about Cricket Australia and your role within the organisation?
Michael
Cricket Australia is the national governing body of the sport in Australia, and as the GM of technology, I have the privilege of leading our technology function that supports all levels of the game in the country, from the eight year old picking up the bat, for the first time, through the state competitions, our professional Big Bash League, and ultimately to the men and women representing the country, internationally. So it's a great opportunity and a really interesting place for tech to play across all those different levels of the sport in the country.
Adam
So what role does digital technology play in Australian cricket?
Michael
As you could imagine, it's really everywhere now. So I think about it, really in three lenses. There is the lens of the organisations themselves and the workforce that is, that works for cricket in Australia. How do we make that workforce as efficient, as effective as possible, whether they're helping develop talent out in the community, helping build the game, at the participation level, and so on. That's a key customer of technology; then, of course, there's our fans, and how do we bring our fans closer to the game, allow them to engage with it, however they choose. And finally, and equally importantly, are the participants and volunteers who pick up the bat every weekend, and play through the summer. And the volunteers who give up their time to make all that happen. So we really try to deliver solutions to support all three of those customer groups. You know, a huge shout out and thanks to HCL, and them bringing this idea to table and their capability to reach around the world to make this a reality. So we're just thrilled that they're helping us do this. And of course Microsoft is involved, is helping provide the platforms for folks who develop on which is also fantastic. And yeah, I hope this is, this is an awesome start this year, and we find some great ideas we can bring to bring to life. And it's something that grows over the years.
Adam
Yes, I think for many people, cricket has quite an - for want of a better word - quite an old fashioned kind of vibe. You know, it seems very, very genteel and very kind of... almost kind of like it hasn't changed that much since, you know, the 18th century: you half expect players to still have great big handlebar moustaches underneath their helmets, but as you say, is it is being transformed by technology like every sport. And so what are some of the key tools that are helping to kind of enable that translation for you?
Michael
Well, maybe I'll speak into that from a community perspective. Over the summer there's over 700,000 registered players in the country who are competing, and you know, at every every level from the under eights, all the way through to the seniors. This day and age we have about 60% of those games are now live scored on a mobile app. So the old days of the big paper book, sitting by the sideline, keeping track of all the statistics for 60% of those games - which is, that happen every weekend - It's live scored, streamed across to our MyCricket app, where then parents, brothers, friends, siblings, can follow in real time how the scores are coming together. They can track their friends, you know, so we've really tried to add that extra experience to the really physical experience of being out in the on the field, that ability for people to come together and follow matches, you know, and increasingly, we're live streaming all of those matches, and it's really ability to get the community engaged, when they're not physically present, especially in a game that that can take quite a while, the ability to follow it along, as you're living your life.
Jane
So you've spoken, obviously, about the kind of community side of things; for teams, they must surely be making use of digital technology, as well, pretty much in every sport, you see greater and greater use of sort of data analytics, cloud and that kind of thing. What is it that teams are up to?
Michael
I won't go into too many specifics in some of the magic sauce that works. But suffice to say, the ability now, to get a much deeper insights based on the data around athletes is a mess. And so the the platforms that we now run to understand the health of athletes, to understand their chance of injury, to help tailor their training programmes, you know, it's really about putting much more information in the hands of the coaches, the selectors, the the medical staff, you know, so they can tailor the programme to each player as precisely as they possibly can. And it's just a remarkable amount, amount of data that is now available through the wearables, the tracking systems to understand and to help those athletes be the best the best they can be. And I maybe won't go too much farther into the, the secret sauce there, talking on a UK podcast!
Jane
If you're worried about the Scotland cricket team, honestly, I wouldn't worry about it too much! Has the uptake of that within the teams by people who, you know, if you are a medic, or perhaps even a coach, especially if you are of a slightly more traditional older generation, has uptake been enthusiastic? Or has there been any resistance at all? And or has that changed over time?
Michael
I think it's fair to say it's changing over time. But what is a consistent theme for all of those people is they're trying to get the best out of the athletes, and this is just another tool in their arsenal, or another set of tools that let them get the best and help the athletes be their best. So I think there is an there's an embracing and an ever increasing, embracing, both at like the staff level, as well as the athletes themselves, who really want to understand how they're performing, and how they can do better, etc. So it is broadly being embraced. You know, we even see, and are thinking through plans of how to how do we provide these capabilities into the broader community. Such a desire for individuals to use the capabilities and data that's available now to help with their own performance. How can we sort of democratise the kinds of technologies we've got at the elite level, so that, you know, kids, playing on the weekend can can access some similar capabilities to tune and potentially gamify their own experience playing the game?
Adam
Yeah, absolutely. Kids. You know, one of the key examples for, you know, whenever you're talking about sports data is, of course, Moneyball, where, you know, data was used to radically improve the performance of the baseball team, but cricket has kind of been very heavily stat focused and stat based for, you know, years and years and years, basically, you know, for the entire modern history of the game. Cricket has been heavily stat driven. So I can imagine that that kind of data science and data analytics was something that came very naturally to both teams, and as you say, players and community members.
Michael
Yeah, I think it is. And you know, we've had a few members of our high performance staff who are pretty forward thinking and have really driven you know, the, the disciplines and the practices that's required to get really good data. And so we're looking at phenomenal data set for elite athletes, as they come through the path through the pathway now. But it does take that leadership you know, from from the high performance system itself, to make sure we get this, we get the data in a way it can be used, analysed, and ultimately producing insights for our coaches and for our athletes.
Jane
I mean, as the GM of technology for Cricket Australia, obviously, this must be quite an interesting role in some ways, you know, you are looking after a sport, and you're presumably still doing a lot of the kind of traditional technology type stuff, while also lumping on this data analytics piece that is driving forward the sport and driving forward Australian technology. How do you, I guess kind of balance that a bit? And what does your background kind of bring to all this?
Michael
I think that's a, that's not a challenge unique to sport. I think most CIOs or GMs of technology around the world are trying to find that balance. You know, we've got to keep the networks running, we've got to keep the PCs up and safe. The data centres have to keep running. But equally, we need to find that second gear to focus on, you know, the digital transformation, the strategies that are going to move our companies forward. My professional career has largely been in consulting. And it's the same challenge we have there; just a slightly different and in some cases, a more fun subject matter. But it is it is about finding that balance and technology ultimately is a service function. And we're here to serve the fans and participants of cricket but equally the staff. So we've got to find that balance that makes sure that you know the the coders, the highperformance, who code all the games for performance, that they've got the right machines to make that work. But equally, that we then got the right data governance practices in place that folks can count on the data that they will then be using to find insights into how the team's performing, and so on and so forth. So I think it's a common juggling act for all sorts of technologists in companies to find that right balance, keeping things running in fast and finding the bandwidth and resourcing to push forward with new ideas.
Adam
So Mike, let's talk about the tech jam competition. Now, this is something that you announced in partnership with technology company, HCL, it's the first - correct me if I'm wrong - in a new annual competition that you're going to be running every year. What's the aim of this initiative?
Michael
We're really excited about the TechJam. And where it's coming from, we actually last year ran a DataJam, really focused on analysing our high performance data. But we're really excited about working with HCL, who's our, our digital tech partner, to try to find, you know, amazing ideas in a number of different streams that we can bring to our fans and participants. We know, we know, there's so many passionate people out there who love the game, have really great technical skills. And we just know that if we bring that, if we can engage that community, they can find solutions that we may never be, would never even think of. So if we can find that nugget in any one of our challenge tracks, whether it's around our high performance data and tips that will help us on the field, whether it's in the fan engagement space, and a really clever idea that can you make the experience of following along in the local pub with you know, our CA Live app as a second screen, if there's a clever idea to get that person in the game, or a really clever way of making something easier for a volunteer. You know, as I'm sure has happened in the UK, you know, COVID has just added another layer of things volunteers have to deal with to help their communities get these matches off. So if there is something that can make life easier; an easy way to help people check into a match or, or whatever it would be that's going to help move the game forward. So we just think by tapping HCL's huge network, and all these, you know, sort of passionate cricket lovers around the world who've got great technical skills. If they can come on to this challenge, I'm sure gonna uncover some nuggets that you know, together with HCL we can bring to life
Jane
And how long is it going on for, TechJam?
Michael
So it's running over our winter - so July and August - with the idea of before the season starts, we can do the voting and get ourselves down to the winning solutions before the English team arrives here and we start Cricket with the Ashes.
Adam
So how many entries are you expecting for this competition?
Michael
I'm hoping we're going to have several thousand. When you look at the success HCL has had with some of its other tech jams or hackathons, you know, they've been able to bring a large number of candidates from around the world. So we're, we're pretty optimistic that we're going to - the number of submissions and teams will be in the thousands. But we'll be able to vet that down to some really good ideas in the final group.
Adam
So are there any areas that you expect to be particularly popular in terms of projects and ideas centred around particular topics?
Michael
Sure, as I mentioned, there's a number of challenge tracks, we're encouraging people to think about. One of those is high performance, is really around the rich data that we have available for 100 years of Test cricket. So there's going to be clearly, I think, a lot of interest in sort of tearing into that data set and seeing what kind of pattern trends can be developed. I think that'll be a favourite. I do also think the fan engagement track - what clever ideas, whether it's at match, at home, at a pub, clever ways can we use digital to better connect fans to that experience, I think that's going to be quite popular as well. But we've also said that there's a sort of a free-for-all track, for ideas that don't quite fit into one of the categories we've come up with. Let's hear it; we'd love for it to come in. And I'm hoping we get some really clever ideas that we never would have thought.
Adam
yeah, that's gonna be a very interesting track, I suspect.
Jane
The anarchy track?
Adam
Are there any ideas that you'd like to lift from other sports in terms of using digital technology to enhance both the way the sport is played, and the way that fans engage with the sport? Because obviously, there's been a lot of development, you know, in areas like soccer, in areas like the NFL in the US or the NBA, indeed. You know, it's a sector, which has seen a lot of innovation over the last couple of years, is there any of that that's, that's inspired you and that you'd like to replicate for Australian cricket?
Michael
Yeah, one that jumps to mind is the NBA. We've had the opportunity to connect with them a couple of times as well. But, you know, the NBA does such a good job of engaging the youth demographic. You know, if you can believe it, the NBA itself is one of the most popular sports in, you know, in Australia from a fandom perspective, particularly amongst that, amongst that youth demographic, and you know, none of those kids, or very few of them, will ever get to go and see a live NBA game. And in fact, we're gonna have to follow these games at inconvenient times of the day and night. Then yet, they're able to reach them to connect with them, they're able to amplify their player brands, provide solutions into markets that really get people engaged. So a lot of what they're doing, what the NBA is doing, from a direct to consumer perspective is really interesting to us. And, of course, you know, some of the European soccer clubs have built really large audiences, and focus a lot on how they bring those fans who won't be able to come to the stadiums ever. And it's similar for us, we, we have about 20 million fans during the summer that will come to our web properties. Unique. And of course, you know, maybe about 67 million of those are Australians. But the rest is international viewers. So how do we deliver them experiences knowing that the chances of them physically showing up at the match are going to be quite, quite few. So there's there's many good case studies in sport of different sports doing amazing things. And we try to, we try to observe and then grab what ideas we can from from some of those other sporting codes.
Jane
So Michael, you said that this, you're hoping, will be an annual competition; are hackathons andn bringing in that kind of community collaboration on things like data and just ideas for how tech can be used in sport, the future of cricket and possibly just sports in general?
Michael
I think so. I think, you know, in a way, it's our past and our future, the way cricket and any sport operates is on, is on the passion of our fans, and the people who engage with the sport. And, you know, we talked earlier about our live scoring solution, you know, it's that passion of people who've been scoring on the book for, you know, 60 years that make it work. And what we've got to do is figure out a way to build that community, for the future. And I really do think round data to round technology. So the more we can engage our community, the more wonderful ideas, amazing ways to experience cricket that we're going to develop because it's ultimately not our game. It is our fans' game. It's just something we're acting as custodians of for the short period of time that that we work for the company. So the more we can, we can have our fans and people are passionate about cricket, be part of the future evolution, you know, it's only going to be healthier for the game.
Jane
Well, unfortunately, that's all we have time for this week. But thank you once again to Michael Osborne, General Manager of technology at Cricket Australia for joining us.
Michael
Thank you for having me.
Adam
You can find links to all of the topics we've spoken about today in the show notes and even more on our website, itpro.co.uk.
Jane
You can also follow us on Twitter where we are @ITPro, as well as Facebook and LinkedIn.
Adam
Don't forget to subscribe to the IT Pro Podcast wherever you find podcasts to never miss an episode. And if you're enjoying the show, leave us a rating and a review. We'll be back next week with more analysis from the world of IT. And until then, goodbye.
Jane
Bye.
Get the ITPro. daily newsletter
Receive our latest news, industry updates, featured resources and more. Sign up today to receive our FREE report on AI cyber crime & security - newly updated for 2023.
ITPro is a global business technology website providing the latest news, analysis, and business insight for IT decision-makers. Whether it's cyber security, cloud computing, IT infrastructure, or business strategy, we aim to equip leaders with the data they need to make informed IT investments.
For regular updates delivered to your inbox and social feeds, be sure to sign up to our daily newsletter and follow on us LinkedIn and Twitter.