Why Microsoft Teams has only just launched in China
The tech giant has officially launched Teams via its local partner in China, after it was launched globally in 2017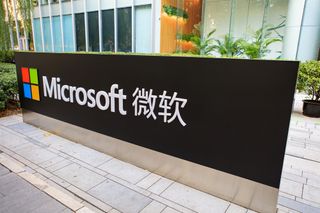 (Image credit: Shutterstock)
Microsoft has officially launched Microsoft Teams in China via its local partner 21Vianet.
The tech giant launched the collaboration platform in the country on 1 April, at the same time as upgrading Office 365 to Microsoft 365, which will also be operated by 21Vianet.
"Under the premise of fully satisfying the Chinese market's requirements for data security, personal information protection and other laws and regulations, Microsoft and 21Vianet Blue Cloud have joined hands to officially launch the Microsoft Teams service operated by 21Vianet for the Chinese market," the company said in a blog post.
Microsoft said that Teams has more than 280 million monthly users around the world after being launched globally in 2017.
Users in China were still able to use the service before it officially launched, although they may have experienced some latency due to the country's 'Great Firewall'.
Microsoft has advised businesses in the past on how to operate their Microsoft 365 accounts in the country if they have a branch or office there.
"For enterprises with global Microsoft 365 tenants and a corporate presence in China, Microsoft 365 client performance for China-based users can be complicated by factors unique to China telco's internet architecture," the company said in a notice.
"China ISPs have regulated offshore connections to the global public internet that go through perimeter devices that are prone to high levels of cross-border network congestion. This congestion creates packet loss and latency for all internet traffic going into and out of China," it said.
Users in the country who connect to global Microsoft 365 tenants from locations like their houses or hotels, without using an enterprise network, may have experienced poor network performance in the past. This is because the traffic has to go through China's "congested cross-border network circuits".
The new offering of Teams may improve the service within the country, but it may not change anything for global companies who need to communicate with their branches in China. It can be assumed that internet traffic from outside of the country's borders will still need to go through the same "cross-border congestion".
Microsoft said it doesn't operate the service itself and it will instead be operated by 21Vianet. This partner will provide hosting, managed network services, and cloud computing infrastructure services.
21Vianet is a Microsoft strategic partner that is in charge of operating Microsoft Azure, Microsoft 365, Dynamics 365 and Power Platform in China.
It also operates Office 365 services in the country, and claims to be the largest carrier-neutral internet data centre service provider in China.
"By licensing Microsoft technologies, 21Vianet operates local Office 365 data centres to provide the ability to use Office 365 services while keeping data within China. 21Vianet also provides subscription and billing services, as well as support," said Microsoft.
"Due to the unique nature of the China services – operated by a partner from data centres inside China – there are some features that have not yet been enabled," the tech giant added. "Customers will see the services come closer to full feature parity over time."
Microsoft and China's 'Great Firewall'
In October 2022, China reportedly upgraded its Great Firewall to crack down on Transport Layer Security (TLS) encryption tools, which citizens had used to evade censorship.
Users had reported that at least one of their TLS-based censorship circumvention servers had been blocked, which was done by blocking the specific port the circumvention services listed on.
RELATED RESOURCE
Anatomy of a good meeting
And how to eliminate horrid hybrids
The year before, in October 2021, Microsoft decided to shut LinkedIn down in China which was going to be replaced by a standalone job application platform.
Social media platforms in the country have to remove content deemed inappropriate which was uploaded by users. LinkedIn had already been ordered to perform a self-evaluation and suspend new sign-ups of users inside China after failing to control political content on the platform.
"While we've found success in helping Chinese members find jobs and economic opportunity, we have not found that same level of success in the more social aspects of sharing and staying informed," Mohak Shroff said at the time, senior vice-president of engineering at LinkedIn.
"We're also facing a significantly more challenging operating environment and greater compliance requirements in China."
The tech giant had been expanding its business in the country, and in June 2021 it revealed it was set to add four new data centres in China by early 2022 to expand its service capacity.
It already had six data centres in the country, and was making the move due to new regulation in China which encouraged domestic and foreign companies to shift to local data management.
Stay up to date with the latest news and analysis from the world of cloud computing with our twice-weekly newsletter
Zach Marzouk is a former ITPro, CloudPro, and ChannelPro staff writer, covering topics like security, privacy, worker rights, and startups, primarily in the Asia Pacific and the US regions. Zach joined ITPro in 2017 where he was introduced to the world of B2B technology as a junior staff writer, before he returned to Argentina in 2018, working in communications and as a copywriter. In 2021, he made his way back to ITPro as a staff writer during the pandemic, before joining the world of freelance in 2022.
Thank you for signing up to Cloud Pro. You will receive a verification email shortly.
There was a problem. Please refresh the page and try again.