European Commission wants to make Europe a fintech hub
The Fintech Action Plan aims to boost financial tech startups in the EU post-Brexit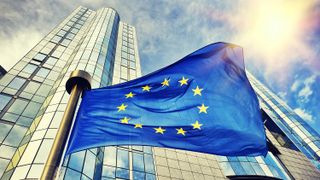 The European Commission wants to make Europe a hub for fintech startups with its 'Fintech Action Plan' for the sector.
The Action Plan, published today, detailed 23 steps to "enable innovative business models to scale up, support the uptake of new technologies, increase cyber security and the integrity of the financial system". These steps are based on the formation of best practices through regulation, making it easier for startups to access investment capital, and the creation of a fintech laboratory.
This lab will be used as a place for European and national authorities to engage with technology providers in a neutral and non-commercial space.
The Action Plan involves tapping into the EC's Blockchain Observatory and Forum, established to look at the development of blockchain tech and the cryptocurrencies it supports, as well as considering other emerging technologies such as artificial intelligence and the ever-expanding adoption of cloud computing.
It will also involve the running of workshops and the sharing of best practices around cyber security and the use of regulatory sandboxes where fintech startups can conduct live service experiments within a controlled environment with regulatory supervision.
Due to the lack of shared rules across the European Union when it comes to crowdfunding, the Action Plan will look to establish regulation that allows startups to apply for an EU label based on a single set of rules, which will allow for them to seek funding and offer their services across EU member states, while investors get protected by that single set of rules rather than fragmented regulation.
"Digital technologies have an impact on our whole economy citizens and businesses alike. Technologies like blockchain can be game changers for financial services and beyond. We need to build an enabling framework to let innovation flourish, while managing risks and protecting consumers," said Mariya Gabriel, commissioner for the Digital Economy and Society.
Currently, London is the capital of the EU's fintech sector. But with the UK set to leave the EU, access to the European Single Market could be lost. So by making it easier to trade within the EU, the Commission could not only compensate for this but also establish another city or nation as the fintech capital of Europe.
A daily dose of IT news, reviews, features and insights, straight to your inbox!
A daily dose of IT news, reviews, features and insights, straight to your inbox!
Thank you for signing up to ITPro. You will receive a verification email shortly.
There was a problem. Please refresh the page and try again.