Breaking the ICE: How future tech employees could influence government contracts
Organisations could face a recruitment crisis as students pledge not to work for those selling tech to US immigration control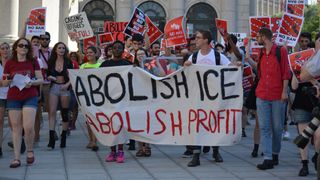 It's common wisdom that any technology, no matter what it is, is neither inherently bad nor good: it all depends on how you use it. As tech developer Coraline Ada Ehmke wrote in the introduction to her Hippocratic License, the same GPS tech that can help you get to a restaurant can also direct drone strikes. The facial recognition software that unlocks your phone can target and track ethnic minorities. Even technology developed for innocuous reasons can be used to perpetuate inequalities and human rights violations, but until recently, ethics hasn't always played a major role in the decision-making of industry executives.
Tech evolution rages on far ahead of regulative policies and probably always will – that's just the nature of the beast. Without legislative checks and balances to temper the ambitions of Silicon Valley tech giants, current and prospective employees have taken it upon themselves to protest and even withhold labour until their executives accept ethical responsibility for their tech.
A massive movement in tech ethics has taken off in protest at providing tech to US Immigration and Customs Enforcement (ICE), the branch of the US Department of Homeland Security (DHS) that has been responsible for mass detention, mistreatment, and deportation of immigrants at the US-Mexican border. The uproar surrounding the issue has become so sonorous, in fact, that many contracted companies have begun cutting ties with ICE.
Not all ICE associates are following suit, though, and tech companies like Amazon and Palantir are receiving considerable backlash for continuing their partnerships with the border policing agency, including from prospective student recruits.
While companies could easily dismiss the protests of teens and twenty-somethings on their insular university campuses, it may be unwise to do so. After all, these young people are the reserves of talent all tech companies will be looking to tap into, and the tech industry's fast-growing skills gap will allow them to be highly selective about where they work. If they are demanding that corporate leaders consider the ethical implications of their tech, those executives will have to start listening.
Palantir under fire
Palantir, which was established in 2003 by PayPal co-founder Peter Thiel with the objective of "reducing terrorism while preserving civil liberties", has become increasingly unpopular since its August 2019 contract renewal with ICE for almost $50 million. Even before then, the company's public image was tainted by accusations of involvement in border police infringement of human rights, including the detention of children, separation of breastfeeding infants from their mothers, and approximately 31 deaths during the Trump administration, at least seven of which were children.
"It has received over $150 million from ICE alone and has contracts worth some $1.5 billion with different federal agencies or departments, like the FBI, Navy, and Census Bureau," said a report by immigrant advocacy group Mijente detailing the quality and extent of Palantir's involvement in US border policing operations.
The August contract renewed Palantir's "mission critical" Investigative Case Management (ICM) tool, which links case documents between investigations, coordinates between personnel working connected investigations and ensures continuity of current information. In 2019, it was revealed the software was used some two years prior in an operation that targeted 443 undocumented people for deportation over the course of just 90 days.
Palantir's FALCON Search and Analysis tool, meanwhile, functions as an aggregate data set, enabling agents to access a subject's personal information compiled by multiple law enforcement agencies. In the largest immigration raid in history, Operation Mega, police were told to download FALCON's mobile software to obtain each target's immigration status, border crossing history, and family information.
When the FALCON contract was up for renewal in November 2019, it became one of the main targets of student protests.
Speaking to IT Pro ahead of the demonstrations, UC Berkeley's student group, Cal Bears Against ICE, said: "Student groups on campuses across the country who are united in the #NoTechForICE movement will be participating in a National Day of Action on 19 November 19.
"We want to use the date to draw attention to [Palantir's] work for ICE and demand they cancel the contract."
To summarise Palantir's role in the border crisis, Mijente's report says: "In effect, Palantir is only the most prominent supporter of the deportation machine in Silicon Valley."
Palantir declined to comment.
Cutting ties with ICE
Employees' mounting outrage over tech's role in the unrest at the US-Mexican border has pressured many companies to cut ties with ICE, demonstrating the impact protests can have on changing company policy.
To all intents and purposes, employee protests, sparked by Seth Vargo's decision to delete code he authored to prevent it being used for ICE operations he considered "evil", are what spurred Chef CEO Barry Crist's decision not to renew the configuration management company's contract with ICE. His original response to Vargo's deletion, that it was not "appropriate, practical, or within [Chef's] mission to examine specific government projects with the purpose of selecting which U.S. agencies [it] should or should not do business," was met with such opposition from employees that he was forced to revise his stance in a matter of four days.
Internal pressures bagen to spring up at other big tech companies under contract with ICE, including Microsoft, Google, and Amazon. Even banking partners to the GEO Group, the private prison organisation that operates ICE detention centers, officially committed to breaking with the private prison and immigrant detention industry, either out of moral obligation or fear of public derision.
In defence of Palantir
Explaining his actions that ultimately led to Chef ending its relationship with ICE, Vargo said: "As software engineers, we have to abide by some sort of moral compass." While that may be a pleasant sentiment, it's arguably one bound for a slippery slope.
Defending his company's stance, Palantir CEO Alex Karp said the checks and balances of legislation should account for the dos and don'ts of tech implementation by federal agencies, not the decisions of "a deeply unrepresentative group of executives living in an elite bubble," – ie Silicon Valley executives.
"Companies are taking the power to decide these issues away from elected officials and judges and giving it to themselves," he wrote in an op-ed for The Washington Post in early September, just after the company's contract to deliver its ICM tool to ICE was renewed. "This is not the way consequential policy decisions should be made. I don't believe I should have that authority."
He went on to argue that "immigration policy is not a software challenge, it's a political one". This stance, however, has been highly contested amongst software professionals.
"All of these technologies are inherently political," wrote open source advocate Coraline Ada Ehmke in the introduction to her Hippocratic License. "You can't build systems that can be weaponised against marginalised people and take no responsibility for them."
Students protest Palantir recruitment
It's not just in the tech community that Karp's opinion is a minority one. Student groups like Cal Bears against ICE have rallied to kick Palantir's recruitment teams off of their campuses. The UC Berkeley group marched in protest of the company's recruitment efforts in September, with a petition bearing 700 signatures. Following the protest Palantir, which pays the university $20,000 annually for recruitment access to students, canceled its information session.
The management of some higher education institutions are rethinking their affiliations with the tech giant in the wake of these massive student-led movements. Brown University's computer science department took Palantir's logo off their industry partners list after students protested the company's presence at the career fair. "Things are under review right now," assistant professor of computer science Jeff Huang wrote to The Brown Daily Herald.
Petitions like the one Mijente is circulating among students are further contributing to the anti-Palantir campaign and dialogue of tech ethics. An excerpt from the petition, which now has over 3,000 signatures, reads: "We call on the company to cancel its contracts with ICE and we call on all students to join us in withholding our talent from Palantir."
Participants are optimistic about the influence of their protests and petitions, if not on national policy, then at least on company policy. "If we can put pressure on university contracts and not have the same influx of Ivy League students going into those companies, maybe those companies will think twice about the software they're developing," said Caiya Sanchez-Strauss, a member of the Brown Immigrant Rights Coalition.
The luxury of selectivity
Sanchez-Strauss has a good point. In 2019, the World Economic Forum found that on average only 26% of businesses believe they have the right tech skills in their business, with Deloitte reporting similar findings in a UK-focused survey. With the eruption of new technologies like AI and machine learning, this skills gap is likely to at least persist, if not widen. With more positions available in the tech industry than there will be people to fill them, which means that current tech students can be selective when they enter the workforce.
The students against ICE movements demonstrate that these future tech employees are comfortable with demanding higher ethical standards from their employers, and are equally as comfortable withholding their talent from businesses that refuse to consider the consequences of their technology or to rectify the repercussions of its use.
"There is no doubt that corporations have an obligation to weigh the real-world impact of the work they do when considering who to do business with," Cal Bears Against ICE tells IT Pro, "As prospective employees, we have a right to understand the end result of our labor … we work hard to earn UC Berkeley degrees and the skills that come with them, and we're committed to using them for good. In any conversation about ethics in technology, it's agreed upon that just because we can create something, it doesn't mean we should."
"There is increasingly a feeling among software developers that we are responsible for how our work is used, and many of us are starting to take this responsibility seriously," Coraline Ada Ehmke tells IT Pro. "We want to find ways to ensure that our work is not being used for purposes that we deem harmful to our fellow human beings."
A few things are certain: the tech industry skills gap is only getting wider, and the reserves of new talent for big tech companies are increasingly refusing to work for employers who don't consider the ethical implications of their software. If tomorrow's employees are demanding ethical discourse from their prospective employers, they may have to seriously consider adjusting
Get the ITPro. daily newsletter
Receive our latest news, industry updates, featured resources and more. Sign up today to receive our FREE report on AI cyber crime & security - newly updated for 2023.