Matt Hancock commits to 'data deregulation' drive across the NHS
The health secretary blasts privacy-first culture as the chief barrier to innovation despite growing number of success stories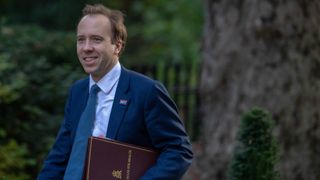 Health secretary Matt Hancock has demanded the NHS undergoes a radical culture shift that involves embracing patient data as an asset, rather than something that "needs to be protected and hidden away".
Changing the privacy-first culture around the use of patient data within the NHS, as well as stripping away many of the regulations around storage and transmission of datasets, will also foster greater AI innovation in clinical settings, Hancock claimed on Tuesday.
This is despite a number of data-driven projects having already borne fruit for the NHS under existing conditions, albeit in isolation. These include projects involving Nvidia and King's College London (KCL) training AI to improve cancer diagnosis, as well as investments in research on how AI can treat debilitating conditions.
Changing the culture in such a way, however, represents a major opportunity to increase the level of interoperability between datasets, and allows for greater use in, for example, training machine learning algorithms, he argued.
"We are absolutely rigorous about the needs of privacy, but we must not let that get in the way of innovation that can improve people's lives," Hancock said, during an address at London Tech Week.
"[During the pandemic], we put our information governance onto one piece of paper that could then be transmitted to frontline staff right across the NHS to cut through some of the over-bureaucratic information governance rules that have built up over time.
"We're going to go further," he added, "and crucially put those rules in the hands of those working right across the NHS, in order to change the culture to see data as an asset on which we can build the future of the NHS, rather than data as something that needs to be protected and hidden away."
Hancock also revealed, during the height of the pandemic, that rules around how data is stored and transmitted in the NHS were watered down. Now, so long as NHS organisations "protect their data rigorously", it matters far less what format is used to store data or the particular application in which the data is transmitted.
Citing a number of examples, including in the diagnosis of cancer in collaboration with oncologists, the health secretary also urged the NHS to establish closer ties with the private sector. Hancock argued that the healthcare system won't be able to unleash the benefits of the new technology "without a close and symbiotic working relationship" with entrepreneurs and innovators.
His comments, taken in combination with his drive to change the culture around patient data use, echoed the troubled partnership between the NHS and Deepmind. The agreement, struck in 2016, was lambasted by experts for its lack of transparency and criticised for failing to seek consent to use patient data.
Privacy advocates have long warned of the dangers of offering patient data to third-party companies, and have raised concerns over a number of historic deals. This included the 2010 deal between the NHS and AWS, in which health data would be fed into Amazon's Alexa voice assistant. Big Brother Watch described this deal, at the time, as "a data protection disaster waiting to happen".
A daily dose of IT news, reviews, features and insights, straight to your inbox!
Keumars Afifi-Sabet is the Features Editor for ITPro, CloudPro and ChannelPro. He oversees the commissioning and publication of in-depth and long-form features across all three sites, including opinion articles and case studies. He also occasionally contributes his thoughts to the IT Pro Podcast, and writes content for the Business Briefing. Keumars joined IT Pro as a staff writer in April 2018. He specialises in the public sector but writes across a breadth of core topics including cyber security and cloud computing.
A daily dose of IT news, reviews, features and insights, straight to your inbox!
Thank you for signing up to ITPro. You will receive a verification email shortly.
There was a problem. Please refresh the page and try again.