Podcast transcript: Startup succession: From Tech Nation to Eagle Labs
Read the full transcript for this episode of the ITPro Podcast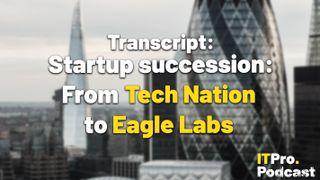 This automatically-generated transcript is taken from the IT Pro Podcast episode 'Startup succession: From Tech Nation to Eagle Labs '. We apologise for any errors.
Rory Bathgate
Hi, I'm Rory Bathgate.
Jane McCallion
And I'm Jane McCallion.
Rory
And you're listening to the IT Pro Podcast, where today we're discussing Eagle Labs and the state of startups in the UK.
Jane
Tech Nation has been a cornerstone of the UK tech industry since 2010, helping to create jobs and support businesses throughout the sector. But as of today, the government-backed organisation will close down due to a reallocation of crucial funding to Barclays Eagle Labs.
Rory
The government states that the £12 million digital growth grant will help spur investment in the sector, and is best placed with Eagle Labs. However, experts in the sector have expressed concerns about the decision, not least because of Tech Nation's prominent support for tech visas, the status of which could now be uncertain.
Jane
Joining us to explain the current state of the ecosystem and the mood amongst small firms right now is Ross Kelly, IT Pro's startups & small business specialist and staff writer. So for those listeners who are unaware, could you explain the situation as it stands right now?
Ross Kelly
So as of 31 March Tech Nation will essentially cease to exist. This has been a long running affair somewhat. Towards the end of 2022. There was a lot of speculation over whether or not the digital growth grant fund would be awarded to Tech Nation or re-awarded to Tech Nation, you could say. There was speculation at that time that Barclays Eagle Labs would be taking the reins to some extent, and this was obviously confirmed in January when the DCMS announced that they were going to hand this over to Barclays Eagle Labs. And it did spark a lot of concern in the startup scene across the UK. A lot of founders, a lot of companies, a lot of entrepreneurs expressed concerns about whether or not Barclays Eagle Labs would be able to essentially take over from Tech Nation and provide the same level of curated support for startups, which it's done for the best part of a decade now.
Jane
So what is the digital growth grant? And how did it relate to Tech Nation?
Ross
So the digital growth grant fund is a support package for startups across the UK. It's been led by Tech Nation for several years now. Since its inception, it's provided around just over £42 million and this is government backed investment to support startups and scale ups. It's been running since around 2016, so it's been viewed as a sort of key cog in the machine of government support for the tech industry in recent years. It's obviously a sizable sum. So for Tech Nation to have lost that, initially, there was speculation that this would have a major impact. And we later found out that it obviously did have a major impact on Tech Nation's ability not just to run startup support programmes, but keep itself afloat.
Rory
So what was DCMS' reasoning for choosing Eagle Labs over Tech Nation?
Ross
So, DCMS stated openly that Eagle Labs' proposition for the digital growth grant fund offered better value for taxpayer money than that currently being provided by Tech Nation. And it seems that they've pinned a lot of their hopes on the infrastructure, the broad footprint that Eagle Labs has based on its involvement with Barclays, a major banking institution in the UK. The fact that this has been positioned as better value for taxpayer money isn't perhaps the key angle here, though, I think it's more of the fact that Eagle Labs does have a larger or a broader regional footprint across the UK. This was something that DCMS said, again, that they wanted you to improve as part of their support for the tech startup scene in the UK. So definitely seems like there's a combination here of yes, maybe it provides better value for taxpayer money. They viewed this as an exciting proposition when Barclays Eagle Labs pitched it to them. But there's also that other element there where it's a larger organisation with a broad reach.
Rory
So based on what you've just said, it sounds like maybe there was a concern around Tech Nation being too regionally focused particularly around London. Would that be a fair assessment?
Ross
I think there certainly is a degree of London centricity in the UK tech startup scene and the broader UK tech sector. The DCMS has clearly looked at this situation and said, "We would like a stronger footprint in regions outwith London and the Southeast, for example. Eagle Labs has a really broad national footprint, it has 30 locations across the UK, several in England, they have locations in Aberdeen and Glasgow for example, and the Northeast of England. So that's a far wider spread of locations that they can engage with startups with founders and entrepreneurs. The DCMS in its initial announcement for this said that increased support for regional clusters could deliver an additional £33 billion in value to the broader UK tech industry by 2025. They also said that it can create up to 678,000 jobs just by tapping into these often overlooked regional clusters. And this is something that entrepreneurs founders, startups in these clusters have been complaining about for several years now.
Jane
Those are some big numbers, Ross. And so what is the sort of feeling then amongst those in the startup scene about Eagle Labs taking over from Tech Nation and Tech Nation being wound up?
Ross
Well, we spoke to founders in the wake of the Tech Nation closure announcement earlier this month, and a lot of them did seem very concerned. This was obviously rooted in the fact that Tech Nation has, like you said in the beginning, been a cornerstone of the UK tech sector for the best part of a decade now. So there is a degree of concern there. But at the same time, there there are positive signs. Amanda Brock, chief executive at OpenUK suggested that this could be the beginning of or a fresh start of a new wave of increased support for startups and founders across the UK. Other founders that we spoke to are going into this with quite an open minded approach. Barclays does have deep ties to the technology sector, particularly through its work with fintechs over the years. They do have a unique position in having worked with organisations extensively. And there's a feeling that they will be acutely aware of what startups and what founders need, especially during what is quite a challenging period in the tech industry.
Rory
We spoke a little in the intro about visas. Could you explain some of the concerns surrounding that, and the precise role that Tech Nation played in securing visas?
Ross
Yeah, so that was obviously a key concern when Tech Nation voiced its own concerns about its ability to continue running in the wake of the grant funding being awarded Eagle Labs. The visas have essentially provided support for non-UK nationals to enter the country and obviously pursue careers in the tech sector here. I think crucially it enabled tech companies in the UK to access a wider talent pool from Europe and elsewhere. Obviously the situation with Eagle Labs threw this into the air, there's still a developing story somewhat. So I imagine there will be there will be discussions around how this can be continued. The government insisted at the time, the DCMS insisted at the time, that the award funding wouldn't impact this and that it would continue to run. So on face value, I think there is an argument to be made that it won't heavily impact this, but I suppose only time will tell.
Jane
So obviously the visas still come from the government, whichever way it is, whoever's involved. Was Tech Nation just kind of advocating for people or helping them fill in the forms and so on, or did they have a more kind of fundamental role?
Ross
I mean, it played a key role in promoting this, it played a key role in supporting it. Obviously, under the previous scheme, if you were applying for a global talent visa you'd need to apply for an endorsement as well as for the visa itself. And this essentially would be sent to the Home Office, and the Home Office would send this application to be reviewed by Tech Nation. So this was very much the case that Tech Nation played a key role in this process.
Rory
So when we're talking about it being value for money, as you said DCMS stated when it explained its decision, is there any sense that the government here could support both programmes? Is this an economic question? It sounds like it from the phrasing, or is this more of a competition space where too many players too many accelerators at once would just confuse matters.
Ross
It does seem on the surface of things that the government wanted to pursue a relationship with a larger organisation. I think that seems to be the general consensus around founders that we spoke to, it seems to be the general consensus with who we've discussed this with. I think it's worth mentioning that in a recent interview with Sifted, David Hamilton, who's the head of implementation for Barclays Eagle Labs basically confirmed that Eagle Labs plans to match the £12 million grant with £24 million of its own cash split across the two years essentially. This is obviously to support additional startup programmes but I think that in itself underlines that Eagle Labs has the financial clout there to really ramp things up a notch, compared to Tech Nation certainly, which relied very much on government grants. So there seems a best of both worlds situation for the government. They're able to provide funding, but they're working with an organisation that has its own financial weight to support additional programmes.
Jane
I think that one of the concerns seems to be though that this additional funding, because it's a difficult story, it's quite emotive, a lot of people had an emotional attachment to Tech Nation effectively. But Eagle Labs can do more and there's no two ways about that. But one of the concerns that I've had, and I'd like to know if there's any kind of validity to it as far as you know, or as far as we know at this point, is that extra funding might come with strings attached. Eagle Labs is part of Barclays, so are you going to have to for example open a business account with Barclays Bank versus enter the name of another bank or building society of your choice?
Ross
My understanding at present is that that isn't going to be the case. This very much seems like a situation where startups are going to have an opportunity to work with a very large organisation with broad international ties and deep roots already within the tech sector and the financial services sector, naturally. So it seems like it's a very mutually beneficial relationship for startups for founders to to be embedded within the fabric of that company.
Rory
Beyond the amount of funding involved on a functional level, are startups likely to see much difference in the services that they receive or is Eagle Labs intending to maybe fill much the same role as Tech Nation, maybe with better funding, maybe with more locations?
Ross
So Eagle Labs already runs a number of programmes itself, it has its funding readiness programme, it has its female founder accelerator industry bridge programmes. So these are already established programmes themselves. They've been very vocal about their ambition to expand the scope of their programmes, they plan on launching several new programmes; one focuses specifically on black founders, for example, the black founder accelerator, that's obviously a very positive move from from Eagle Labs, and gives an indication that they are very much aware of the challenges facing founders from diverse backgrounds, for example. There's also the element here where Eagle Labs has said that in terms of the startups it hopes to support, it would ideally like to support around 80% of those outside London. So 80% of all of the startups involved in their programmes, that's their ambition to have them outside London. Again, this is something that will really resonate with regional founders in the Northwest, the Northeast, Scotland, Wales, for example. So yeah, there's certainly an element here where Eagle Labs is looking to build and expand on what Tech Nation has done traditionally. Tech Nation's had some fantastic programmes over the years, though, and it's across quite a broad spread of fields. You know, they've had their rising stars, their upscale, they've had their future 50 programmes. They've also had Net Zero, cyber, their applied AI growth programmes. So if Barclays is looking to tap into this area, then there's going to be no shortage of 1) startups to engage with and 2) they definitely have the expertise and the financial clout behind them to accommodate for this
Jane
Will this be to the detriment of the startups in London then, if they've gone from receiving the lion's share of what Tech Nation was offering and just generally things are very focused on London, to only getting 20%. Is that going to be covered by the fact that Eagle Labs will have more funding available because it's more than matching what the government has through the through the grant? Or is it going to be like "Well, sorry other London startups, but you're not good enough, this isn't open to you"?
Ross
No, I don't think that's the case at all. I think when you look traditionally at how the the UK tech sector has been positioned, everything flows to London. Tech Nation highlighted this, in fairness to them, repeatedly over the years, the fact that the flow of venture capital just seem to gravitate towards London. It's that's not to say that, you know, startup founders in London and the South East, don't have difficulties in raising capital, in bootstrapping their companies and building and scaling their companies. However I think it is, you know, an overwhelmingly positive thing that we are seeing this focus on regional growth and regional support. I think London startups will continue to excel, I think the London tech scene will continue to draw in talent, draw in venture capital in years to come. But just almost levelling, that playing field can possibly be seen as a bad thing.
Rory
You name-checked the future 50 programme a few minutes ago. Something I'm wondering about is some of these established networks that Tech Nation helped to form. Is there any sense of what will happen to those? Are these companies expected to continue to operate as a network under the new banner of Eagle Labs? Or would you expect there to be reshaping of some of these startup networks in the wake of Tech Nation's demise?
Ross
So there was a report from the Financial Times towards the end of February that highlighted the fact that was somewhat of a fire sale of IP going on at Tech nation as we sort of approached this closure. To my knowledge, there's been no acquisition of those specific programmes in terms of the IP there. So I can't comment entirely on whether or not Eagle Labs will be taking these on. It does seem like Eagle Labs has ambitions to run programmes in a similar vein, they will, you know, as I've mentioned previously, they already have their programmes, it certainly wouldn't be out with the realms of possibility that Eagle Labs will pursue similar style growth programmes.
Jane
So what if, for whatever reason, there's a startup that doesn't want to use Eagle Labs, they want to avoid it, or it just doesn't, doesn't attract them? Are there any alternatives out there? Or is Eagle Labs really the only game in town?
Ross
So obviously when Eagle Labs takes over, they will be stepping in from where Tech Nation has traditionally been. So they will be the go-to organisation for support in that regard, they will be the organisation that startups and founders look towards for opportunities to get involved in their growth programme. I mean in that sense, it is quite limiting. I don't think that's necessarily a bad thing, I think you need to have that focal point within the UK tech industry for startup support. If Tech Nation has gone and Eagle Labs wasn't there, it does raise the question of where the support would come from. So yeah certainly, Eagle Labs will be that go-to organisation, looking at different industry verticals within the tech sector, for example the FinTech sector. You do have support programmes, you do have growth programmes run by regional cluster bodies, for example, you have innovate finance as its own growth and start up and entrepreneurship support programme. So there are still options out there. But Eagle Labs certainly will be that go to figure.
Rory
We've talked a lot about how Eagle Labs will fill the shoes of Tech Nation, what's changing and what's not changing, has Eagle Labs itself given any indication of exciting new developments, aside from its pledge to match and exceed that initial funding? Is there any sense of what's to come?
Ross
So they've been very vocal since the grant award, and they've said that they intend to create two new product builder programmes. So I believe these will be focused largely on helping startups essentially develop a minimum viable product, which is obviously a key hurdle for a lot of startups in that early stage. They, as I previously mentioned, will have the black founder accelerator, I think that can only be viewed as an overwhelmingly positive thing for the UK tech sector. They have signalled their intent to launch two new scale-up focused programmes. So exactly what these will entail, we don't have concrete information on to my knowledge at this point. But again that shows that they do have ideas and how they plan to support startups, getting from that startup bootstrapping stage to that scaling stage and really unlocking growth and accelerating the growth.
Jane
I'll be honest, I'm not a startup founder or indeed a technologist of any description, but it all does sound quite exciting. You know, the demise of Tech Nation was definitely something that was received with great sadness. But what Eagle Labs is proposing and its place seems really very positive, from what you've seen, from what you've said, I'm finding it hard to pick out any particular negatives,
Ross
I think we'd be wrong to count Eagle Labs out at this stage. There was obviously a lot of sadness, a lot of emotion surrounding the Tech Nation closure, but I think they're very well placed to step into their shoes and really build on what they've done over the last 10 years essentially. They're going to create, I think, a more localised framework for regional business support and I think that can only be a good thing. The programmes that they've proposed seem like a very positive thing for founders in the UK, the programmes they already run have also delivered a lot of value to startups and founders across the country. So yeah, we would be wrong to count them out at this stage, they have a lot of clout behind them. They have a lot of expertise in this in this area, in this space. So yeah, I think it is an exciting time ahead. And it will be interesting to see how they can, how they can capitalise on this and really build.
Rory
So this contract with Eagle Labs is for two years, is there any sense of what happens at that two year mark? What happens following that?
Ross
The contract runs till March 2025, and there is obviously a potential for a third year extension. But there seems to be an indication that that would involve less cash, and less funding. But I think certainly, after the first year of this we probably will get a good indication of whether or not we could see an extension to this in the future. So that, to me, seems really dependent on whether or not Eagle Labs comes flying out the gates, so to speak, and really proves a point. And then I think at that point after the first year, we will see how the government views this as being whether or not it's a success, or whether they believe that Eagle Labs are best placed to continue carrying things on. But I can't personally see there being any major issues, especially given how vocal they've been, the excitement they have, how much excitement they have generated since the announcement.
Jane
Well, I await to see what happens over the next 12 to 24 months with interest. But Ross, thank you very much for joining us today to discuss what's happening currently.
Ross
Thanks for having me again.
Rory
As always, you can find links to all of the topics we've spoken about today in the show notes and even more on our website at itpro.com
Jane
You can also follow us on social media as well as subscribe to our daily newsletter. Don't forget to subscribe to the ITPro podcast wherever you find podcasts. And if you're enjoying the show, why not tell a friend or colleague about us?
Rory
We'll be back next week with more from the world of it. But until then, goodbye.
Jane
Goodbye.
A daily dose of IT news, reviews, features and insights, straight to your inbox!
Rory Bathgate is a staff writer at ITPro covering the latest news on UK networking and data protection, privacy and compliance. He can sometimes be found on the ITPro Podcast, swapping a keyboard for a microphone to discuss the latest in tech trends.
In his free time, Rory enjoys photography, video editing and graphic design alongside good science fiction. After graduating from the University of Kent with BA in English and American Literature, Rory took an MA in Eighteenth-Century Studies at King's College London. He joined ITPro in 2022 as a graduate, after four years in student journalism. You can contact Rory at rory.bathgate@futurenet.com or on LinkedIn.
A daily dose of IT news, reviews, features and insights, straight to your inbox!
Thank you for signing up to ITPro. You will receive a verification email shortly.
There was a problem. Please refresh the page and try again.