Upskilling a remote workforce
With the distributed office here to stay, organisations need to think how they can deliver effective training in this new environment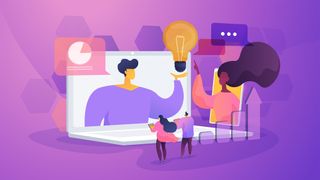 (Image credit: Shutterstock)
For almost a year now, many people who were more accustomed to working in formalised offices have been working from home, and both organisations and their workers have found benefits in the arrangement.
With many employees understandably reluctant to return to the old ways, a large number of employers have committed to supporting working from home in the medium and longer term, even once the coronavirus pandemic has subsided. This raises the question, however, of how firms can ensure their people's skills are kept up to date when they're not likely to be in physical contact for the foreseeable future.
Flexibility is key
For many workers there was a significant and very rapid upskilling programme as they had to start working from home with no warning. While there was some formal training provided, initially at least it was very much a case of peer-to-peer learning from colleagues and others through informal channels, during online meetings, and information sharing between people who'd perhaps never met in person.
People's patience and willingness to share tips on how to use aspects of video conferencing applications in particular was very notable, from gentle reminders to unmute to step by step help with screen sharing.
There is no reason this informal method should not continue for some skills and learning support. Indeed, finding ways of replicating 'water cooler moments' or shoutouts to colleagues of "how do I…' can help boost camaraderie and a feeling of being part of a team even when not all in the same physical location, as well as cater for informal upskilling.
Doing more, more often
Water cooler moments are one thing, but there are still advantages to providing formal group training, even if it has to be delivered via video conference. In fact, this may be easier than trying to get everyone together in person. William Ip, associate at mid-market private equity firm ECI Partners, explains "In the virtual world, it's far easier to get entire teams together to do group training sessions as people no longer have to travel between meetings, or have experts travel in to run workshops." This makes it much easier to deliver formalised training on a regular basis – and reduces the expense for the employer too."
This offers a strong argument for doing more training, more often while teams are working remotely – not just in terms of teaching new skills, but also refreshers on existing competencies and providing training in areas that might not have been seen as core considerations previously. Mental health awareness training, helping people ensure they have a strong work/life balance and other areas could be taken on as part of the everyday responsibility of employers, for example.
RELATED RESOURCE
Navigating the new normal: A fast guide to remote working
A smooth transition will support operations for years to come
There are also areas that previously may not have been considered training because they were delivered informally in the office, but need to be carefully considered and actively pursued in a mass remote working environment. One such example is compliance checks and security awareness training. As Amanda Finch, CEO of not for profit industry body the Chartered Institute of Information Security (CIISec), explains: "The days of face-to-face group briefings or even posters on notice boards to raise awareness are long passed." It is up to firms to think through how they will handle this kind of training.
Building a loyal workforce
Delivering the right training in an appropriate way is crucial at the current time. The lockdown will have caused some to consider their current career path and, Finch tells us, firms should "identify what interpersonal and business skills will help individuals grow, alongside the purely technical skills they might need to do their current job". She adds: "By building a framework that supports an employee's career, instead of just what the business needs right now, organisations will be rewarded with a more loyal, more capable workforce."
Important to taking this approach is being sure that people know that support is out there for them, and this goes for all aspects of HR and all levels of support. Where training and upskilling is concerned Ip stresses that firms have to try harder to 'sell' training with a remote workforce, saying: "It's important to overcommunicate to staff that they can still get access to training, even when working remotely. Holding regular catch ups with employees, particularly those who are more junior to the business, to discuss their training and development will ensure that no development needs slip through the gaps."
As we settle into a new era of work, a loyal, skilled workforce will be more important than ever. Taking a measured and flexible approach to training can help upskill employees and ensure they feel really connected to – and committed to – their employer.
Get the ITPro. daily newsletter
Receive our latest news, industry updates, featured resources and more. Sign up today to receive our FREE report on AI cyber crime & security - newly updated for 2023.
Sandra Vogel is a freelance journalist with decades of experience in long-form and explainer content, research papers, case studies, white papers, blogs, books, and hardware reviews. She has contributed to ZDNet, the Institute of Chartered Accountants in England and Wales (ICAEW), and The Comms Crowd among others.
At ITPro, Sandra has contributed articles on artificial intelligence (AI), measures that can be taken to cope with inflation, the telecoms industry, risk management, and C-suite strategies. In the past, Sandra also contributed handset reviews for ITPro and has written for the brand for more than 13 years in total.