Prime Minister Boris Johnson calls for tech to support coronavirus battle
Amazon, DeepMind, Uber pledge their allegiance to fight the virus, as BT CEO tests positive for COVID-19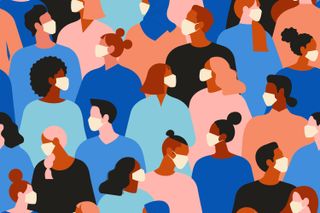 Prime minister Boris Johnson has called for support from the UK tech sector in battling the COVID-19 pandemic, by providing resources such as engineering and data tool capabilities.
The digital summit at 10 Downing Street was attended by 30 companies from across the digital and science sectors, including Google's AI-focused DeepMind, Amazon, Microsoft, Apple, as well as the London AI company Faculty.
RELATED RESOURCE
The IT Pro Podcast: Can tech survive Coronavirus?
COVID-19 is sweeping the globe, but how much will it affect the tech industry?
"They went around the table, laid out what they were dealing with, what they were looking for, and asked: 'What do you have to offer?'," an attendee told The Guardian.
Palantir offered to support the government effort by providing its engineering staff, while Amazon was reported to supply the NHS with its video conferencing tools and cloud services.
The UK tech industry's rise in arms follows the reports of hackers using the coronavirus as content for phishing emails. Researchers at cyber-security firm Mimecast discovered a "COVID-19 tax refund" posing as official GOV.UK correspondence.
When selected the option "access your funds now", it takes the receiver to a fake government webpage, where they are encouraged to provide all their financial and tax information.
Another common email scam template used by hackers heavily resembles a message from the Centers for Disease Control and Prevention (CDC), which asks the receiver to donate payments - in Bitcoin - to develop a vaccine for the coronavirus.
"The coronavirus, which is currently hotly debated in the media, has been used as a bait by cybercriminals," said Kaspersky's malware analyst Anton Ivanov. "(...) As people continue to worry about their health, fake documents that are said to educate them about the coronavirus may be spreading more and more malware."
Coronavirus in tech
The outbreak of the coronavirus and it's subsequent seque into a global pandemic has had a knock-on effect on the technology industry.
Following office closures by tech giants due to health concerns, the coronavirus is starting to affect high-ranking members of the tech industry.
BT confirmed that CEO Philip Jansen had tested positive for COVID-19. Days before going into self-quarantine, Jansen had been in contact with the chief executives of Vodafone UK, Three and O2 at an event organised by the UK government's Department for Digital, Culture, Media and Sport (DCMS).
"I (...) felt it was the responsible thing to do to alert them to this fact as soon as I could," Jansen said in a statement.
Many major tech conferences, notably Mobile World Congres 2019, have been cancelled. But that has seen some forward-thinking technology firms opt to carry out virtual conferences, with Microsoft's Build conference now set to be a digital event.
And Apple, which had closed swathes of its stores in China when the COVID-19 outbreak started, has now opened those stores, albeit with limited hours. As such, there's light at the end of the pandemic tunnel.
Xerox might not see it that way, as the company announced it will put its hostile takeover of HP on hold.
"In light of the escalating COVID-19 pandemic, Xerox needs to prioritize the health and safety of its employees, customers, partners and affiliates over and above all other considerations, including its proposal to acquire HP," said John Visentin, Xerox vice chairman and chief executive officer.
"As we closely monitor reports from government and healthcare leaders across the globe and work with colleagues in the business community to minimize the spread and impact of the virus, we believe it is prudent to postpone releases of additional presentations, interviews with media and meetings with HP shareholders so we can focus our time and resources on protecting Xerox's various stakeholders from the pandemic."
Given the technology world relies on masses of contractors, there have been concerns how the process of self-isolation to mitigate infection rates will affect them.
RELATED RESOURCE
The IT Pro Podcast: Can tech survive Coronavirus?
COVID-19 is sweeping the globe, but how much will it affect the tech industry?
Facebook is reportedly still expecting its contractors to remain on site while full-time employees work remotely.
Slack has committed to pay its contractors despite shutting down its offices, though that move appears to be prompted by five baristas who had written a letter to the company after learning they'd be laid off, that demanded three months pay and healthcare.
As the world becomes ever more gripped in the coronavirus pandemic, it is likly that other technology companies will need to take action to protect their employees and curtail the spread of the virus, while also trying to remain operationally effective.
A daily dose of IT news, reviews, features and insights, straight to your inbox!
A daily dose of IT news, reviews, features and insights, straight to your inbox!
Thank you for signing up to ITPro. You will receive a verification email shortly.
There was a problem. Please refresh the page and try again.