Nvidia overtakes Intel as most valuable US chipmaker
US GPU manufacturer is now third in the world behind TSMC and Samsung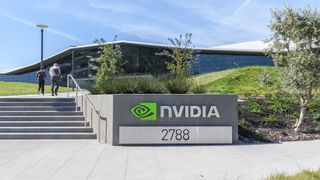 Nvidia has earned the title of the world's most valuable US chipmaker, dethroning former leader Intel.
Nvidia's shares rose 2.3% during Wednesday afternoon's trading, achieving a record $404 and placing the semiconductor developer's market capitalisation at $248 billion – a new industry milestone. Intel's market cap now trails at just above $246 billion.
The news makes Nvidia the third-largest chip manufacturer in the world by market cap, behind Taiwan's TSMC and South Korea's Samsung, although Intel still beats Nvidia in terms of revenue.
Nvidia first anticipated the surge back in late May, when the Santa Clara-based company forecast its 2021 second-quarter revenue to be $3.65bn (£3bn), "plus or minus 2 per cent", exceeding analysts' estimates of around $3.29bn (£2.70bn).
The impressive forecast was supported by a rise in demand for data centre components amid the mass shift to remote working, as well as the company's $6.9bn acquisition of high-performance networking firm Mellanox.
Throughout the coronavirus pandemic, the unprecedented demand for chips, especially the ones used in data centres, had proven to make or break a tech company's revenues. In March, the continued shortage of Intel processors caused HPE's year-on-year revenues to decline by 8%.
Intel shortages had proven troublesome for the last few months, with a string of companies blaming their poor financial performances on the lack of supply of chips.
In November 2019, Intel issued an apology for being unable to meet "strong demand" for its CPUs. It also pledged to invest in capital expenditure to ramp up production. Around the same time, Dell was forced to slash its 2020 forecast over fears that the shortage of Intel chips would continue to lead to declining PC shipments.
Prior to that, Intel was also blamed for a drop in sales of Microsoft's Windows machines.
Meanwhile, Nvidia had been gradually edging towards the top spot by making a string of profitable acquisitions in order to further enhance its data centre credentials.
At the height of the coronavirus pandemic, NVIDIA founder and CEO Jensen Huang said that the company had "had an excellent quarter", adding that the company's data centre "achieved a record and its first $1 billion quarter", an 80% increase from the year before.
A daily dose of IT news, reviews, features and insights, straight to your inbox!
A daily dose of IT news, reviews, features and insights, straight to your inbox!
Thank you for signing up to ITPro. You will receive a verification email shortly.
There was a problem. Please refresh the page and try again.