Non voyage: Coronavirus, Brexit and the future of business travel
The current pandemic and the UK's impending departure from the EU could have grave consequences for corporate travel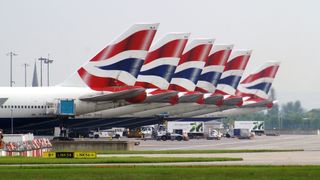 This article originally appeared in May's edition of IT Pro 20/20, available here. To sign up to receive each new issue in your inbox, click here.
Right now, the thought of going on a business trip might sound like an out-of-reach luxury. Due to the global coronavirus pandemic, international travel for the majority has been halted, and the closest many of us will have got to a business trip over the past few months will have been lugging our laptop from our desk to the sofa.
According to recent figures from the Global Business Travel Association (GBTA), 97% of business trips in Europe have been cancelled or delayed as a result of the pandemic. Instead, organisations are embracing a new way of working, enabled largely by remote collaboration and video conferencing software; three-quarters of GBTA members said they were now using virtual meetings and teleconferencing in place of corporate travel.
This unprecedented situation will undoubtedly change the future of business travel. The majority of GBTA members, some 62%, said the current crisis will change the way their company conducts business once the threat is over, although 80% of European members said they either expect international business travel to resume in two-to-three months (33%) or six-to-eight months (47%).
Once business travel does eventually resume, the aftermath of the coronavirus pandemic won't be all businesses will have to contend with. The looming uncertainty of Brexit, which has persisted for almost four years, also looks set to shake up corporate travel, and many who are used to the flexibility that has come with free movement are fearful about what the future could hold.
Roam you don't
Since 2017, British travellers have been able to use the minutes, texts and data allowances included on their mobile phone tariffs when travelling in the EU. Before rules changed, as many will be sorely aware, using a mobile phone in Europe was horrifically expensive; the internet is full of horror stories of people returning home from trips to bills of hundreds, or even thousands of pounds.
It remains unclear whether these extortionate charges will return after Brexit, likely a worrying prospect for business travellers who rely heavily on their smartphones for tasks such as work calls, answering emails and using maps to get around, not to mention those paying the bills.
"The costs of these activities will fall to the employer as this will usually be from a business phone or a personal device that is expensed," Thomas Kempster, technical director of CT Business travel, tells IT Pro. "Setting roaming charge caps could be a way to minimise costs, but will mean that staff won't be able to carry out essential tasks once the limit is reached.
"Costs can also be kept down by choosing a hotel with free and unlimited Wi-Fi included in your room rate. These little changes add up and mean that as a business, your travellers should be able to carry out their duties without racking up large and unexpected bills."
Thankfully, the government has passed legislation that would provide some safeguards to those travelling in Europe. This includes a £45-a-month limit on the amount that customers can be charged for mobile data before having to opt-in to use more, and a requirement for customers to be informed when they have reached 80% and 100% of their data allowances.
What's more, it appears UK operators may be willing to burden the costs. EE, O2, Three and Vodafone have all said that they currently have "no plans" to reintroduce roaming charges, regardless of how Brexit negotiations turn out.
"Our customers enjoy inclusive roaming in Europe and we have no plans to change this based on the Brexit outcome," an EE spokesperson told IT Pro, while O2 added that it will be "working closely with the UK government and other European mobile operators to try to maintain the current EU 'Roam like at home' arrangements once the UK leaves the EU."
However, like Brexit, nothing is set in stone as of yet.
Visa-vis
Perhaps the primary concern for business travellers is the end of freedom of movement, which has – until now – allowed citizens of any member state of the European Union to take up employment in another member state on the same conditions as the nationals of that particular member state.
The UK government has confirmed there will be no changes to how UK business travellers and tourists visit the EU until at least 31 December 2020; travellers won't need an international driving license and a valid European Health Insurance Card will still allow access to state medical care in any EU country during 2020.
However, as is becoming rapidly clear in the current climate, that date is fast approaching and it remains unclear what happens once it has passed.
It's likely that if you're indulging in business travel after this transition period, you'll need a visa or permit in order to do so, at least if you're planning to stay for up to 90 days in any 180-day period. Disruptions at border control are also probable; travellers may be forced to show they have enough money for their stay, for example, and could be forced to use separate lanes from EU, EEA and Swiss citizens when queueing.
"Preparing for new visa requirements currently is a bit of a grey area as it hasn't been announced how these requirements will be changing as a result of Brexit and also from the fallout of COVID-19," says Kempster.
"Your best chance at avoiding being caught out is to plan trips well in advance to allow for visas to be granted and also consider using an expert travel management company for your bookings, who will advise on all relevant visa requirements before you travel."
The abolition of freedom of movement could also have an impact on the cost of business trips. Once the UK falls out of the EU-US open skies agreement, which eliminates government interference in the commercial decisions of air carriers about routes, capacity and pricing, flights could become much more expensive; according to reports, fares around the EU have fallen about 40% since the introduction of the policy.
Hotels, too, could become pricier. A KPMG study shows that approximately 750,000 hospitality workers working in Britain are citizens of other EU countries and while current rules allow them to work where they want within the bloc, they will need to obtain a visa to continue working in the UK in the future. This will undoubtedly cause many to quit their jobs, leaving the hotel industry scrambling to hire new employees – something that could lead to higher salaries and, ultimately, higher room rates.
The future
Given the current pandemic, along with the uncertainty surrounding Brexit and the regulations it could introduce, nobody knows for sure what the future of corporate travel looks like.
The GBTA, however, is optimistic; 88% of its members expect employees will be willing to travel once restrictions are lifted, and three in four (77%) predict that the worst has already happened, compared to just 15% who feel the worst is yet to come.
"The global business travel industry remains at a standstill, but we are finally beginning to see some light at the end of this very long tunnel," said Scott Solombrino, CEO of the GBTA.
"GBTA members are planning their post-coronavirus recovery plans and most expect to be operational in 2020. This is a positive sign. The majority of GBTA member companies expect domestic business travel to resume in the next two-to-three months and most expect employees will be willing to travel."
Others, however, are more pessimistic and believe business travel could become a thing of the past. Peter Ballard, co-founder of B2B service design company Foolproof, tells IT Pro: "The temporary ban on our business travel is already leading us to find new ways to connect, operate and decision-make entirely virtually.
"Whether businesses will want to go back to supporting face-to-face meetings with the high cost of international and domestic business travel remains to be seen. But I suspect questions will be raised as to whether we should, when coupled with the positive environmental impact that our decreased carbon footprint is having globally."
Don Welsh, president & CEO of Destinations International, agrees, telling IT Pro he thinks these new technological solutions will become a "long-term part" of the meetings, incentives, conferences and exhibitions (MICE) market.
"Clearly the impact of COVID-19 has presented new technologies to help supplement the fact that we cannot safely all meet in person right now due to safety and health concerns. I do believe that many of these new interim solutions will become a long-term part of the MICE market to add educational opportunities in addition to meetings."
However, he believes this will supplement corporate travel, rather than replace it completely. "Conversely, I do believe that the current situation where we are all operating from our homes and are distant from our team members and customers has shown that humans need human interaction," he adds.
"I think the value of face-to-face meetings has never shown to have been truer in the last couple of months."
Get the ITPro. daily newsletter
Receive our latest news, industry updates, featured resources and more. Sign up today to receive our FREE report on AI cyber crime & security - newly updated for 2023.
Carly Page is a freelance technology journalist, editor and copywriter specialising in cyber security, B2B, and consumer technology. She has more than a decade of experience in the industry and has written for a range of publications including Forbes, IT Pro, the Metro, TechRadar, TechCrunch, TES, and WIRED, as well as offering copywriting and consultancy services.
Prior to entering the weird and wonderful world of freelance journalism, Carly served as editor of tech tabloid The INQUIRER from 2012 and 2019. She is also a graduate of the University of Lincoln, where she earned a degree in journalism.
You can check out Carly's ramblings (and her dog) on Twitter, or email her at hello@carlypagewrites.co.uk.