4G and 5G protected a fifth of UK business during lockdown
Mobile connectivity managed to preserve £205 billion of business for the UK between March and September, O2 claims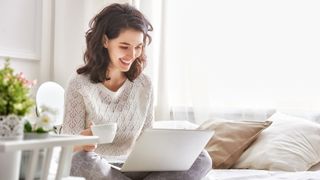 (Image credit: Shutterstock)
Mobile connectivity, specifically 4G and 5G, "protected" one-fifth of UK business since the start of the coronavirus pandemic in March, according to a study commissioned by O2.
4G and 5G connectivity enabled employees to work flexibly and remain productive during lockdown as companies were forced to shift to a remote working basis, the report shows.
The findings echo a similar report released last month which claimed two in five workers used their mobile phone data or tethered their handset to their computer when experiencing broadband outages, which were estimated to last a combined 24 hours over the last 12 months.
Internet outages reached an all-time high during the pandemic. According to ThousandEyes, downtime increased by a staggering 63% between January and March and remained elevated through the first half of 2020, with June seeing a 44% surge in disruptions.
On 25 June, Virgin Media customers were hit by a London-wide outage, just two months after a major failure left thousands without access to the internet. Although there was an overall drop in global outages in May, UK internet outages remained high.
O2 estimates that 4G and 5G connectivity managed to preserve £205 billion of business for the UK between March and September, based on a combination of ONS data on economic output across UK sectors as well as employee activity monitoring.
Commenting on the findings, O2 CEO Mark Evans said that despite the many challenges faced by the UK during the pandemic, "we can be sure that without the great power of connectivity, things would have been exponentially worse".
"We're proud to see mobile playing an important role in supporting the UK's businesses and the wider economy," he said. "Now, we need to work together, with businesses and the government, to ensure that connectivity stays at the heart of UK PLC. It's the key to our country's success and will unlock further growth."
Working was found to be the sixth most common use for mobile connectivity during lockdown, after calling family members and friends, keeping up to date with the latest news, playing games, streaming movies, and contacting a doctor.
A daily dose of IT news, reviews, features and insights, straight to your inbox!
A daily dose of IT news, reviews, features and insights, straight to your inbox!
Thank you for signing up to ITPro. You will receive a verification email shortly.
There was a problem. Please refresh the page and try again.