Is your board up to speed on IT infrastructure?
While they fulfil different roles and have different responsibilities, members of the c-suite need to work together on IT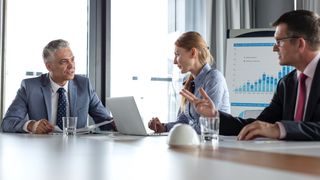 (Image credit: Shutterstock)
It's a difficult time for many companies right now. Whether they've seen the order book shrink, grow or remain largely unchanged over the past year, there are two factors full of uncertainties that interplay on future planning – the coronavirus pandemic and Brexit. Getting technology related decisions right is vital. With no crystal ball to see the future, an informed, capable and competent board is a 'must have'. So how do tech leaders ensure their board is up to speed on IT infrastructure needs?
CTO vs CIO
It's always worth making sure every board member is clear about how they fit into the structure. It's surprising how often roles and responsibilities are fuzzy, or a strong personality in one of the key roles – chief technology officer (CTO), chief information officer (CIO), chief financial officer (CFO) or Chair of the board – can exert undue power and undermine other roles. So what should the structure of the boardroom ideally look like?
The interplay between a CTO and a CIO has the greatest danger of overlap and many companies make do with having one or the other. They are not identical roles, however, and there are good reasons to have both. Dr Anjali Subburaj, digital commerce chief architect at Mars, explains: "A CIO is responsible for technologies that run a business internally while a CTO is responsible for technologies that grow the business externally."
Subburaj adds: "In a technology product and service organisation, the CTO role is responsible for defining the strategic direction for the product and services development. The CTO … needs to understand and be able to influence the IT infrastructure in the context of its impact on the product and service offerings."
Maynard Williams, a managing director for Accenture Technology in the UK, holds a similar view telling IT Pro: "The CTO is responsible for understanding what is new or coming in terms of new technology and innovation and sets the strategy or the 'what needs to happen'. They report into the CIO who is responsible for 'how it needs to happen'."
A baseline for the board
Technology is so deeply integrated into business these days that all board members need to have a pretty high base level of understanding both of tech in general and of how it is used in the business.
Jarod Greene, general manager of the TBM Council, which provides IT leaders with a framework for communicating the cost and value of IT to the wider business, says: "Over the past few years, IT's function has changed dramatically from cost centre to strategic business partner. It's therefore important that IT has a seat at the table when it comes to business decisions – throughout the process." He gave the example of marketing, where technology is embedded in everyday work. Decisions on new marketing strategies or approaches must include an understanding of the technologies that enable them.
Mike Smith, Managing Director (Direct), Virgin Media Business went even further when he told us, "Every board member needs to be clear about what they want to achieve and have a strong and clear narrative of how any technology investment will help their organisation to deliver better services to employees and customers."
Teamwork wins every time
With technology taking such a central role in day-to-day businesses these days, it seems inconceivable that any board could include members who fail to understand the fundamentals of how technology helps them achieve their goals, or lack a perspective on how it can help with future goals. As Mike Smith put it, "Upfront consideration of IT infrastructure is critical to delivering projects smoothly and achieving the best possible outcomes."
While the CFO is ultimately responsible for spending decisions, they must be strongly guided by colleagues with a technology remit. Dr Subburaj gives the example of buying a new mobile technology, saying the CTO or CIO should do technical due diligence and produce a shortlist of providers, with the CFO making the final decision. If the CFO cuts out the due diligence and makes the decision on cost alone, technical issues may surface later which would in the long term be very bad for the business.
In the end this is all about teamwork. Maynard Williams put this succinctly saying: "The most successful businesses and investments are where CTOs, CIOs and CFOs collaborate and work as a team with one strategic goal in place."
Get the ITPro. daily newsletter
Receive our latest news, industry updates, featured resources and more. Sign up today to receive our FREE report on AI cyber crime & security - newly updated for 2023.