CIOs are taking their seat at the boardroom table
Once the poor relation of the C-suite, IT leaders have an increasingly important strategic role to play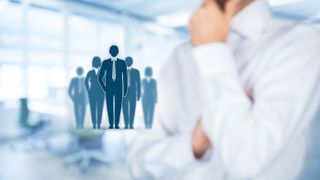 (Image credit: Shutterstock)
Chief information officers (CIOs) in the UK are gaining more strategic influence within organisations – this is according to a recent study by KPMG and Harvey Nash, which highlighted that more than half of CIOs are reporting increases in their budgets.
Just a few years ago CIOs would be found below the chief financial officer (CFO) in the executive hierarchy, but this has changed dramatically. Howard Watson, chief technology and information officer (CTIO) of the BT Group notes that five or six years ago "50% of CIOs didn't have a seat at the boardroom table," but now there's a very strong collaborative relationship between all the leaders of the business, he tells IT Pro, because "this is what creates great success".
Technology at the heart of business
In today's growing digital business environment, there are few strategic decisions that can be made without the involvement of technological change. This is why, according to Lisa Heneghan, chief digital officer (CDO) at KPMG UK, "it's no surprise to see CIOs budgets, responsibilities and impact rise".
CIOs are becoming more involved in shaping business strategy and business models across a variety of industries and sectors and a third of organisations now include information and technology within their business strategies. "This number was less than 20% two years ago," Ian Cox, Senior Director, Analyst at Gartner, tells IT Pro. "This shows the growing influence information and technology is having on shaping the overall direction of the organisation. In the past, they were simply business strategy enablers, whereas in the digital world they're intertwined – shaping, as well as enabling, the strategy."
The need for technical leadership
Digital readiness is now a must for businesses, consumers and leadership alike. Over 40% of organisations expect to make a significant change in their business model or product/service offering in the next three years but in order to do that, they will require the leadership expertise of a CIO says Phil Crozier, KPMG's head of CIO Advisory.
He notes that for the third year running, the threat of organised cybercrime remains a primary concern as high profile attacks have the ability to damage organisations in fundamental ways. Not just to critical systems or to their reputations; since the headline GDPR fines issued by the Information Commissioner's Office (ICO) in 2019, the financial consequences for non-compliance should not be underestimated. "Therefore, informed tech leadership, able to secure genuine support and buy-in from C-suite executives that understand the value of a cyber strategy, can make all the difference," Crozier says.
Gartner's research echoes this sentiment, reporting that the organisations best equipped to deal with disruptions are more likely to have a strong CIO-CEO relationship. "CIOs in these organisations are more likely to be a member of the executive committee and report to the chief executive officer (CEO). As more organisations recognise this we'll see the strategic influence of the CIO grow further," Cox notes.
RELATED RESOURCE
2,000 days: the CIO's world in 2025
What the role of the CIO will look like in five years time
However, it's more than just security concerns that are raising the CIOs boardroom standing. Watson also cites the move towards more digital customer interaction and the fact IT is at the core of many businesses as reasons why CIOs are gaining more and more strategic influence.
"CIOs deliver a company's digital capability and can ensure that a company can change quickly and respond to an ever faster moving market," he says. "For that reason, ensuring we've got IT driving the business forward is even more critical."
Is the 'all powerful' CIO on its way?
As their business influence grows, CIOs are moving away from day-to-day management of the company's technology to more strategic focuses, but their workloads aren't getting any smaller, says Watson. "The workload is increasing, which means ensuring you've got the right team with the right leaders."
In response to this a number of additional roles have been created within IT management. "A number of companies have got a CDO for example, while others have gone for a chief security officer (CSO)," Watson says. "We're seeing some fragmentation of the CIO role in a few companies as a way of accelerating. But I think this trend will change to become converged into a super CIO-type role where one individual around the executive management table is tackling all those issues."
The role of the CIO looks set to continue to grow in strategic importance, as Gartner's research found that information and technology's impact on business models will more than double by 2025.
It's perhaps not surprising then, that 63% of organisations expect their CIO to play an even bigger role in developing business strategy over the next two years. "They're not just being involved for their information and technology knowledge," Cox explains. "The CIO's understanding of digital business models and operating models together with their ability to spot new opportunities and threats are also highly valued by their colleagues."
He notes that there's a huge opportunity for CIOs to play a leading role in shaping the strategic direction of their organisations in the coming years and as the strategic importance of information and technology continues to grow, we'll see more CIOs on boards and reporting to the CEO in the future.
The CIO's rise is inextricably linked to the growing importance of information and technology in the digital world, but while CIOs will be expected to take the lead, Cox adds that it can't just be them driving how the organisation exploits information and technology to succeed.
"All members of the C-suite will be expected to contribute to discussions and decisions about the role that information and technology can play. This will extend into new areas such as the ethics of using AI or the extent to which robots should replace or augment humans. Many areas of the executive agenda will be influenced by information and technology in the future. The CIO will take the lead in many of these areas, and they will also need to provide guidance, coaching and advice to their peers."
Get the ITPro. daily newsletter
Receive our latest news, industry updates, featured resources and more. Sign up today to receive our FREE report on AI cyber crime & security - newly updated for 2023.
Keri Allan is a freelancer with 20 years of experience writing about technology and has written for publications including the Guardian, the Sunday Times, CIO, E&T and Arabian Computer News. She specialises in areas including the cloud, IoT, AI, machine learning and digital transformation.