ARM CIO urges "hands-on" approach to technology
MongoDB also tells companies to "embrace failure"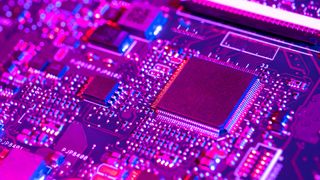 Andy Smith, CIO of microprocessor firm ARM, has urged his fellow tech decision-makers to get involved at the coal-face of IT management.
The message was delivered during a keynote speech at Cloud World Forum today in which he also talked about issues facing new CIOs, such as the need to make good use of the 'honeymoon period' when entering a new position.
He quoted a popular saying among IT leaders - "arguing with engineers is a bit like wrestling a pig in the mud; after a while, you realise that they like it".
However, he believes that this is not a bad thing at all. On the contrary, he says that "you've got to get hands-on with the technology stuff".
Engaging in technical debate with the app developers and software engineers within your company, he says, is particularly important. After all, these are the people that are wrangling with your code on a daily basis.
Maintaining strong links with staff is another crucial aspect, he cautions, reminding CIOs entering a new company that "although it's a big change for you, it's a bigger change for your team".
He also cites how grateful he is to be working with such passionate technologists, particularly ARM CEO Simon Segars.
"Sometimes, I'm engaging him in a very learned way about macroeconomics, or something important, but actually he wants to talk about the technology", he says. "It's been a real learning experience for me".
Also present at Cloud World 2015 was MongoDB's Kelly Stirman. He had much to say about the state of cloud development, with one of his key points being that companies must "embrace failure".
He claims that the model for innovation is now "vastly different" than it was in previous decades. To keep up with this rapid pace, modern businesses need to be prepared to change, which also means being prepared for that change to backfire.
"Failure informs your product", he says; as long as you can roll with the punches, "failure helps you get to a better final state".
According to Stirman, though, the reason that failure is now conceivable in the corporate environment is that cloud solutions and Infrastructure-as-a-Service have made it incredibly easy and cheap to spin up an application.
Stay up to date with the latest news and analysis from the world of cloud computing with our twice-weekly newsletter
Adam Shepherd has been a technology journalist since 2015, covering everything from cloud storage and security, to smartphones and servers. Over the course of his career, he's seen the spread of 5G, the growing ubiquity of wireless devices, and the start of the connected revolution. He's also been to more trade shows and technology conferences than he cares to count.
As reviews and community editor, he's responsible for leading IT Pro's wide-ranging product coverage, and is an avid follower of the latest hardware innovations. He's never happier than when tinkering with complex network configurations, or exploring a new Linux distro.
In addition to managing the IT Pro Panel and working with the community of IT leaders that make it up, he co-hosts the IT Pro Podcast, where you can hear him ranting about his love of strange gadgets, his disdain for Windows Mobile, and everything in between.
You can find Adam tweeting about enterprise technology (or more often bad jokes) @AdamShepherUK, or you can email him at adam.shepherd@futurenet.com.
Thank you for signing up to Cloud Pro. You will receive a verification email shortly.
There was a problem. Please refresh the page and try again.