DoJ charges Google with multiple antitrust violations
The lawsuit could have serious implications for Google and the tech industry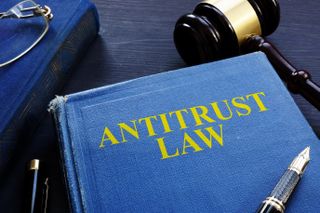 The Department of Justice (DoJ) has charged Google with violating federal antitrust law.
The DoJ's year-long investigation has determined that the tech giant improperly used its digital dominance to affect corporate rivals and consumers negatively.
According to the filing: "Google has entered into a series of exclusionary agreements that collectively lock up the primary avenues through which users access search engines, and thus the internet, by requiring that Google be set as the preset default general search engine on billions of mobile devices and computers worldwide and, in many cases, prohibiting preinstallation of a competitor."
The filing further alleges Google maintained a monopoly in search and search advertising by:
"Entering into exclusivity agreements that forbid preinstallation of any competing search service."
"Entering into tying and other arrangements that force preinstallation of its search applications in prime locations on mobile devices and make them undeletable, regardless of consumer preference."
"Entering into long-term agreements with Apple that require Google to be the default – and de facto exclusive – general search engine on Apple's popular Safari browser and other Apple search tools."
"Generally using monopoly profits to buy preferential treatment for its search engine on devices, web browsers, and other search access points, creating a continuous and self-reinforcing cycle of monopolization."
The DoJ's lawsuit launches a lengthy landmark legal battle between Washington and Silicon Valley. The case could have profound implications for Google and the tech industry, which has been under scrutiny due to the amount of data, money and power it's collected.
This antitrust lawsuit is just the beginning of the government's battle against Google, too. The federal court could take years to determine whether the company violated national competition laws and to decide what punishments it might levy if Google is found guilty.
Eleven Republican attorneys general signed the DoJ's complaint. Individual states can choose to join the federal case or bring their own lawsuits against Google. This would increase the amount of legal ground the company must cover to defend its business.
The federal government investigated Google for potential antitrust violations seven years ago, but the inquiry resulted in no lawsuit or significant penalties.
The US government's inactivity differs significantly from European antitrust scrutiny of Google. Over the last 10 years, competition regulators in Europe have imposed $9 billion in fines on Google and have required the company to make significant changes in how it offers search, advertising and Android.
The DoJ announced a broad review of big tech last summer, which included Google, as it was determined to respond to "widespread concerns that consumers, businesses, and entrepreneurs have expressed about search, social media, and some retail services online."
According to a securities filing, Google began turning over sensitive documents for the DOJ's investigation last September.
DiJ officials initially showed interest in investigating Google's advertising business, which where most of its $162 billion in 2019 revenue came from. Due to complaints from news publishers, travel review websites, and other competitors, the probe expanded to other issues showing the company cemented its dominance in how it employed its search engine.
The DoJ's probe has been bitter and contentious, as Google has been unwilling to share critical documents with federal investigators. Government lawyers have also disagreed about when to bring a case, given the 2020 presidential election is in progress. Over the summer, many DoJ employees said they weren't ready to bring charges against Google.
Many state probes — from Democratic and Republican attorneys general — started last September. Their investigations have expanded to include Google's dominance through search and its Android smartphone operating system.
Several states, including New York, Nebraska, Iowa and Colorado, plan to issue a joint public statement by Tuesday. The statement will indicate they're investigating many of Google's business practices. They might opt in to the federal case later, according to anonymous insiders.
Get the ITPro. daily newsletter
Receive our latest news, industry updates, featured resources and more. Sign up today to receive our FREE report on AI cyber crime & security - newly updated for 2023.
David Gargaro has been providing content writing and copy editing services for more than 20 years. He has worked with companies across numerous industries, including (but not limited to) advertising, publishing, marketing, real estate, finance, insurance, law, automotive, construction, human resources, restoration services, and manufacturing. He has also managed a team of freelancers as the managing editor of a small publishing company.
Get the ITPro. daily newsletter
Receive our latest news, industry updates, featured resources and more. Sign up today to receive our FREE report on AI cyber crime & security - newly updated for 2023.
Thank you for signing up to ITPro.. You will receive a verification email shortly.
There was a problem. Please refresh the page and try again.