UK Silicon Valley plans are 'antiquated and misguided'
The government risks missing out on the next phase of innovation entirely by going full throttle on long-held ambitions to turn the UK into the next Silicon Valley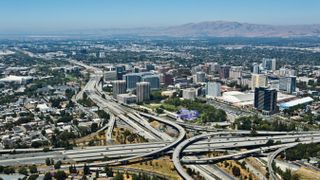 (Image credit: Getty Images)
'Silicon Valley UK' is an ambition the British government has long used as shorthand to describe plans to transform the UK into a technology superpower. Over time, this has evolved into a frame of mind, with successive governments striving to make it a reality.
Jeremy Hunt, the chancellor, set out the latest incarnation of this ambition in his maiden speech in November, only shortly after the Boris Johnson administration abandoned its own plans in March. In practice, the UK will lean on the Competition and Markets Authority (CMA) to "challenge monopolies and increase the competitive pressure to innovate" with powers awarded to it through the Digital Markets, Competition and Consumer Bill.
Despite welcoming the ambition, David Stone, CEO of recruitment consultancy MRL, tells IT Pro the UK might need to take a different approach to that taken in California. "The collaboration, competition, and innovation [Silicon Valley] platformed for companies across almost every aspect of technology have never been seen before, and arguably it's had a net-positive impact on the world," he says. "I think the idea of a UK Silicon Valley is desirable, whether it should be executed in exactly the same way or follow in the same footsteps that Silicon Valley has is another story."
Although Silicon Valley has long been considered beyond reproach, trouble is brewing beneath the surface in California. With profits falling, and mass job losses coming, a return to unrivalled expansion seems hard to envisage. Companies like HP, Oracle and Tesla have also recently moved their headquarters out of the San Francisco Valley. Higher interest rates, meanwhile, have hit investment levels – especially for new startups. Altogether, it means the Silicon Valley model that thrived so recently may longer be suited to the turbulence of the 2020s. Against this backdrop, a UK Silicon Valley initiative may be horribly mistimed.
Fighting the shortage of funding and skills
The promise of innovation is often stifled by a lack of long-term funding, with continuous funding lacking in the UK. This is despite seed capital for a startup in ready supply. The UK has gained a reputation as a centre for new ideas, but it's poor at carrying these into the commercial arena, with promising companies often sold or taken over by overseas buyers.
"It's exciting to hear that the chancellor wants to capture the spirits of many British inventors and transform our technology sector, although he confuses entrepreneurship – starting a business in the hope of profiting – with innovation – using new ideas to create new, better goods and services," says Hywel Carver, CEO and co-founder of Skiller Whale. "That difference matters – the chancellor talks about removing import tariffs on goods from 'car seat parts' to 'bicycle frames' – it's not clear how that will help innovation, but it's sure to help small business owners. That will help create a nation of shopkeepers more than a nation of innovators."
The Achilles' heel in Hunt's plans, however, might be the UK's ongoing and chronic skills crisis, believes Richard Rawcliffe, vice president and general manager UK public sector at Dell. "Today, we have over 60,000 vacancies in the IT sector in the UK and the problem is growing," says Rawcliffe. By 2030, he adds, a staggering 85 million jobs will go unfilled due to skills shortages globally.
"The gap within the IT sector will only grow if the right skills aren't developed quickly across all levels of education," he continues. "So, for the UK to foster genuine, long-term innovation and progress, we must have a forward-looking curriculum, benchmarked against today's global superpowers – and we need a technology infrastructure robust enough to support it. In short, we will need a coherent and comprehensive industrial strategy with technology at its heart."
Silicon Valley was a "product of its time"
"We have a national genius for innovation," said Hunt in his maiden speech. "Britain is the land of Newton, Darwin, Fleming, Faraday, Franklin, Gilbert, and Berners Lee. The home of three of the world's top ten universities. The country with the largest life sciences, largest technology sectors in Europe."
As Hunt alludes to, the UK already has something of an equivalent, but one that's dispersed throughout the land rather than being localised. Indeed, science parks have existed across the UK for decades, and the most prominent is based in Cambridge. Dubbed Silicon Fen, the park is home to some of the biggest tech brands, including Microsoft, AstraZeneca and Samsung.
The fly in the ointment, meanwhile, is Brexit. The jury is still out on whether it's damaged the UK's capacity to innovate or allowed more freedoms to chart a new path, as former prime minister Boris Johnson often cited. The UK is, for example, blocked from participating in the Horizon programme, but there is money available, with a pledge to increase public funding for R&D to £20 billion by 2024/25. Small business is also bouncing back, with 3.8 million new business applications filled in the first three quarters of 2022 – up nearly 8% year-on-year – according to the Office for National Statistics (ONS).
RELATED RESOURCE
The Total Economic Impact™ of IBM robotic process automation
Cost savings and business benefits enabled by robotic process automation
If the UK is to become a centre for technological innovation, aligning it with California's Silicon Valley might be misguided. Instead of replicating its past successes, the UK should show much bigger ambition, says Guy Yurista, CEO of UK BioTech scaleup, Synthace. "We should not aim to replicate Silicon Valley in the UK but actually play to our own strengths," he tells IT Pro. "[The UK] can do this by encouraging high technology and life sciences startups with a national programme and with a unifying message. Don't copy the USA's Silicon Valley or Israel's Start-up Nation, but instead develop your own flavour of innovation, thought leadership and winning approach."
Rawcliffe agrees the UK needs a different approach. "A UK Silicon Valley would be fundamentally different from the starting point of the original Silicon Valley, which was a product of its time," he says. "The original Silicon Valley was born out of innovation with microprocessors and driven by the concepts of Moore's Law."
By contrast, the next phase of innovation will be driven by data and insights we can gain from data, with technologies like artificial intelligence (AI), machine learning, augmented reality (AR) and virtual reality (VR) the main tools for the next generation of innovators. "Rather than seeking to recreate what was essentially a moment in time, we should be doubling down on what the UK is good at now and aim to become a world leader in harnessing the power of data," he continues. "As such, it might be more helpful to think about this in terms of the UK becoming a 'science superpower' rather than home to the next 'Silicon Valley'."
Although the very idea of Silicon Valley is under threat more now than perhaps ever, its resilience is unquestionable. Bouncing back from the 2008 financial crisis and continuing to handle the fallout from the pandemic shows a significant level of robustness. Should the UK move to replicate this quality, in particular, there could be a sustainable and bright future for all tech companies across the UK.
Get the ITPro. daily newsletter
Receive our latest news, industry updates, featured resources and more. Sign up today to receive our FREE report on AI cyber crime & security - newly updated for 2023.
David Howell is a freelance writer, journalist, broadcaster and content creator helping enterprises communicate.
Focussing on business and technology, he has a particular interest in how enterprises are using technology to connect with their customers using AI, VR and mobile innovation.
His work over the past 30 years has appeared in the national press and a diverse range of business and technology publications. You can follow David on LinkedIn.