Online Safety Bill: Why is Ofcom being thrown under the bus?
The UK government has handed Ofcom an impossible mission, with the thinly spread regulator being set up to fail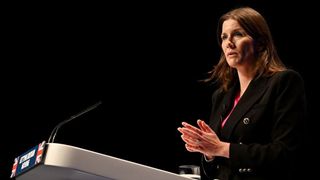 Frequent readers will know I'm no great fan of our telecoms and media regulator, Ofcom. In much the same way I'm no great fan of conjunctivitis or being dangled by my ankles from the back of a moving lorry, in fact. So when I find myself feeling sorry for Ofcom, you know it's being wronged.
Ofcom is being made the fall guy for everything that's unworkable in the government's Online Safety Bill, which is nearing the end of its years-long plod through parliament. Ofcom is the go-to answer when ministers are quizzed about how something incredibly difficult will be resolved; it is the arbiter of anything faintly controversial in the bill; it is being tasked with finding technical solutions that haven't even been invented yet. And when all this goes horribly wrong – which it will – the politicians will shrug their shoulders and point their finger in Ofcom's direction. This plot is more obvious than a Bond film's.
If you open a PDF of the draft bill, which is still being amended, and perform a search for any mention of "Ofcom", you'll find its name mentioned 645 times. I listened in to a Commons debate on the draft bill in early December, and MPs mentioned Ofcom hundreds of times more, with politicians from all sides urging the government to give the regulator even more responsibility than it's already burdened with.
Here is just a flavour, a mere smattering, of some of the things that Ofcom is being tasked with in the legislation as it stands today.
It has the power to require tech companies to remove images of child sexual exploitation using as yet unidentified "accredited technology"
The same goes for content promoting terrorism; it must ensure that social media platforms and adult websites put in place "robust age verification" using technologies once again accredited by the regulator
It has the power to fine big tech companies 10% of their annual turnover for compliance failures
It has the power to take action against "individual directors, managers and other officers" at regulated companies, which it must define itself
It will also have to step up its current responsibility to improve the public's media literacy
That is just a soupçon of all the Ofcom responsibilities that are already in draft legislation. Then there's the stuff that MPs want to be added to the bill. Dame Margaret Hodge wants Ofcom to investigate whether individual executives or algorithms are to blame for harmful material not being removed from the internet. Damian Collins said Ofcom must "play a role" in ensuring social networks take down "Russian state-backed disinformation". John McDonnell called for Ofcom to assess whether confidential journalist material is being exchanged before it issues a notice ordering a tech platform to monitor user-to-user content.
Again, these are only three examples plucked from a single hour of debate on the bill in early December.
It's not merely the sheer workload being heaped onto Ofcom's shoulders that makes this an impossible job, it's being asked to implement technological solutions that simply don't exist. Davis pointed this out in a debate over the proposed Ofcom power to force social media companies to monitor encrypted conversations. "The Bill allows Ofcom to issue notices directing companies to use 'accredited technology', but it might as well say 'magic', because we do not know what is meant by 'accredited technology'," he pointed out.
RELATED RESOURCE
Three innovative technologies to address UPS challenges at the edge
With increasing focus on edge computing comes added pressure for better uninterruptible power supply (UPS)
"Clause 104 will create a pressure to undermine the end-to-end encryption that is not only desirable but crucial to our telecommunications," he added. "The clause sounds innocuous and legalistic, especially given that the notices will be issued to remove terrorist or child sexual exploitation content, which we all agree has no place online."
Davis hits the crux of the issue right there. Every time the bill defines something we all want to get rid of – child abuse, terrorist materials, racist content – it punts responsibility to Ofcom to work out how to do it. Ministers say they don't want to handcuff Ofcom by being prescriptive over how to remove this content, but the truth is they just don't know how to do it. Nobody does.
And so, it will fall to Ofcom, chaired by a 79-year-old broadcasting veteran best known for being the agent for Morecambe & Wise, to work all this out. Not to mention the 644 other things it has to do, at the time of writing.
It's an impossible job for a regulator that's not exactly renowned for being nimble in the first place. I wouldn't wish the job on my worst enemy. Unfortunately for both of us, it's my worst enemy that's got it.
A daily dose of IT news, reviews, features and insights, straight to your inbox!
Barry Collins is an experienced IT journalist who specialises in Windows, Mac, broadband and more. He's a former editor of PC Pro magazine, and has contributed to many national newspapers, magazines and websites in a career that has spanned over 20 years.
Today, he's a contributor to Forbes.com, a columnist for PC Pro and ComputerActive, and is the co-editor of BigTechQuestion.com, a site dedicated to helping solve people's tech problems. You may have seen Barry as a tech pundit on television and radio, including BBC Newsnight, the Chris Evans Show and ITN News at Ten.
You can follow Barry on Twitter at @BazzaCollins, or email him at barry@mediabc.co.uk
A daily dose of IT news, reviews, features and insights, straight to your inbox!
Thank you for signing up to ITPro. You will receive a verification email shortly.
There was a problem. Please refresh the page and try again.