Can Paris and Berlin steal London's startup crown?
Continental challengers are winning more funding, as London faces Brexit woes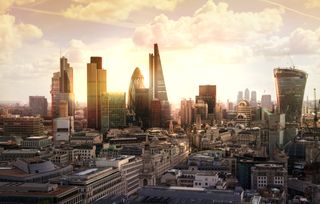 London is the de facto hub for tech startups in Europe after Silicon Valley, it's the place to to find developers, accelerators and investors. But London's dominance may be at an end, as the ecosystems in Berlin and Paris mature and Brexit starts to bite.
Stats from venture-capital firm Atomico reveal VC funding of $2.7 billion in France over 2016, pipping Germany's $2.1 billion.
That still doesn't top London's $3.7 billion, though.
That funding lead is one of many reasons that there's no cause to panic yet, notes Gerard Grech, a VC funder and CEO of Tech City UK. While that job title makes him rather likely to promote the good news about London, he has more recent figures to back it up. "The latest research from London & Partners shows that since last year's referendum British tech companies had received 2.4 billion of venture capital funding," says Grech. "This was more than double the VC investment in Germany and three times what it was in France."
London has a solid lead in other areas, too. Tom Wehmeier, head of research at VC firm Atomico, points to its dominance in capital, developers, angel investor network, and even the number of meetups planned by the community.
Previous startup successes also weigh in London's favour, says Grech, with more than a third of Europe's tech unicorns based in London, bringing expertise, angel funding and drawing talent. Plus, four of Europe's biggest VC investors call London home Index Ventures, Accel, Balderton Capital and Atomico.
Brexit bites
But there's also Brexit. At this early stage, no-one knows what Brexit will mean for the UK including the politicians attempting to deliver Britain's exit from the EU but a more restricted flow of talent could mean fewer founders and developers can work from the UK, while predictions of banks moving to the continent could cut available capital and hit the important fintech sector.
Not everyone is convinced Brexit is all doom and gloom for London's fintech. "There has been talk that the fintech sector will be particularly affected but none of the fundamentals that attract fintech companies to the UK have changed overnight: there is still a supportive regulator, great resources of talent and willing investors," says Grech. "Also, the practical implications of starting a financial services business in Europe are considerable. Meanwhile, fintech companies that sell their services abroad are benefitting from the weaker pound right now."
Atomico's Wehmeier suggests Brexit won't lead to an exodus of startups from London. "In our view, it's far less likely that you'll see companies up sticks and move, and even less likely that will happen to entire sectors, but inevitably we'll see some [depart]," he says. "But we'd expect that to be dribs and drabs much more a trickle than a flood."
On the skills and talent front, Brexit could prove more problematic. "Brexit does have implications for the talent employed by the UK tech sector and we face uncertainty in labour movements," says Jeremy Silver, CEO of Digital Catapult.
Although concerns remain about future immigration levels and the number of British students taking computer science courses, there's still plenty of talent to choose from, according to Grech.
"If you want raw talent, there are 400,000 students in the capital alone, in some 40 universities and colleges, many of which are renowned across the world," he says, adding London also has strong capital markets, a booming creative industry, and a "multicultural, tolerant atmosphere".
Because of all that, he says, London will always be a draw, even with Brexit looming.
"In the last six months, we have seen record numbers of people apply for our Tech Nation Visas for skilled tech workers which demonstrates that Brexit has not deterred the brightest and best from coming here," Grech claims.
London doesn't only need to draw developers, engineers and other staff it needs to convince founders, too. "Rather than see companies established here moving out, the bigger question is will you see entrepreneurs who would have otherwise thought about coming to the UK to start their business go somewhere else instead," wonders Wehmeier. "That's one potential area where there's some potential risk."
European ecosystem
It's not only Brexit that's causing founders to stay on the continent the startup ecosystem is booming across Europe. Wehmeier said the key question founders consider when choosing a home base is whether a city is a viable launching point for a startup on a global scale. "Entrepreneurs, they're like athletes or artists they're born everywhere in the world," he said. "There's no geographic monopoly on that entrepreneurial talent. If you have a great idea it can come from anywhere. But of course to take an idea into a business and scale it up, there are things that you need around you to give yourself the best shot."
He adds: "Unquestionably, London is one place you can do that but so are Berlin and Paris. We actually believe that increasingly now the further you look across Europe, the more places there are where that's true." That includes Stockholm, Helsinki and Madrid, and Atomico has recently made investments in startups based in Munich and Bristol. All a city needs is a great talent pool, access to customers and capital. "There's a number of places now in Europe where you can get those things."
"What's changing across Europe as a whole and this isn't Brexit is the strength of the ecosystem," he adds.
Indeed, rather than Paris and Berlin and the rest of the continent being seen in opposition to London, Grech said it'd be ideal to see Europe and London working together to counter Silicon Valley's dominance. "If we want to produce a company that can really challenge Silicon Valley, we in Europe should be working together, not scrapping for the talent," he says.
Beyond London
Europe's startup ecosystem is expanding and maturing, but so too is the rest of the UK. "Hubs are emerging beyond the traditional capital cities that have been dominant," Wehmeier says, noting Atomico has recently invested in companies in Munich and Bristol. "I think ultimately we see this as a huge positive that hubs are springing up all over the place."
Silver agrees that we shouldn't forget the rest of the UK. "It's not all about London," he says. "Recent ODI research points towards the huge amount of tech innovation going on across the UK and this is something we need to support and shout about."
That's why Digital Catapult offices are scattered about the country, he explains. "Yes, London needs to perform against other European capital cities, but in order to keep our economy balanced, we need to continue to nurture innovation and tech clusters outside of London."
Get the ITPro. daily newsletter
Receive our latest news, industry updates, featured resources and more. Sign up today to receive our FREE report on AI cyber crime & security - newly updated for 2023.