Optimising the management of hybrid cloud
Having the right foundations in place can make an organisation's hybrid cloud infrastructure work much better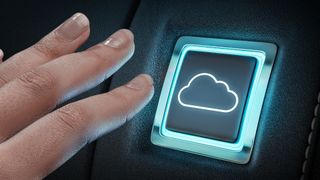 (Image credit: Shutterstock)
A number of companies have chosen to adopt a hybrid cloud strategy in order to make their workloads run as efficiently as possible, and reside their data where it makes the most sense.
This has led to businesses increasing their spending with vendors, with 82% now having a hybrid cloud strategy, according to Flexera research.
However, there can be various challenges companies come up against if they choose to have applications and workloads running in public or private clouds. How to manage hybrid cloud environments tends to be one of the biggest challenges, as well as ensuring these configurations are as optimised as they can be to maintain cyber security and ensure value for money. The right foundations must be in place to optimise hybrid cloud infrastructure.
What causes hybrid cloud inefficiency?
If you decided to start a business from scratch in today's age, you would probably choose to make it cloud-native and compatible with the public cloud. Additionally, you would probably design it to also include scalable systems, lightweight apps, and the security and compliance that is now expected and comes as standard from hyperscalers like AWS.
However, Anthony Drake, operations director for North Europe with research and advisory firm ISG, believes that most companies, particularly in regulated industries, are dealing with heavy, legacy, mainframe-based systems. These environments, in some cases, host thousands of apps that have been customised for that business. They might not be built to be suitable for public cloud environment, and also may have been designed decades ago, he says.
"Companies want the advantages that come from public cloud environments: the ability to scale; the shift from CapEx to OpEx and the ability to manage costs; testing new apps; and the potential benefits that the hyperscalers might bring to growing areas like edge computing," he explains. "They, therefore, opt for a hybrid environment, putting some workloads into public cloud and retaining private cloud for legacy systems."
A hybrid cloud environment is going to be as complex as you get, due to its nature. This is because of public and private cloud environments communicating with each other, sending and receiving data, and demanding a level of interoperability that needs to be managed. "A big bang approach of moving everything to the cloud won't work," he adds. "It's a gradual process, split into phases."
Building suitable hybrid cloud resources
Establishing the right foundations for hybrid cloud management is essential to optimising operations. There are two main issues that could come into play if businesses fail to do so, according to Guy Warren, CEO of ITRS Group. "You could end up paying excessively for your cloud estate, or you could underestimate your capacity needs and throttle the throughput on that application," he says. "Securing the foundations requires knowing what size to buy, which, with the complexity of systems today, can only be achieved with effective analysis by a capacity management tool."
Working to a cloud adoption framework gives a clear line of the best practice, taking into consideration the service infrastructure that's trying to be replicated into the cloud environment. Each cloud platform has its own framework of excellence and is consumed in different ways, which demands a review of the reasons why a business is moving to the cloud in the first place.
Performing a detailed cost-benefit analysis is key to deciding whether an application would be better in a cloud environment, or situated on-premise, according to George McKenna, head of cloud sales at Ultima Business Solutions. "For example," he asks, "do the desired benefits come down to revenue generation, internal infrastructure, employee productivity or another reason? It's the ecosystem of the platform that differentiates where you place the workload."
RELATED RESOURCE
Successful enterprise application modernisation requires hybrid cloud infrastructure
Optimise business outcomes with a secure and reliable modern infrastructure
FREE DOWNLOAD
Managing director at BCG Platinion, Andreas Rindler, meanwhile, says businesses should be developing the skill, talent and IT organisations that will build "critical mass" to enable a multi-cloud journey. "A company's ability to build a critical mass of skill for each cloud service provider may impact its multi-cloud strategy," he continues. "Firms should initially centralise all key scarce competencies in a 'Cloud CoE' to maximise efficiency and efficacy. Multi-cloud requires investment in cloud engineering, containerisation, and DevOps tooling to ensure application portability and to avoid vendor lock-in. Many challenges come with this due to the digital skills shortage."
Drake adds that migration isn't the end of the hybrid cloud journey, suggesting you need people who can support you as you scale and can take advantage of different features that are introduced by the cloud provider. "Think about how you want to do that," he says. "Do you want to build a 30-person team in-house with limited career progression, for example?"
Overcoming pitfalls of hybrid cloud optimisation
Managing cloud environments consistently is a complex task. Rindler says that as enterprises continue to migrate apps to multiple clouds, a growing challenge is to manage and understand how company assets are being deployed, used, or exploited.
"This calls on creating a central portal to view and manage our multi-cloud environment – an agnostic single pane of glass into the various clouds," he says. "Organisations can also consider implementing a hybrid and multi-cloud management platform."
Another pain point is portability between clouds. Applications can be migrated following a value-based approach, while maximally leveraging open source technologies can also help to enhance the portability of applications, Rindler continues.
RELATED RESOURCE
Successful enterprise application modernisation requires hybrid cloud infrastructure
Optimise business outcomes with a secure and reliable modern infrastructure
FREE DOWNLOAD
How would your business know, however, when its hybrid cloud management is fully optimised? For Drake, one indication is probably when your business resides exclusively in the public cloud. "The use of private cloud will decrease in the future," he projects. "The more organisations move to the public cloud, the more they can take advantage of the benefits brought by developing technologies such as 5G, the Internet of Things (IoT), and artificial intelligence (AI)," he adds.
For Rindler, meanwhile, it's down to the IT leadership to decide if the benefits of multi-cloud configurations outweigh the costs and risks. "The benefits are simple and very effective; access to best-in-class offerings (and faster time-to-market as a result), reduced vendor lock-in and cost optimisation of workload placement and resiliency across multiple cloud platforms," he says. However, he adds, with that comes the very real threat of a step-change in the complexity of processes and governance related to cloud, ongoing investments, increased risks and longer roadmaps to get them right.
Get the ITPro. daily newsletter
Receive our latest news, industry updates, featured resources and more. Sign up today to receive our FREE report on AI cyber crime & security - newly updated for 2023.
Rene Millman is a freelance writer and broadcaster who covers cybersecurity, AI, IoT, and the cloud. He also works as a contributing analyst at GigaOm and has previously worked as an analyst for Gartner covering the infrastructure market. He has made numerous television appearances to give his views and expertise on technology trends and companies that affect and shape our lives. You can follow Rene Millman on Twitter.