UK government cloud acceleration 'on horizon' as net zero performance slips
Cloud migration could be a key driver in reducing public sector carbon emissions, research shows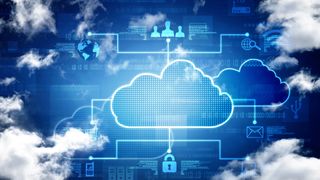 (Image credit: Shutterstock)
Public sector organisations could be forced to accelerate their shift to the cloud as the UK government's long-awaited net zero strategy looms.
In the government's Net Zero Review, former energy minister Chris Skidmore revealed that the UK is falling behind on tackling carbon emissions, and the upcoming Net Zero Strategy is expected to outline specific policies to accelerate decarbonisation and meet targets for net zero emissions by 2050.
The move could place additional pressure on public sector organisations to place a stronger focus on overhauling legacy IT systems and accelerate their shift to the cloud, according to Kainos, a public sector digital transformation partner.
"The public sector will be expected to lead the way in making tangible and measurable cuts to emissions once the Net Zero Strategy is published," said Gareth Workman, cloud practice director at Kainos. "But many departments still rely on legacy technology, which wasn't built with sustainability in mind."
While the government's focus on net zero targets could spark an acceleration in cloud migration among public sector bodies, questions remain over whether organisations have the capability to rapidly pivot to meet expected reduction goals.
Research last year revealed that nearly two-thirds (63%) of public sector organisations have struggled to adopt a dedicated cloud strategy. This sluggish uptake has resulted in around 70% of internal IT infrastructure remaining on-premises.
There are notable examples of successful public-sector cloud adoption. A number of organisations have reaped the rewards of migration and unlocked tangible benefits in terms of operational agility, service improvement, and carbon reductions.
Companies House, for example, was found to have reduced carbon emissions by 94% after shifting its IT infrastructure and services from its in-house data centres to the cloud.
This migration saw the organisation migrate front-end services to AWS and back-end services to Azure.
Kainos said other public sector organisations could realistically replicate this success.
Tim Allen, head of engineering for cloud and DevOps at XDesign, told IT Pro that some public sector organisations are "better placed" to move to the cloud and monitor their impact.
The Cabinet Office has implemented a cloud sustainability reporting system to enable monitoring of carbon emissions generated by the services they deliver, he explained. However, other departments have been unable to implement or develop "such a well-focused approach".
This could mean that, long-term, a gap develops between public sector organisations capable of accelerating their shift to the cloud and those that are simply unable to pivot at such a rapid pace.
"In general, the public sector does not maintain the knowledge or funds to pursue sustainability as a fundamental requirement in cloud migrations and conscientious outside assistance is required", he said. "In the public sector, the goal of efficient, sustainable compute-based services remains a way off yet."
Sustainability and the cloud
Discussions around the environmental impact of cloud adoption have been a recurring theme in recent years, with research suggesting that cloud migration could enable organisations to drastically reduce their carbon footprint.
A study from Accenture found that migration to public cloud could achieve a "significant carbon reduction" and deliver a 5.9% decrease in total IT emissions.
RELATED RESOURCE
Sustainability and TCO: Building a more power-efficient business
Sustainable thinking is good for the planet and society, and your brand
A host of major cloud providers have made carbon-neutral commitments in recent months. Amazon recently pledged to use 100% renewable energy sources by 2025 and reach net zero carbon emissions by 2040.
In November last year, AWS also revealed plans to be 'water positive' by 2030 in a bid to use water in data centres more efficiently.
Similarly, Microsoft has outlined intentions to be carbon negative by 2030 and aims to offset all carbon emissions since 1975 by 2050.
Kainos suggested that public sector organisations can capitalise on this current focus on sustainability and environmental awareness among key industry players.
"By migrating their infrastructure to major cloud providers, the public sector will benefit from these sustainability initiatives by reducing their direct emissions from data centres," the company said.
Stay up to date with the latest news and analysis from the world of cloud computing with our twice-weekly newsletter
Ross Kelly is a staff writer at ITPro, ChannelPro, and CloudPro, with a keen interest in cyber security, business leadership and emerging technologies.
He graduated from Edinburgh Napier University in 2016 with a BA (Hons) in Journalism, and joined ITPro in 2022 after four years working in technology conference research.
In his spare time, Ross enjoys cycling, walking and is an avid reader of history and non-fiction.
You can contact Ross at ross.kelly@futurenet.com or on Twitter and LinkedIn.
Thank you for signing up to Cloud Pro. You will receive a verification email shortly.
There was a problem. Please refresh the page and try again.