Advertisement Feature
How hybrid cloud is transforming cyber security
Find out why HPE GreenLake secure platform is any business' best answer to cyber security threats in an increasingly hybrid cloud-driven world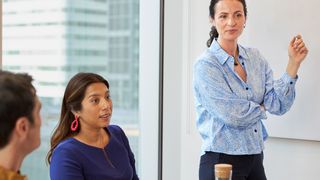 (Image credit: HPE)
Working in security operations means living with the quiet dread of a middle-of-the-night call saying your organization has been hit by the cyber attack you tried so hard to defend against. It means constantly wondering whether your work is enough to keep ransomware groups at bay. With the threat landscape growing every year and attackers' tools becoming more sophisticated, the difficulty of keeping users and endpoints protected is increasing.
With most modern businesses operating with a hybrid cloud model, they need a security strategy that meets the requirements set by a hybrid world. As organizations place greater reliance on the cloud to keep their business-critical data secure, attackers are becoming increasingly wise to how they can inflict the most damage. Now more than ever, it's truly imperative to embrace a robust hybrid cloud security strategy to keep your business running and its data safe.
Cloud security landscape
According to Check Point Research's figures, the number of cloud-based cyber attacks rose 48% in 2022. Similarly, CrowdStrike observed a near-threefold increase in the number of cloud-focused threat actors in its most recent data. The numbers lay bare the state of the threat organizations face and if the trends continue as they have over the past decade, attacks are likely to get worse.
Modern cyber attacks are continually evolving in capability and severity. While security has always been top of mind for IT leaders, it's only recently that it's become an important board room topic, as the consequences of a security incident have become more profound.
Two complementary ways of dealing with this situation include adopting an assumption of breach and zero trust. The former means working from the assumption that a malicious actor has already made their way through the organization's defenses and refusing to trust any infrastructure until it has proven that it's trustworthy and is free of intruders. Zero trust means any user or endpoint is granted access to systems on a case-by-case basis and also incorporates the principle of least privilege: Giving people and devices access only to the information and systems they need and no more. This severely restricts the lateral movement of anyone who has managed to gain access to the corporate network illicitly.
This dual approach is perfect in a hybrid cloud world as it protects data whether it's on premises in the data center, in a private cloud, in a colo, or even in the public cloud.
HPE GreenLake's approach to zero trust
According to the 2023 Global Study on Closing the IT Security Gap report by The Ponemon Institute, 83% of top-performing security teams have either already adopted zero trust models in their environments, or plan to in the next 12 months. This represents a significant shift in the approach to security for most organizations, but it's a move in the right direction. The expertise of Hewlett Packard Enterprise (HPE) can help organizations design and implement a zero trust strategy that's bespoke to their hybrid estate.
Trusting nothing and making every device, user, and application prove it has the right to access areas of the network, reduces the reliance on traditional 'castle and moat' style perimeter defenses like firewalls, private networks, virtual private networks, and virtual private clouds, which are based upon on the now-outdated assumption that everything inside the perimeter is already safe.
Zero trust helps organizations protect their assets from insider threats, malware, and ransomware attacks from edge to cloud. It can even help combat attacks against lower-level infrastructure using tools such as rootkits and bootkits.
The HPE GreenLake zero trust strategy goes beyond the traditional approach, which applies zero trust only at the network level. Partnering with HPE can help organizations first understand why they need to implement zero trust and where it can be applied to extract the most value. From there, HPE Services can help each organization determine the correct zero trust strategy for all its applications, data, items of infrastructure, and workloads. Adopting zero trust with HPE GreenLake allows businesses to take a comprehensive, risk-based approach to security, and design bespoke policies for each layer of an IT environment that delivers zero trust security from edge to cloud.
Transforming hybrid cloud security
As an increasing number of organizations deploy hybrid cloud architectures, the need for a comprehensive zero trust strategy grows. The pace of change in the threat landscape means new attacks are continually being developed and no matter where a device is located, it can be targeted. With a unique mixture of physical and virtual components to protect, it's important that zero trust is applied to every layer so any user, device, or application - and any cyber criminal or malware payload – must be verified before it can access anything of value or do any damage.
In a hybrid cloud environment, zero trust's inherent least-privilege access controls prevent all cloud applications and users that attempt to access an area of the network from being able to create backdoors into the wider IT estate or use compromised accounts to access the keys to the kingdom. It's the way to go for the greatest peace of mind, knowing that even if an attacker were to target your organization, stringent zero trust controls would prevent them from verifying their access attempt, thwarting potential data theft, system compromise, or a ransomware incident.
Security operations personnel can greatly benefit from a capable, unified approach to hybrid cloud security management. The HPE GreenLake edge-to-cloud platform offers all this, as well as streamlined control with its dashboard delivering 'single pane of glass' management for every customer, facilitating faster identification and response to threats.
With HPE GreenLake's zero trust-driven hybrid cloud security approach, you can reduce organizational risk and the potential for security breaches, while gaining better control of tools, increased quality of security alerts, and a greatly elevated user experience.
With all the security vulnerabilities impacting cloud environments, manually monitoring a hybrid cloud environment can be a difficult and lengthy task for even the most astute operations team. Partnering with HPE GreenLake can help gain full visibility and granular control over security, backed up by a built-in foundation for zero trust beyond just the network layer. Its experts can help guide businesses in developing a bespoke zero trust strategy that offers the most robust protection against the threats of today and tomorrow.
For more information, visit Secure your data with HPE GreenLake | HPE United Kingdom
Get the ITPro. daily newsletter
Receive our latest news, industry updates, featured resources and more. Sign up today to receive our FREE report on AI cyber crime & security - newly updated for 2023.
ITPro is a global business technology website providing the latest news, analysis, and business insight for IT decision-makers. Whether it's cyber security, cloud computing, IT infrastructure, or business strategy, we aim to equip leaders with the data they need to make informed IT investments.
For regular updates delivered to your inbox and social feeds, be sure to sign up to our daily newsletter and follow on us LinkedIn and Twitter.