IDrive vs OneDrive
In this IDrive vs OneDrive comparison, we assess which provider offers the best cloud storage solution for you or your business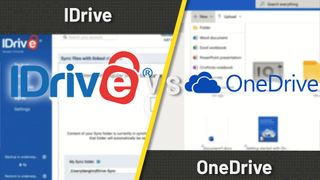 There are a plethora of options when it comes to storing your files and data in the cloud. That's a good thing, as having various choices allows users to find the best cloud storage that caters to their needs. It can, however, make the process of selection a little daunting—which is where we come in.
Microsoft, a household name in tech hardware and software, joined the cloud-wagon in 2007, offering OneDrive to the world. Since then, it has come a long way, and what was once a good solution for personal users is now also an attractive option for businesses via OneDrive for Business.
For its part, IDrive came to life way back in 1995. Originally, it was designed for the tech-savvy business user who needed a robust backup solution for their system. Today, however, iDrive offers features such as file sharing and file synchronisation across multiple devices, making it more appealing to the commercial market.
So, with both OneDrive and IDrive commonly appearing amongst the leading options available, which one is right for you? Looking at everything from features to affordability, we'll help you decide in this IDrive vs OneDrive head-to-head.
IDrive: the leading cloud storage provider
IDrive delivers huge amounts of cloud storage for incredibly reasonable prices. Supporting unlimited devices, it provides an extensive file versioning system, alongside competitive prices and other top features. For these reasons, it ranks first in our premium list of the best cloud storage providers.
Microsoft OneDrive: collaborative storage and software
Microsoft OneDrive is naturally tightly-integrated with both Windows and Microsoft 365, meaning it offers real-time file collaboration and automatic backups. A straightforward and intuitive interface requires little guidance, while its comprehensive and responsive support is able to assist with anything more complex.
Check out this exclusive IDrive cloud storage deal:
IDrive vs OneDrive: Features
Here, we break down the key features offered by both services, analysing which one does what better, and suggesting how important this should be in your decision-making. IDrive and OneDrive both come with an integrated desktop app that makes backing up your files to the cloud effortless. There is, however, a distinct difference between the two in this area.
IDrive can perform a sector-level backup, which allows you to back up your files, system settings, application data, and operating system. You can do this across multiple computers, so if one of your machines malfunctions, you can restore your full system on the replacement computer.
OneDrive, however, only allows users to create a file-level backup, meaning you can't back up your full system. Should one of your computers break down, you'll need to reinstall data such as applications and system settings to get up and running on your new device.
Through its Files On-Demand feature, OneDrive also enables you to free up space on your computer by only storing your files in the cloud. You can access and work on these files pretty much as normal, but you'll need to be connected to the internet to do so. Unfortunately, this isn't a feature that IDrive offers.
To finish, for personal use, OneDrive ticks many boxes, but for businesses looking for an in-depth backup solution, IDrive has to be the go-to choice.
File versioning allows users to access previous versions of edited files. OneDrive and IDrive both offer this feature, but IDrive offers a more detailed service. The company allows access to up to 30 older versions of files for an unlimited time, while OneDrive gives access to 25 older versions for only 30 days.
Creating and sharing files inside a cloud storage provider allows for better productivity and more seamless collaboration between users. When it comes to integrated applications such as a word processor and spreadsheet creator, OneDrive begins to push ahead of IDrive—although it's hardly a fair race at this point.
Because Microsoft already has its own productivity tools, it's able to easily integrate them into its OneDrive software. That means multiple users can collaborate simultaneously on files created in Word, Excel, or PowerPoint, for example, leading to a more efficient workflow. There are also integrations with other Microsoft apps and tools, depending on the selected plan.
In contrast, IDrive doesn't offer any native productivity tools, meaning users have to create documents outside of the IDrive platform. This makes it harder for multiple users to collaborate on and edit documents together.
It's essential however that your files and data are protected by strict privacy and unbreakable security. Here's where IDrive starts to make some real ground on OneDrive. The two are pretty much even on the security front. They offer industry-standard AES 256-bit encryption for your files, both in transit and at rest.
Other security measures such as two-factor authentication and the option to create your own encryption key are available on both services. But this is where IDrive begins to move ahead.
IDrive is a zero-knowledge provider, meaning it doesn't store your encryption key on its servers. Only the person who created the key will have access to it, as well as the data it's protecting. That ranks it highly among the best secure cloud storage and the best encrypted cloud storage providers, as a result.
On the other hand, OneDrive stores encryption keys on its servers, opening up the opportunity for potential access by third parties. This means that if there were ever a data breach, a hacker might be able to read your files. This would be impossible with IDrive, as even if a hacker did gain access to its servers, they wouldn't be able to decrypt and thus read your files.
Both services allow you to add specific files and folders to the cloud through their synchronisation feature. By syncing files, users can access their data across multiple devices. If you're using a different computer, for example, you can log into each application through your browser to access your files.
OneDrive and IDrive have mobile applications, allowing you to upload, download, and access files from your smartphone or tablet. Both services also let you create a link for specific files and share it with others, a common feature in cloud storage providers.
Like OneDrive, IDrive claims it offers "collaborative access to files." However, during IDrive testing we were only able to control the amount of time the link remained active, and how many times the shared file could be downloaded. There was no option to set editing permissions for other users, a feature that is available with OneDrive.
Although IDrive has made strides with its cloud service, it still has some catching up to do. Another limiting feature is that it only backs up files 4GB or smaller (if you need to back up large files, IDrive sends out a physical hard drive). OneDrive, however, can back up files of up to 250GB in size.
IDrive vs OneDrive: Performance
Both IDrive and OneDrive have impressive performance in terms of usability and speed, featuring a simple and intuitive user interface.
OneDrive is exceptionally stripped down, existing simply as a folder on your desktop rather than a standalone application. IDrive acts very much in the same way, but also offers a separate desktop application (here you can program automatic daily and weekly backups). Uploading files to the cloud from our desktop was extremely easy. We simply had to drag and drop the files we wanted to back up into each cloud service's designated folder.
We also tested both services' web-browser applications. OneDrive's application was far more responsive, and navigating through it was straightforward. At times, we found IDrive's web-browser app unresponsive, often experiencing crashes or longer loading times when navigating each tab.
In terms of speed, we put both programs to the test with an internet connection offering 100Mbps download speeds and 15Mbps upload speeds. We backed up 7.2GB of data (including photos, documents, music, and video) to each service. IDrive did okay, taking one hour and 43 minutes to complete the upload, while OneDrive took quite a bit longer at two hours and 29 minutes.
IDrive won the race again when downloading the same files, taking only 16 minutes to complete, while OneDrive's download took 24 minutes. This isn't the worst performance, but remember to factor in differing times dependent on the speed of your internet connection.
IDrive vs OneDrive: Support
With a company as large as Microsoft, we'd expect it to offer the best-in-class support for OneDrive. Sadly, that's not the case. Users do have access to the community forums, which cover many of the more commonly asked questions. If you want to speak to a member of the specialised support team, however, your options become rather limited.
There's no telephone support, which is frustrating, nor is there an option for live chat. Users instead have to make do with sending an email. When testing the response times, we received support within nine hours of our original query.
On the flipside, IDrive does all of the above, and does it exceptionally well. You can call its technical support team and its billing department from inside and outside the United States (offices are open Monday to Friday, 6:00AM to 11:30PM PST). We received immediate assistance when using the live chat, and waited for only three hours for a response to our email query (wait times will differ depending on your time zone).
IDrive vs OneDrive: Pricing and plans
Both services offer 5GB of free storage, as well as a good range of plans for both personal and business use. For personal use, IDrive offers two plans: Personal 5TB (£65.25 a year) and Personal 10TB (£81.67 a year). That's extremely affordable, and should appeal to anyone working with large files.
IDrive is currently offering the 10TB plan for a hugely discounted price of £3.27 for the first year — this is one of the most affordable high-capacity plans available across cloud storage, though you need to prove you're using a competitor as part of the signup.
There are Team plans inbetween for five to 35 users and computers, ranging from 5TB at £81.67 a year up to 35TB at £574.15 a year.
Business users have more options when it comes to plans, six in total. They start from 250GB (£81.67 a year), and go up to 12.5TB (£2,461.99 a year). You can also add multiple users to your selected plan, making it much easier to manage backups and share files.
Microsoft uses its range of productivity tools as leverage when it comes to its plans. Its basic personal plan is £1.99 a month, offering 100GB. Move up to the next option, at £59.99 a year for 1TB, and you'll also be able to use office apps such as Word and Excel.
For business use, if you want a fully inclusive Microsoft experience, you'll need to pay £9.40 a month per user (paid annually). With that, you get 1TB, access to Microsoft 365, and the use of apps such as Sharepoint, Teams, and Yammer. On the budget end, you can pay £3.80 a month per user for 1TB, but won't have access to any of the other features.
It's a shame neither provider offers an unlimited storage option. Still, both services remain affordable and competitive in price. If you don't need a fully integrated experience with a range of productivity tools, then we feel IDrive edges it here in terms of finding the overall balance between cost and features.
IDrive vs OneDrive: Verdict
In many ways, this head-to-head is like comparing apples and oranges. Both OneDrive and IDrive exist in the same family (that is, cloud storage), but they're also extremely different. IDrive offers a complete backup solution, while OneDrive is instead focused on storage, productivity, and collaboration.
For the personal user, we'd suggest going with OneDrive, especially if you use a Windows laptop or PC, where it comes preinstalled. It's easy to use, and many of your contacts will use it too. That's not to say IDrive is a bad option: it's just not quite on the same level as its rival when it comes to collaboration, syncing, and sharing.
But for the business user, including those who are self-employed, it becomes a little tricker to suggest the best option. Without a doubt, IDrive takes the crown for better privacy and security, as well as more backup options for your system. If, however, you want to use integrated productivity tools, collaborate on a project, and back up your most important files, OneDrive is the winner.
Further reading on cloud storage
Make sure to read some of our other comparison features to get an insight into how these platforms shape up against other competitors, including IDrive vs Backblaze; OneDrive vs Dropbox; OneDrive vs Azure; and Google Drive vs OneDrive; pCloud vs Dropbox; and Google Drive vs Dropbox.
A daily dose of IT news, reviews, features and insights, straight to your inbox!
Daniel is a freelance writer and journalist, specializing in technology, photography, and lifestyle topics. You can see his words and thoughts in publications such as iNews, TechRadar, and Tom's Guide.
A daily dose of IT news, reviews, features and insights, straight to your inbox!
Thank you for signing up to ITPro. You will receive a verification email shortly.
There was a problem. Please refresh the page and try again.