Buckinghamshire County Council aims sky-high with cloud-first strategy
Local authority decides to close on-premise servers in favour of hosting as much as possible in the cloud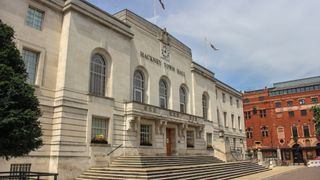 Could a council under pressure to cut costs and keep data secure ever move all its IT to the cloud?
That's the challenge Buckinghamshire County Council set itself in 2010, when it decided to become infrastructure-free by the end of 2015.
The authority was experiencing the first wave of Coalition budget cuts and was running five datacentres to provide services to 505,000 citizens.
It also had 4,500 employees' IT needs to consider, as well as 3,800 desktops to manage, yet decided to invest in a cloud-first strategy to make long-term savings.
"Ultimately it does come down to money," says ICT technical architect, James Mansfield-Sturgess. "We're in times of austerity and that will continue no matter who wins the election. We have to keep an eye on that and help deliver those savings to the authority as a whole."
But the decision to virtualise went hand-in-hand with a move to downsize the council's property portfolio, and the authority decided to use cloud services to transform the way the council operated.
"We're shrinking as an organisation, and actually there are big savings to be made in terms of agile working and property rationalisation," Mansfield-Sturgess says.
Migration strategy
Rather than opt for a rip and replace strategy, the most cost-effective way for Buckinghamshire to move to the cloud was to wait for its on-premise IT to expire.
"It's not cloud for cloud's sake," Mansfield-Sturgess points out. "The whole strategy was as and when cloud services become viable and cost-effective, then that's the point when we'll jump.
"We may move at the end of a contract for a particular application, end of life, or some hardware expiring. We'd then go through a process of asking if it's appropriate to move to a cloud service."
The authority also refrained from picking one cloud provider to which it could outsource and virtualise all its IT, instead deciding to evaluate its current IT estate, and see what cloud option best fitted each part.
This meant getting rid of on-premise infrastructure was a gradual process.
PSN
One of the first steps was to create the Buckinghamshire Public Services Network (PSN) and Managed Services Framework, which was awarded to a single supplier, Updata, in 2012.
As a result, the council shares LAN and WAN connectivity services, firewalls and telephony services with other public bodies including the district council and Buckinghamshire Fire and Rescue.
Platform-as-a-Service (PaaS)
The council also looked to PaaS to develop solutions outside of its own infrastructure. It started by creating a contact management application in Salesforce's cloud. Buckinghamshire developed another two Salesforce apps, including its adult social care system for Prevention Matters, developed with Arcus Global.
Software-as-a-Service (SaaS)
The council has also adopted a variety of SaaS applications to try and reduce the cost of on-premise software. The main one is Office 365, which Buckinghamshire has adopted for all corporate email.
"That's truly transformational in terms of the way it allows people to work in an agile way," contends Mansfield-Sturgess. Other SaaS applications the authority adopted include Clarizen time management software, and Civica's software management tool Snow, which is installed on every PC to monitor what software people have, and what they actually use.
"Snow from Civica is critical to our project," the ICT technical architect says. "We have it installed on all our desktops, all our laptops, and it reports what software people have installed and which software they are actually using."
Snow has helped the council cut 500 applications from its roster of on-premise apps, but it still looks after around 1,000. However, as the IT department pursues a SaaS strategy, Mansfield-Sturgess sees the browser as the most important application going forward.
In an effort to standardise what browsers are in use, he and his colleagues have reduced the number from 23 to just two - Internet Explorer 11 and Chrome.
Document management
In addition to Office 365 for email, Buckinghamshire County Council also uses OpenText's document management tool, Livelink, and has an on-premise SharePoint deployment.
While there are plans to retire the on-premise SharePoint and replace it with an online version that can integrate with other applications, the council isn't interested in looking at pure-cloud collaboration tools like Dropbox, reliant on infrastructure-as-a-service (IaaS) that the council believes is not secure enough to meet its needs.
"We get the 'can we please have access to Dropbox' question," Mansfield-Sturgess admits. "We have an Information Governance board looking at how we look after our information. Things like that are taken very seriously. We try to educate people that there are appropriate ways of sharing data.
"If we can provide that type of functionality with standard things like SharePoint, so actually if all you want to do is have version control and share appropriate documents with the right people, that's where we want to go."
Hybrid cloud
In December 2013, three months after Microsoft released its virtual server operating system Windows Server R2, the council decided to implement Redmond's hybrid cloud storage system, StorSimple.
It provided the authority with primary storage, archive and disaster recovery services and eventually replaced its old EMC Celerra storage deployment in May 2014.
"We went from a rack full of hard drives for storage on-premise to 4U in a rack," explains Mansfield-Sturgess. "You've got an on-premise device that has the data locally, but actually the stale data gets replicated up to the cloud, and that's where we are.
"They get the immediacy of local access with unlimited storage in the cloud. That's what we're hoping to do with other servers as well."
Will the council achieve its infrastructure-free goal?
The measures taken by Buckinghamshire County Council in the four years up to now will see it close three of its five datacentres, but Mansfield-Sturgess concedes the authority is unlikely to achieve its goal of having no infrastructure by the end of the year.
"If we're honest we won't be infrastructure-free by the end of 2015, but we are in the process of closing down three of our five computer rooms," he admits. But the process has changed the authority's approach to IT.
"We're shrinking Buckinghamshire to a core HQ and we're creating business units that are then free to go out and commission IT services in order to deliver their services in the best way they see fit.
"Cloud helps us do that, because they can procure the services they want without having to make the big capital investment on-premise."
It's currently rolling out Lync 2013 as a managed voice solution to staff via its PSN, and 500 users are already up and running despite the project only starting in December 2014.
Results
While the council hasn't published any savings figures so far, it aims for the project overall should see it save 30 per cent a year by reducing its IT estate, while the authority believes it will have cut application spending by up to 80 per cent.
Future
The sea-change in the authority's thinking around IT will further affect services down the line, with Mansfield-Sturgess's next big project being to overhaul the telephony being used in its contact centres.
He will help set up a new digital contact centre, running on SaaS-based telephony, in the summer.
The IT team is also putting together a new mobile strategy to support BYOD devices - its current security software restricts staff to iPads and iPhones.
"The whole question of BYOD comes up, customers can get very cheap technology now just walking into a high street shop, we want to embrace that," says Mansfield-Sturgess.
Stay up to date with the latest news and analysis from the world of cloud computing with our twice-weekly newsletter
Thank you for signing up to Cloud Pro. You will receive a verification email shortly.
There was a problem. Please refresh the page and try again.