Advertisement Feature
Creating the cloud you need, on your terms
How to build a flexible cloud strategy that meets your changing business needs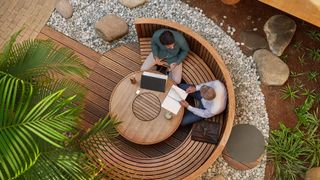 (Image credit: Hewlett Packard Enterprise)
In the years after public cloud first emerged, debate raged about whether full public cloud was the best option for businesses, or if they should seek to keep everything locked down in their own data center. As it turned out, the answer was a third way: Hybrid cloud.
Once seen by some as just a step on the way to full public cloud adoption, hybrid cloud's flexibility, manageability and adaptability have seen it come out on top. Organizations are able to create a bespoke mix that suits their business needs and modify it as they grow and evolve.
According to the Cloud Industry Forum's 2023 Breaking new ground with cloud report, 55% of the IT decision makers surveyed said their organization was taking a hybrid approach to cloud. When it comes to the reason why they are adopting elements of cloud computing, approximately 28% said hybrid was a business need.
Not all clouds are created equal, however, and over the course of this journey many businesses have encountered problems such as cloud lock-in, unexpected costs, and less data control.
What makes a hybrid cloud?
At its most basic, hybrid cloud is the strategy of placing data and workloads in a mix of public cloud, private cloud, on premises data center, and colocation provider. Where these reside may change; perhaps a workload that once required ultra low latency can now withstand greater response times. Over time, data often moves from being hot to warm to cold – and sometimes back the other way – so where it's stored and in what medium will change.
A hybrid approach can also help with data sovereignty and regulatory challenges. For example, when handling data relating to EU residents that's governed by GDPR, you may wish to keep it in a location within the bloc.
For a hybrid set up to truly be a hybrid cloud, however, it needs to be scalable - and this is where complexities can arise.
The private and on premises elements of this mix are often entirely rigid. There's a predefined number of servers available and IT managers try to manage their IT estate as best they can depending on needs.
Adding hardware to a data center or private cloud can be expensive and overprovisioning in the rare event you need some extra capacity can be difficult for a business to justify. Yet storing data permanently in the cloud can ultimately cost more money in the long run than the price of a few extra racks.
This is a challenge understood intimately by Hewlett Packard Enterprise (HPE) and is one of the motivating factors behind its flagship HPE GreenLake offering.
Bringing the public cloud to the data center
Described by HPE as "the cloud that comes to you", HPE GreenLake is a secure private cloud that resides either in your data center or with a colocation provider. What makes it different from traditional private cloud environments is that it's elastic, just like a public cloud. If you need to add extra storage or compute modules, it's as easy as a few clicks in HPE GreenLake Central, the platform's management console.
Whereas with other providers such private cloud provisioning can take days or even weeks, HPE GreenLake reduces that to just minutes. Through HPE GreenLake edge-to cloud platform, it's also easy to manage your organization's IT assets more broadly, including things like identity and access management, device management and subscriptions. In this way, HPE GreenLake offers a holistic hybrid cloud approach that can help you manage your entire IT estate.
Partnerships with Microsoft and Amazon Web Services mean it's possible to run cloud-native applications, such as Kubernetes, in HPE GreenLake infrastructure and migrate the workloads between private and public environments with ease.
Additionally, the company's partnership with colocation provider Equinix makes it easy to spin up instances of HPE GreenLake for Private Cloud Enterprise and HPE GreenLake for Private Cloud Enterprise Business Edition off premises as well.
What's more, organizations only pay for what they use in much the same way as they do public cloud infrastructure, meaning private clouds are now truly available as an op-ex rather than cap-ex cost.
Extending to the edge
A truly hybrid cloud should also take into account what's happening at the edge of a business' network. This could include sensors, robots, remote servers, or something as simple as a corporate laptop used by a remote worker.
HPE's edge-to-cloud philosophy means that even these sometimes overlooked network components are manageable within the HPE GreenLake platform. It also allows for data analysis at the edge, where it's created, meaning quicker response times when you need them.
Edge computing can also help increase the security of your network, allowing you to apply the necessary rules and restrictions to every endpoint effortlessly.
Building a hybrid future
The future of cloud computing is now undeniable and for businesses around the world that future is hybrid. With the right partner, you can make the most of every aspect of cloud, both now and in the future. With features such as HPE GreenLake for ML Ops and HPE Machine Learning Development Environment, HPE GreenLake is also ready for our increasingly AI-focused world.
Ultimately, what a hybrid cloud looks like will vary between organizations and will likely change over time – there will be occasions when more private capacity is needed or more public, when storage is more important than compute and vice versa. With HPE GreenLake, that flexibility is quickly available and, with a broad range of additional services on offer through the HPE GreenLake marketplace, it's the ideal foundation on which to build and manage a hybrid cloud.
For more information, visit Edge to Cloud | HPE GreenLake | HPE United Kingdom
Get the ITPro. daily newsletter
Receive our latest news, industry updates, featured resources and more. Sign up today to receive our FREE report on AI cyber crime & security - newly updated for 2023.
ITPro is a global business technology website providing the latest news, analysis, and business insight for IT decision-makers. Whether it's cyber security, cloud computing, IT infrastructure, or business strategy, we aim to equip leaders with the data they need to make informed IT investments.
For regular updates delivered to your inbox and social feeds, be sure to sign up to our daily newsletter and follow on us LinkedIn and Twitter.