UK cloud customers confused by choice
Too many clouds spoil the adoption, according to a global survey of IT professionals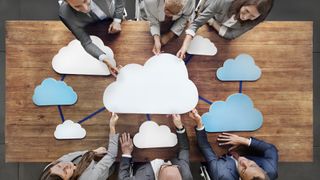 (Image credit: Shutterstock)
Too much choice for those looking to move to cloud is hindering users' abilities to make a smooth transition. And UK users are finding it tougher than their European counterparts.
That's according to an iland-commissioned survey from Enterprise Management Associates (EMA), which found 88 per cent of respondents had reported facing an unexpected challenge. Firms in the UK topped the charts for unforeseen issues, with 93 per cent of respondents informing the survey that they had experienced problems.
According to the results of the survey, sponsored by VMware, the biggest issues faced by firms moving to the cloud were pricing and performance (38 per cent), support (36 per cent) and unexpected downtime (35 per cent). Cloud management and saleability were reported as the least problematic, but still affected 33 per cent of businesses.
Cloud performance, writes the report, is affected mostly in Europe by "noisy neighbour" syndrome, where too many vendors are offering too many services to customers, causing confusion.
Respondents were also asked which cloud providers they had trialled or considered, as well as whether the services they had used had stalled or failed. Amazon and Rackspace ranked highest for outages, downtime and failures, with 63 and 57 per cent respectively.
Microsoft Azure users reported a failure rate of 44 per cent, while VMware users ranked the co-sponsor of the survey as the best, with only a 33 per cent failure rate.
"At this early stage, reinforcing the level of cloud expertise resident within IT organisations leveraging cloud is paramount to successfully swinging the pendulum toward success," writes the report.
"It seems prudent to accept the fact that most cloud customers will not settle on a single vendor at this point in time. Instead, they will sample multiple cloud options to find the ones which best meet IT and business needs."
The EMA recommended that potential cloud customers "carefully consider their choices to mitigate the risks associated with the cloud".
The survey was complied by questioning 415 IT professionals from the UK, Europe, US and Asia-Pacific.
Stay up to date with the latest news and analysis from the world of cloud computing with our twice-weekly newsletter
Thank you for signing up to Cloud Pro. You will receive a verification email shortly.
There was a problem. Please refresh the page and try again.