Microsoft brings Azure Backup to UK data centres
Redmond announces slew of price cuts despite Brexit price hike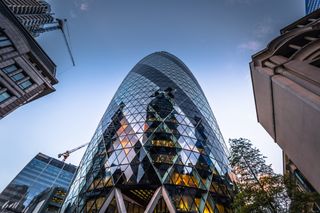 Azure customers can now backup and restore files from Microsoft's UK data centres.
Azure Backup and Site Recovery will now feature as part of Microsoft's cloud offering from its London, Durham and Cardiff facilities, allowing UK companies to securely host their data in the the same region.
The services, which have been widely available in US data centres, represent the latest additions in a gradual rollout of features for the new UK cloud region. Azure Backup will protect customer data both on-premise and in the cloud, while Site Recovery allows for physical servers to be replicated in the cloud, which can be used in the event of an on-premise failure.
"With Azure Backup and Site Recovery, Microsoft customers can be confident that their information is safe, secure and available whenever and wherever they need it," said Mark Smith, senior director of cloud and enterprise at Microsoft. "These features add to the fantastic services already being offered from Microsoft's UK data centres, which are being utilised by the government and other major organisations in this country because of the transparency, security and compliance they offer."
Since opening last September, Microsoft's UK data centres have attracted a number of high profile customers, including the Met police, and parts of the NHS and MoD. The features join already available services such as the Azure Security Centre and the Azure Marketplace platform.
UK customers signing up for Azure Backup will only pay for the storage they use, and are able to choose between two backup storage options. The first creates three copies of stored data, which are then relocated to a paired datacentre in the same region, while the second allows companies to create a backup at a site hundreds of miles away from the original.
Microsoft has also announced price cuts to its virtual machines (VMs) and storage options, with the aim to lower barriers to entry for the many companies still wishing to migrate to the cloud. Microsoft's F-series VM cloud servers are down by 23% for Linux and 18% for Windows, while its A1 Basic series is down by 42% and 51% respectively.
Customers on Azure Blob storage accounts will also see a 31% price cut on Hot Block Blob storage, while Cold Block Blob storage is down 38%. However, Redmond hiked UK cloud prices by 22% in response to Brexit at the start of 2017, as the pound's value plummets against the US dollar.
Stay up to date with the latest news and analysis from the world of cloud computing with our twice-weekly newsletter
Dale Walker is the Managing Editor of ITPro, and its sibling sites CloudPro and ChannelPro. Dale has a keen interest in IT regulations, data protection, and cyber security. He spent a number of years reporting for ITPro from numerous domestic and international events, including IBM, Red Hat, Google, and has been a regular reporter for Microsoft's various yearly showcases, including Ignite. Dale is also the Editor of ITPro 20/20, a monthly digital magazine providing a snapshot of the stories and themes shaping the business tech world. Prior to joining ITPro, Dale secured a Masters degree in Magazine Journalism from the University of Sheffield.
Thank you for signing up to Cloud Pro. You will receive a verification email shortly.
There was a problem. Please refresh the page and try again.